With this story Managing Editor Joe Westbury wraps up his Crossover18 coverage as he followed Georgia Baptists enrolled at Southwestern Seminary. Beginning tonight Editor Scott Barkley will be reporting from the Harvest America rally at AT&T Stadium in Arlington. He will be joined tomorrow by Senior Editor Gerald Harris, and they will be tag-teaming coverage on pre-Convention meetings on Monday and the Convention sessions on Tuesday and Wednesday. Check back regularly for their Georgia-centric stories as well as content provided by Baptist Press.
FORT WORTH, TX — Six days of knocking on doors sharing their faith paid off for Georgia Baptists who were in the Dallas/Fort Worth Metroplex to share their faith for Crossover 18.
Some of those – such as Blake Smith from Fayetteville, Chris Stone from Columbus, Dakota Adair from Hiram, and David Williams from Iron City – were serving through Southwestern Seminary's summer outreach held every year in advance of the Convention's annual meeting. This year's gathering, set for Tuesday and Wednesday in neighboring Fort Worth, was in the seminary's back yard and made it easy for enrolled students to participate.
The sun was hot, the air dry, and the shade sparse for the past six days. But that didn't keep the Georgians from sharing their faith.
Guzzling cold bottled water and lathering plenty of sunscreen was the order of the day on Saturday as temperatures pushed to 100 degrees. By last night, the final day of Crossover, 100 seminarians had contacted 13,129 homes, participated in 1,993 gospel conversations, and recorded 213 professions of faith. When 75 other participants are included from the four Southern Baptist seminaries partnering with Southwestern, the numbers totaled 19,464 homes contacted, 3,180 gospel conversions, and 340 professions of faith.
Those efforts have been leading up to the Harvest America rally set for this evening at AT&T Stadium in nearby Arlington. More than 100,000 guests are expected to pack the stadium, the home of the Dallas Cowboys, to hear the gospel proclaimed by California pastor and evangelist Greg Laurie.
Smith served as a "gofer" for several of the evangelism teams that were being transported to area partnering churches, regularly supplying them with cold water, sunscreen, and door hangers for the Harvest America event. As time permitted he would join a team in their outreach.
By last night he had driven nearly 1,000 miles from one end of Fort Worth to the other, beginning after lunch and morning orientation and ending around 8 p.m.
Smith, who was born at Northside Hospital, lived in Florida for a while and was named after the Georgia town of Blakely. Jokingly, he said he is grateful his mother left the "ly" off his name and just called him Blake. He attended Clayton State College, Georgia Southern University, and Liberty University before enrolling at Southwestern.
His path to ministry was neither automatic or predictable, he says.
"My middle school pastor at Liberty Baptist Church in Fayetteville told my mom that I was heading for the ministry. She thought it was wonderful but I just shrugged and said, 'whatever.'"
It was clearly not on his radar.
"I was very involved in church and tried to dismiss the prediction but it was always nagging at the back of my mind. I just couldn't shake it. I ran from God until my college years at Georgia Southern when I decided it was just time to stop making my own plans – which didn't always work out – and get on His plan."
He remembers laying on the floor of his apartment and surrendering to God then and there, saying, "OK, fine. I'm ready to go if you can still use me."
Today finds him as a doctoral student studying church vitalization and evangelism with hopes to graduate in 2021. His wife, Julie, works in the Human Resources field.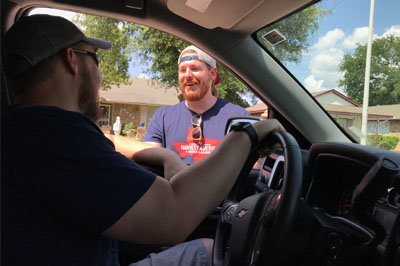 Chris Stone from Columbus discusses his team's visitation experience with Blake Smith, from Fayetteville, in the driver's seat. He is considering a ministry in church planting following his anticipated 2019 graduation. JOE WESTBURY/Index[/caption]
"I can't imaging not being a part of an evangelistic outreach like this," he said while helping fill the gas tank at a filling station for one of the team vans.
"Southwestern does this every year and last year I participated at Crossover in Phoenix. Anything I can do to bring people to faith in Christ is time well spent.
In the middle of the afternoon Smith piles into his truck to check on team members and to meet a van driver to refuel his vehicle at a gas station. While gas is flowing into the tank he and Jordan Drake, a fellow seminarian from New Mexico, compare logistical information to stay as current as possible.
Then he leaves to check on the team assigned to Wedgewood Baptist Church. He drives a few miles and turns into an older neighborhood with established trees … a valued shaded respite in the stifling heat.
There he meets Dakota Adair from Hiram – a former college football player with biceps to prove it, walking door to door with Bible and tracts in hand.
Last year was Adair's first Crossover when he joined the Southwestern team traveling to Phoenix for the annual convention meeting. There was no question he would be returning again for the experience. He credits his home congregation, Westridge Church, with instilling a desire for evangelism.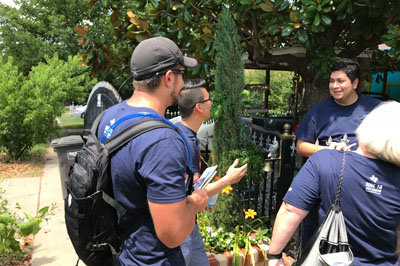 Dakota Adair from Hiram, with his back to the camera, and his team knocked on nearly 300 doors in Fort Worth this past week during six days of #Crossover18. "I love telling people about Jesus," the former college football player says. The Georgian who led two individuals to Christ this week, is studying humanities and biblical and theological studies at Southwestern Seminary. JOE WESTBURY/Index[/caption]
"I love telling people about Jesus. That's why we were created; I'm just doing what I was made for. God designed us to proclaim His glory so I'm just being obedient to His word.
"Sharing your faith should be a natural, second nature experience because you're just telling your love story with God."
By Thursday afternoon he team had knocked on about 200 doors, averaging 50 a day.
"I just look at this as evangelism boot camp," he added.
After resupplying the team with water and door hangers, Blake pulls out of the neighborhood and directs his truck a couple of miles away. That's where he meets up with another team, including Georgia Baptist Chris Stone from Columbus. Stone claims Wynnbrook Baptist Church as his home church, though now he attends Crosspointe when he is back in town.
"It's been a crazy busy week," he says as he drinks from the cold bottle of water handed to him by Smith. "We've knocked on about 250 doors with a variety of receptions. But that being said, we had 4 people to accept Christ yesterday."
"It's plenty hot out here but we're just being faithful to what Christ commanded us to do. The world really needs Jesus and if we don't do it, who will?"