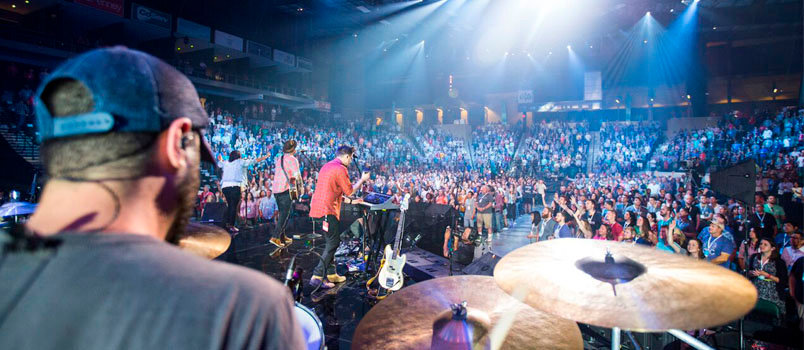 Austin Stone Worship led music for the main sessions at the Send Conference in Dallas May 19-20. The conference – presented by the North American Mission Board and the International Mission Board – included five worship sessions, four main speakers, three different breakout times featuring 30 guest speakers, and one message – to redefine life on mission. NICK DRAKE/BP[/caption]
DALLAS, TX
— A group of Georgia college students counted among the crowd for Send Dallas, a missions conference hosted by the North American Mission Board and International Mission Board, May 19-20. Carson Gregors, a student at Georgia College and State University in Milledgeville, drove with a group 14 hours to attend the event at Dr. Pepper Arena in Frisco, TX,
reported Baptist Press
. "I was especially looking forward to what Kathy Litton had to say about women in mission," Gregors said. "She has incredible insight and hearing her breakout talk was inspiring. It was so great to hear such strong truth spoken over discipleship. It revolutionized how I'm going to approach my small group when I get back to school in the fall." In Milledgeville, Gregors helped start Full Accord Ministry (FAM) to create authentic family relationships for other students. Concepts on missions learned at Send can help the ministry in its efforts, she said. More than 4,000 people registered for the sold-out conference held approximately 30 miles north of Dallas. The crowd included participants from all states as well as three continents.
Sessions addressing missional opportunities
Send in Dallas – with a theme of "Redefine" – included worship led by Austin Stone Worship, Thomas Keys III, and Crowder. Main sessions and breakouts covered 30 diverse topics and speakers. Leaders included Atlanta author, teacher, hip-hop artist, and preacher Trip Lee, Atlanta pastor Dhati Lewis, and
California pastor D.A. Horton
. Breakout sessions included topics such as "Addressing poverty through local schools," Risk in missions," "Leading women to advance the Gospel," and "Giving purpose to our jobs." "Be careful not to manufacture a heart for missions outside a heart for Christ," IMB president David Platt said to the crowd during the opening session. "There is no one without the other, and if you think there is, you've got to redefine your thinking." "It's so encouraging to see thousands of people at an event focused on helping believers take Jesus to the people around them as an everyday lifestyle," said Kevin Ezell, NAMB's president. "I am thrilled as well to see such a young, diverse group."