MARIETTA — We are told that this modern, consumer-oriented culture likes options, lots of options. When I was a boy the only cereals on the market to my knowledge were Corn Flakes, Rice Krispies, All-Bran, Wheat Chex and Cheerios. There were probably others, but admittedly the varieties were limited.
Today there are literally 500-600 different kinds of cereals being produced – everything from Apple Zingaroos to Zany Fruits.
For those who like options, the Go Georgia church leadership training event at Roswell Street Baptist Church in Marietta this weekend, Aug. 18-19, offered over 100 incredibly instructive, informative and inspiring breakout sessions. The event featured some of the nation's most capable specialists, practitioners, and teachers. Not surprisingly, reports from the 2-day event were extremely positive.
Cliff Duren, five-time Dove Award nominee, and Overflow, his vocal ensemble, provided inspiring music for the plenary session with the music being marked by excellence of the highest order.
Saturday morning keynote speaker Micah Fries, senior pastor at Brainerd Baptist Church in Chattanooga, brought a powerful and very practical message.
Church growth that sets up failure
Fries used Ephesians 4:11-16 as the launching pad for his remarks. He indicated that early in his pastoral ministry he was so enthused about being a pastor and so driven to revitalize the church that he did everything from preaching the sermons to typing, duplicating, and folding the bulletins as well as sweeping the church.
Fries admitted that the church grew, but realized he was setting the church up for failure because he was not equipping the members to be ministers.
Today Fries does not even refer to his staff at Brainerd as ministers, because he wants them to equip the membership to be ministers. He stated, "We are not to become our members' proxy. We are to equip them and deploy them to serve. We don't want churches built on iconic leaders, but churches where Jesus gets the glory."
No independent Christians
Fries cited four barriers to church growth. He first mentioned professionalism. Churches, he explained, that expect professional certification for their staff sometimes create a barrier to multiplication because they feel they are not qualified to serve without similar certification. Therefore, we must train the laity to be ministers.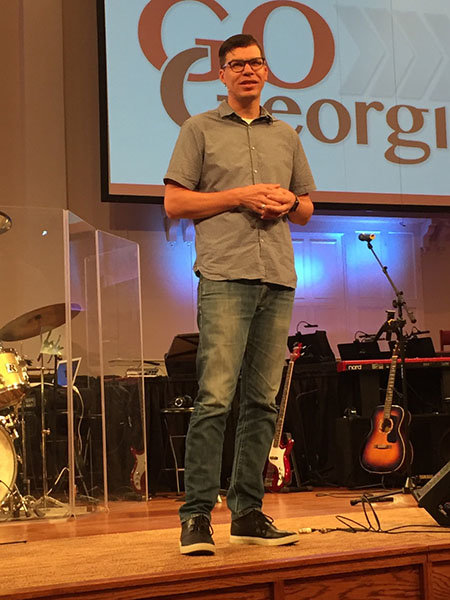 "We don't want churches built on iconic leaders, but churches where Jesus gets the glory," said Micah Fries, pastor of Brainerd Baptist Church in Chattanooga, to GO Georgia attendees. GERALD HARRIS/Index[/caption]
Second, Fries mentioned consumerism and said people look for churches like they look for blue jeans. They want the best jeans for the lowest price. Similarly, people look for churches that suit their preferences and yet ask the least of them.
If they are simply looking for a church that meets all their needs and requires little or nothing from them, he added, they are making themselves the center of the worship experience.
Third, according to Fries, "Autonomy is a barrier to church growth. When you think about John Wayne, James Bond, and Jason Bourne, you think about men who can do the job themselves, champions who do not need anyone else to assist them. Frank Sinatra's signature song is 'My Way.' That has almost become the American ideal, but there is no such thing as an independent Christian. That is why we must live in a biblical community – the church."
"Finally, there is also the super pastor syndrome," proclaimed Fries. "That is also a barrier to church growth. Church folks try to self-medicate through drinking, food, or drugs; and preachers sometimes go to the door of the church after the service to receive the accolades of the congregation. That kind of affirmation can feed the ego and hinder some pastors from equipping the saints to do the work of the ministry, because they want to receive the praise of the congregation themselves."
Fries then indicated that the pathway to church health and growth is delegation. He said, "Just as Jethro, the father-in-law of Moses, urged him to delegate some of the responsibilities of leadership, so does a pastor need to learn how to delegate."
According to Fries, "Another pathway to church health and growth is following Jesus' example. Jesus taught multitudes at times, but basically He poured His life into 12 men and particularly into the lives of three men."
Leading the world to discipleship
Fries explained that if a pastor followed Jesus' example and just discipled three men each year, getting them to do the same, that in three years there would be 27 people discipled.
In seven years, he continued, over 2,000 people discipled, in 15 years all the people in Georgia would be disciple, and in 22 years everyone in the world would be discipled.
The Chattanooga pastor also encouraged every church leader to have an apprentice. He said, "I don't ever go anywhere alone. I always take someone with me. It provides accountability and an opportunity to teach as I go."
There were multiple breakout sessions, but one was led by Sam Rainer, president of Rainer Research, co-founder of Rainer Publishing, and lead pastor of West Bradenton Church in Bradenton, FL.
One of Rainer's sessions was on reaching Millennials. He highlighted the characteristics of the age group upon which he was focusing and stressed the importance of small groups. His presentation was informative and extremely helpful as were so many of the other conferences.
The next GoGeorgia event will be held at First Baptist Church, Tifton on August 25-26. For more information go to www.gogeorgia.net.