JEKYLL ISLAND — SuperWOW – it's the perfect name for the thriving and dynamic camp for students sponsored by the Georgia Baptist Convention's Youth Ministries. SuperWOW is just one of a number of events GBC Youth Ministries offers students, but it is designed to provide teenagers a chance to retreat from the busyness of life in order to truly encounter the power of God.
At the June 29-July 3 camp 1,500 people from 71 churches and six different states came to SuperWOW at Jekyll Island. There were also more than 100 ethnic students attending the camp.
First of all, Jekyll Island is a haven of history and wonder. The island, with an abundance of unspoiled natural beauty, was purchased in the latter part of the 19th century to become an exclusive winter retreat for some of America's most elite families.
Jekyll is one of a cluster of small barrier islands known as the Golden Isles of Georgia. The island has ten miles of sandy beach and magnificent oak trees accented by Spanish moss. The Conference Center, where SuperWOW is held, is spacious and beautiful – the perfect place for students to find God, know God, and allow God to be God in their lives.
The schedule for SuperWOW includes recreation, free time, and opportunities for the students to make new friends and connect with those who have been coming to the camp for years, but it is certainly not all fun and games. In fact, the camp has had such a powerful spiritual impact upon both adult sponsors and students that many return year after year.
The camp features two combined worship experiences each day – one in the morning and one in the evening. There are also age-graded seminars, missions' emphases, group devotions, and quiet times scheduled.
The worship services are characterized by lots of energy, excitement, and anticipation. The music was presented with excellence and the students worshipped with joy and enthusiasm. The age-graded seminars concluded at 7:30 in the evening and there was a 30-minute break between the seminar and the worship hour. The doors into the auditorium were shut prior to the time for worship and the campers where anxiously waiting en masse for the opening of the doors.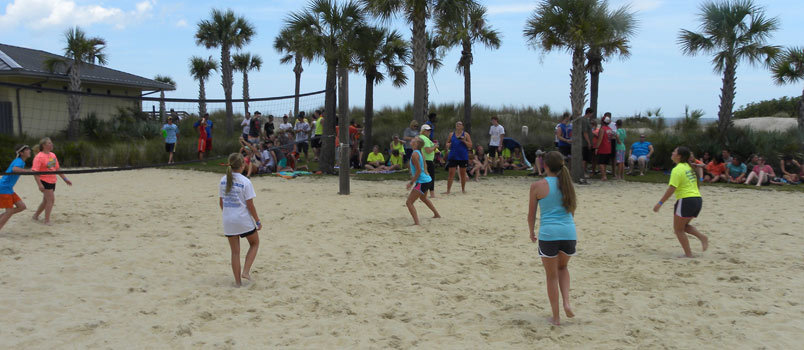 A volleyball flies over the court during a break at SuperWOW, Jekyll Island. Recreation mixes with Bible study and worship at the camp on Georgia's coast as well as it's location in Fort Walton Beach, Fla. GBC YOUTH MINISTRIES /Special[/caption]
When the doors were opened the rush into the auditorium looked like the mad dash into Macy's on Black Friday or shoppers clamoring to get in on the blue light special at WalMart. Georgia Baptist pastors could only wish that their congregations would be as passionate about getting into the worship centers on Sunday morning.
Drew Worsham, a Christian illusionist and mentalist, was a part of the worship event and held the rapt attention of the 1,500 campers with amazing feats that boggled the mind. He stated, "The reason I step on stages and the reason I perform is to earn my right to be heard so that for a moment I can share with you what, or rather Who, has truly changed all that I am."
David Nassar, senior vice president for spiritual development at Liberty University, evangelist and author, was the preacher for the evening worship hour and preached a powerful and compelling messages. In one of his messages Nassar highlighted the sacrifice of Jesus for the sins of the world, proclaiming, "Only in Christianity does the King die for the enemies of His Kingdom."
When the invitation was given scores, if not hundreds, of campers responded to the invitation. Some were weeping. Others looked relieved that they had settled their account with God. Everyone was in a celebratory mood for what God had done.
Alana Greenlee, recent high school graduate from Flat Creek Baptist Church in Fayetteville, explained, "This camp is teaching me that I must decrease so that He can increase. I am also learning how important it is to abandon your selfish desires. That the Creator of the universe would use me is awesome and more important than anything the world has to offer."
Kyle Brooks, devoted laymen at Flat Creek Baptist Church in Fayetteville, stated, "I came to my first SuperWOW Camp at Jekyll in 1982. One year the students in our church would come to SuperWOW and the next year we would go on a mission trip, so I came every other year until I graduated from high school. I also came two or three times as a college student to chaperone.
"This is my first time back at SuperWOW in 15 years, since I was in college" Brooks stated. "I came back with my wife Jodi and our two children, ages 11 and 14. I want my children to experience what I experienced when I was here as a student.
"I can honestly say that other than the people in my church who discipled me, SuperWOW came next. My experiences at camp grounded me in my faith and helped me establish a daily devotional time each day."
Robbie Nobles, eighth grade student from Big Sandy Baptist Church in Irwington, has been attending SuperWOW for three years. He commented, "I needed to get my life straightened out and last year at this camp I did just that. I also enjoy being in a room with people who love God. It's powerful!
Shawn Jones, a 15-year-old from First Baptist Church in Gordon, said, "I was saved at a MOVE Conference (a GBC-sponsored event) three years ago in Macon. Before, I didn't care about others very much, but now God has given me a love and respect for others. These camps make me want to follow Christ more."
Chris Maxey, Jones' student pastor at Gordon, added, "Shawn didn't know how much God loved him, but when Christ came into his life I saw an immediate change in him. He changed from the inside out and got active in our church. Now he serves as an usher, occasionally teaches Sunday School, and prays in our worship services. He wants to become a leader and I am confident he will use his ability to play football to be an influencer in his school."
"…  now God has given me a love and respect for others. These camps make me want to follow Christ more."
Zach Davis, student at First Baptist Church in Bremen, remarked, "I have been coming to SuperWOW for five years now. I rededicated my life at one of these camps and this camp helps us push the spiritual reset button. Every year I come to this camp I realize how much more of Christ I need in my life."
Twelve-year-old Alex Bearden, also from the Bremen church, declared, "This is a great camp. I will come back every year until I graduate from high school, then I will come back as a chaperone."
Logan Coates, one of the out-of-state campers from Kershaw, SC, remarked, "I enjoy the breakout sessions when we separate into our respective age groups; and I love the focus on prayer that has been emphasized.
"I want to grow closer to God so I can show others what He is doing in my life. I also want to help my church go through the crisis we are currently facing. The events that are designed for the youth are important, because I rededicated my life at a youth rally in May 3, 2013."
Volunteer youth leader at Antioch Baptist Church in Chickamauga Susan Millican is aglow over what SuperWOW has done for her church and community. She reports, "I love SuperWOW! We have a small church with a volunteer pastor and staff. We have been coming to SuperWOW since the early 90s. It has had a huge impact upon our community. Through the influence of the camp, kids have been called into ministry and are pastors at local churches. Others lead student ministries at their schools and have really changed the drug culture in our small community.
"This year I brought my granddaughter and children of former campers. The staff and speakers are always trustworthy. We will definitely come to Jekyll indefinitely."
Those observing the students at the SuperWOW Camp are seeing the truth of Matthew Henry's Words, "The flower of youth never appears more beautiful than when it bends toward the sun of righteousness."