CUMMING — Last fall, First Redeemer Church in Cumming began a campaign to have 15,000 Gospel conversations and see 1,000 make a profession of faith in one year. To put feet to their message, they committed to hand out a box of groceries with each conversation.
Now, at the end of July, the church is on track to meet that goal. They've distributed 12,000 boxes of groceries and seen 908 professions of faith – and counting.
First Redeemer's Love North Georgia campaign, the annual church-wide emphasis to share the Gospel through giving away groceries, partnered with the church's There's Hope for the Hungry ministry to not simply feed the community, but be intentional about sharing the Gospel with each person who steps through the door.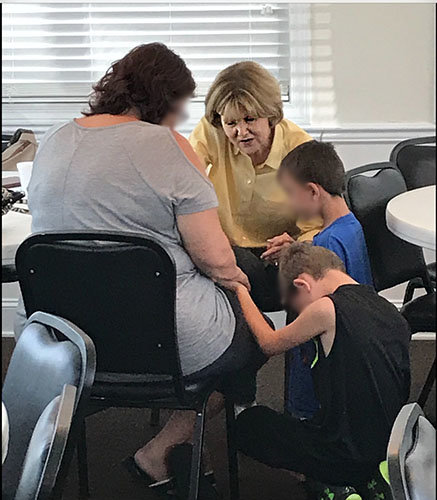 The most important part of First Redeemer Church's Love North Georgia initiative is that each family that receives a box of groceries also gets counseling and a Gospel presentation. FIRST REDEEMER CHURCH
First Redeemer's senior pastor, Jeff Jackson, sees it as "a soul-winning ministry that includes grocery distribution." Jackson has been at First Redeemer since 1996, first as a member, then a greeter and adult education pastor moving to the role of senior pastor in 2013.
"One-on-one soul-winning … we don't see that a lot anymore," Jackson said. "One of the things we really encourage our people to do is know how to share the Gospel with people."
Working with other churches throughout North Georgia (First Redeemer was on-site at Clarkston International Bible Church on July 27), the church supplies groceries and volunteers. Each person sits down with a counselor who is trained specifically to assess the individual's spiritual condition and present the Gospel. After the conversation they're presented the box of groceries.
Using this method, "every Gospel conversation is enabled by a box of groceries."
Hearts and hands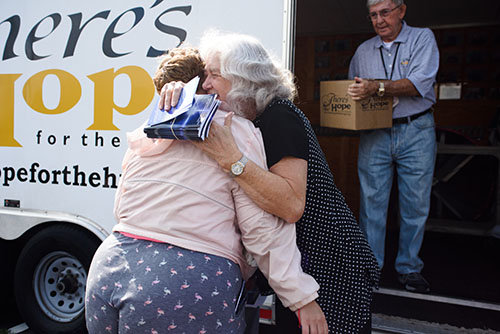 Volunteers embrace as they unload groceries that will open doors for Gospel conversations and help families in need. FIRST REDEEMER CHURCH
The church partners with other local churches with discipleship in mind.
"When we win someone to Christ want them to connect to the local church. We partner with these churches with the idea that they will disciple those won to Christ," Jackson explained.
The food distributed is purchased by members of First Redeemer from the Atlanta Food Bank. The ministry focuses on the Cumming area, a growing and diverse area. And thanks to the help of Lt. Governor Geoff Duncan, the church's ministry footprint has been broadened to be able to serve the Athens area as well.
Around 200 volunteers are involved in the process to make it all possible, including those who pack the groceries, volunteers who distribute them, and counselors. But, after those who donate are counted, there are many more hands and hearts involved in the ministry.
The church is looking forward to doing the project again, starting this fall, but with an even greater emphasis on evangelism.
"God is at work! People are being saved. Lives are being changed. It's exciting to serve Jesus right here, right now," Jackson added. "This is really something God is blessing. Beyond anything we as a church can do. It's exciting."
This story was updated Aug. 5.