PLANO, TX — Southern Baptist pastor Jack Graham posted several comments on Twitter this morning to clarify his church's announcement to temporarily escrow around $1 million for Southern Baptist causes.
On Feb. 17, the Louisiana Baptist Message reported how Graham, pastor of Prestonwood Baptist Church in Plano, TX, stated the church's decision to hold gifts "previously forwarded to support Southern Baptist cooperative missions and ministries." Those funds would normally go through the Cooperative Program, Southern Baptists' primary method for distributing monies to various agencies and causes.
The reason, Graham told Message editor Will Hall, circled around the leadership of Russell Moore, president of the Ethics and Religious Liberty Commission. In particular Graham has cited the ERLC's signing of an amicus brief related to a New Jersey mosque and Moore's comments critical of then-presidential candidate Donald Trump last year as well as Trump supporters identifying as evangelical.
Graham, a former Southern Baptist Convention president, serves on Trump's Evangelical Executive Advisory Board.
Growing national interest
Following a weekend of online debate among Southern Baptists, in addition to growing interest in national media outlets, Graham sought to clarify his church's position and his personal feelings on the matter through a succession of posts on Twitter this morning.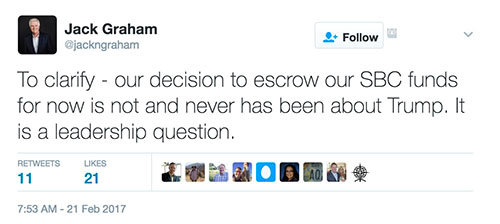 Originally, Prestonwood Executive Pastor Mike Buster provided the Message with a statement explaining the action due to "various significant positions taken by the leadership of the Ethics and Religious Liberty Commission that do not reflect the beliefs and values of many in the Southern Baptist Convention." The statement further positioned the move as temporary "until a decision can be made on current and future funding."
Last month, former Georgia Baptist pastor and current Tennessee pastor Dean Haun announced his church's decision to escrow funds traditionally given to the ERLC and International Mission Board, citing primarily concerns over the amicus brief. In addition, Haun resigned his post as an IMB trustee in November over the matter.
Moore response and support
In response, Moore released a statement to Baptist Press, saying, "I love and respect Jack Graham and Prestonwood Baptist Church. This is a faithful church with gifted leaders and a long history of vibrant ministry working and witnessing for Christ."
Bart Barber, a Texas pastor who serves on the ERLC's Leadership Council tweeted following Prestonwood's announcement, "I love and appreciate" Jack Graham "but am an ardent advocate for #ReligiousLiberty and for" CP. "I'm just heartbroken & conflicted."
In December, the New Orleans Baptist Association released a statement in support of Moore. Among its signatories include First Baptist Church, New Orleans Pastor David Crosby and Fred Luter, pastor of Franklin Avenue Baptist Church in New Orleans and Southern Baptists' first African American president.
Calling Moore "a leader raised up by God to help guide us in this new day," the statement also said "Dr. Moore speaks with a prophetic voice to our faith community about how to live for Christ and his kingdom in our culture. We don't expect him to gauge our opinions on social, political, and economic issues and then promote our consensus position."
In addition, the statement called Moore "a zealous advocate on behalf of the unborn, the family, the vulnerable, the weak, and the strangers among us."