TOCCOA — Last week the Georgia Baptist Mission Board staff hosted new ministers and their spouses for the Discover Georgia Baptists retreat at the Baptist Conference Center.
The conference center, located on beautiful Lake Louise northeast of Toccoa in the hill country of Georgia, is the perfect setting for spiritual training, Christian fellowship, and experiencing the wonder of God's might and majesty.
Georgia Baptist Executive Director J. Robert White greeted the attendees and gave missions staff an opportunity to introduce themselves and their ministries, but spent much of his time stressing the importance of Georgia Baptist churches reaching the next generation.
White stated, "Historically, most people came to Christ before age 19, but in 2016 our churches averaged baptizing only one teenager and three children during the course of the year. We must do better.
"The #ReachingNextGen initiative will officially launch at the 2017 annual meeting of the Georgia Baptist Convention, but it is never too early to begin."
Larry Wynn, state missionary in the area of Church Revitalization and Evangelism, picked up on the emphasis of winning the next generation and presented a message based on Psalm 71:18 titled, "Reaching the Next Generation Without Losing the Present Generation."
In Psalm 71:18 God declares, "Now also when I am old and greyheaded, O God, forsake me not; until I have shewed thy strength unto this generation, and thy power to every one that is to come."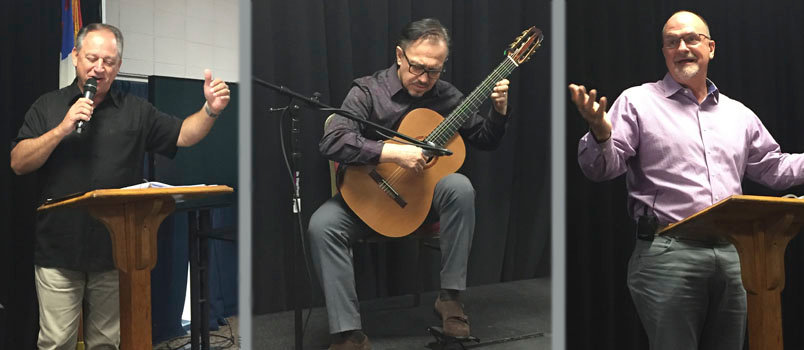 Left to right: Jon Duncan leads music; Rodriqo Rodriquez, a music evangelist and classical guitarist, dazzles the crowd; and Thomas Hammond preaches from Mark 2. GERALD HARRIS/Index[/caption]
Six steps
Wynn gave six steps to follow if a pastor is to "reach the next generation without losing the present generation."
"First," he stated, "take time to get to know the senior and median age adults in your church. Visit them on their turf and share your vision with them.
"Second, take the time to explain why you want to reach the next generation. It is not enough to explain what you intend to do and how you intend to accomplish it, without explaining why it needs to be done.
"Third, tell them stories of life change whenever possible. When prodigals return home it is inspiring and motivating.
"Fourth, connect the seniors with the next generation. Have senior adults adopt college students. The more you connect them, the more they will love what you do.
"Fifth, celebrate the victories of both.
"Sixth, realize that every young leader will become a senior leader one day."
Wynn's message was personal, practical, and powerful.
From postlude to prelude
Jon Duncan, state missionary in the area of Worship and Music Ministries, spoke about the importance of having a theological understanding of worship and expressed concern that churches are often more influenced by culture than biblical principles in planning their worship services.
Duncan gave several biblical illustrations of how worship precedes missions and evangelism. He stated, "We are very familiar with Matthew 28:19-20, where the Great Commission is stated. But we must not forget that in Matthew 28:17, God's Word says, 'When they saw him, they worshipped him.'
"We must remember that we do not worship from prelude to postlude. We worship from postlude to prelude."
The Discover Georgia Baptist event concluded with GBC President Thomas Hammond bringing a devotional message on Mark 2. In that passage, four faithful men brought the paralytic to Jesus by cutting open the roof and letting him down into the house where Jesus was addressing a room filled to overflowing with people.
Hammond proclaimed, "The four men who brought the paralytic to Jesus saw Jesus heal the man and forgive his sins and they were powerfully affected by what they saw. Nothing changes a life like seeing a life changed," Hammond reasoned.
There were breakout sessions for the ethnic pastors and the ministers' wives and from all accounts the new ministers were thoroughly introduced to the resources available to them and their churches through the Georgia Baptist Mission Board.
Bill Wheeler, director of the Georgia Baptist Conference Center, and his staff excelled in their hospitality to their guests, arranged for a special meal by the lake on Thursday evening and on Friday after lunch sent the new ministers home with a freshly baked chocolate pie.