Rev. Henry Holcomb D.D. (1761-1824) at 6'3" had a commanding presence. A Revolutionary War veteran he became a pioneer of Baptist missions and education. SPECIAL/Charles Jones
---
A Man of His Age
Christians are called to be "in the world and not of the world." At times culture can be Christianity's friend. At other times culture is its enemy. Throughout history there have been notable seasons when the winds of culture helped advance the work of the kingdom. Henry Holcomb (1761-1824) was born for such a time.
Today, we would consider John Rice a petty thief. He was convicted of shoplifting a pistol from a Savannah business. For his crime, he was sentenced to be hung at the gallows on the city's Forth Common. Rice left a wife and children, who in 1801 had little means to care for themselves.
Henry Holcomb of the First Baptist Church shared the gospel with Rice, who professed faith before meeting the executioner. On the day of the execution, Pastor Holcomb and his wife brought the widow and children to their home to comfort them. But the story did not end there.
The ministry of Henry Holcomb spanned an era shaped by two strong cultural and spiritual forces. These were the American Enlightenment and the Second Great Awakening. The American Enlightenment fostered the concept that by working together people could improve society by solving problems. While certain tenets of this age conflicted with Christianity, others provided a means for the advancement of the kingdom. It was also the era of the Second Great Awakening which provided tremendous energy fueling the growth of the church in America.
Early Life
Born in Virginia, Holcomb's family moved to South Carolina when he was a child. His formal schooling ended at age eleven, but he possessed a love for learning; good books were his companions for life. While still a teen he enlisted in the Continental Army during the Revolution, rising in rank to become an officer in a S.C. Dragoon (cavalry) Company.
His family were Presbyterians, although religion played a nominal role in their lives.  A self-described skeptic, he attended religious gatherings "to be seen" and considered the Bible to be "a book of contradictions". Later reflecting he wrote that at this point in his life he knew of "no serious professor of Christianity whom I did not despise".
One day while attending a service he came under deep conviction. "I was struck with an awful fear that there might be a reality in religion, and that the divine Spirit might have withdrawn from me his influences!" For several months, his conviction drove him to search scriptures. He realized there was a God. He would never be good enough to please God. It was only by God's grace he could "find peace with God through Christ".
Following his conversion, he immediately began sharing his faith. His first sermon was delivered to troops while sitting on horseback.  On his next visit home, he shared his newfound faith with his family who informed him, "he had been baptized as an infant". After searching the scriptures on baptism, he rode 20 miles to the nearest Baptist church where he was baptized the following day. In brief he was licensed to preach, resigned his military commission, was called by the church as pastor, and began a long and fruitful ministry.
A Call to Savannah
After effectively serving two church fields in South Carolina, in 1799 he was called to fill the pulpit of the Independent Presbyterian Church in Savannah. The church was renting and sharing worship services in a building constructed by Baptists who were having difficulty organizing a church.  A year later Holcomb and 10 others formally organized a Baptist church. This was the first white Baptist church organized in either of Georgia's two cities.
Holcomb was as an activist pastor wielding pulpit, pen, and his commanding 6'3" presence to proclaim the gospel, promote missions, education, moral and civic reform. In a culture seeking to solve society's problems, people eagerly followed his leadership. Encountering a problem, his attitude seemed to be "Why shouldn't we help!" instead of "Why should we?".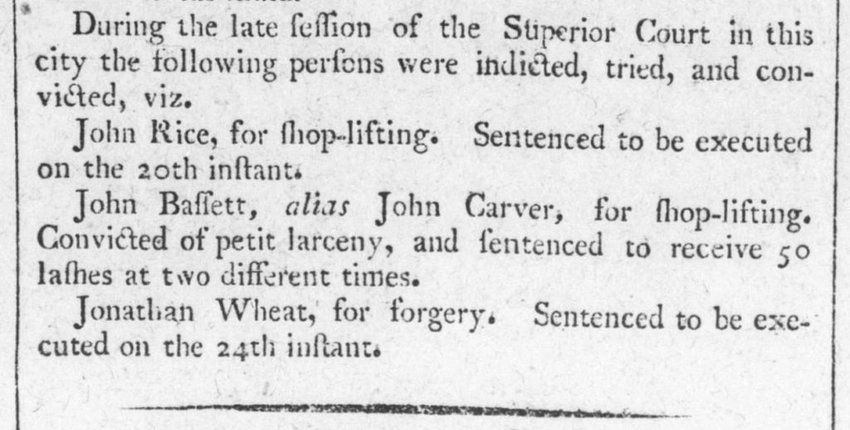 Notice in the May 13, 1802 Georgia Gazette (Savannah) of the pending execution of John Rice for shoplifting a pistol. The events of this execution lead Holcomb to become a leading advocate of penal reform in Georgia. SPECIAL/Historic Newspapers Digital Library of Georgia, Athens, GA)
Holcomb was a civic leader. Following the execution of John Rice in 1801, Holcomb became one of Georgia's leading advocates of penal reform.  Believing the punishment did not fit the crime, he began pressing for changes in capital punishment. The following year Georgia became one of the first southern states to construct a state penitentiary.       
That same year, he founded an orphanage for girls in Savannah. Orphaned boys were more likely to be taken in as potential laborers. Girls were at higher risk for neglect and abuse. The orphanage, administered by the church women of Savannah, took care of the girls' basic needs, and taught them valuable life skills.
Pioneer in Georgia's Emerging Missions Movement
Holcomb became one of the pioneers in the emerging Baptist mission movement. In Georgia he helped organize the Powelton Conferences (1801-1803) and its successor the Georgia Baptist General Association (1803-1810). These meetings were composed of messengers from four Georgia Associations. The focus was missions to the Cherokee and Baptist education. Although relatively short lived, the lessons learned were important precursors to the establishment of the Georgia Baptist Convention in 1822.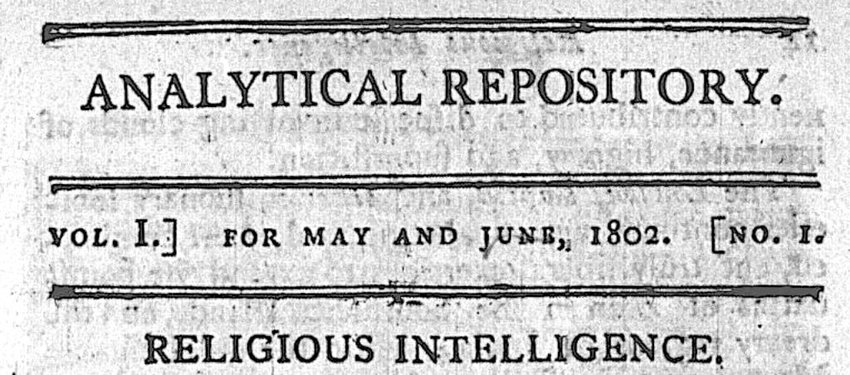 The Georgia Analytical Repository, Savannah, Georgia was the first Baptist newspaper published in the south beginning in 1802. It was established and edited by Henry Holcomb, the founding pastor of the First Baptist Church of Savannah. The paper promoted missions, moral and civic reform and reflected the far reaching influence of this overlooked Baptist pioneer. COURTESY/Charles Jones, UGA Library, Athens, GA
In 1802, he began publishing The Georgia Analytical Repository, possibly the first Baptist paper in the south. Much of what it known today about early African American Baptist work in Georgia came from this publication. Holcomb became a friend and encourager of African American pastors in Savannah. This short lived (1802-1803) publication promoted Baptist work.
Holcomb, working through the Georgia Baptist General Association, founded the Mount Enon Academy, one of the first Baptist schools in the south. He became the chief fundraiser and promoter. Had his health prevailed, today Georgia may have "Holcomb University" instead of "Mercer." Although through Holcomb's influence on Baptist layman Josiah Penfield, he helped lay the foundation for Mercer University.
In 1807, Holcomb was returning home after preaching and fund raising for Mount Enon when he stopped at a spring for a drink of water. After this he became seriously ill and almost died. During a long recovery he relapsed on several occasions. The illness eventually forced him to resign the Savannah church in 1810. He retired to a home he owned at Mount Enon assuming his ministry days were over.
In time, he did recover and soon began receiving requests from prominent churches across America. He declined them all until receiving an inquiry from the FBC Philadelphia, PA. Which was at the time the flagship of Baptist Churches in America. He left Georgia and began his Philadelphia ministry in 1812, remaining until his death in 1824.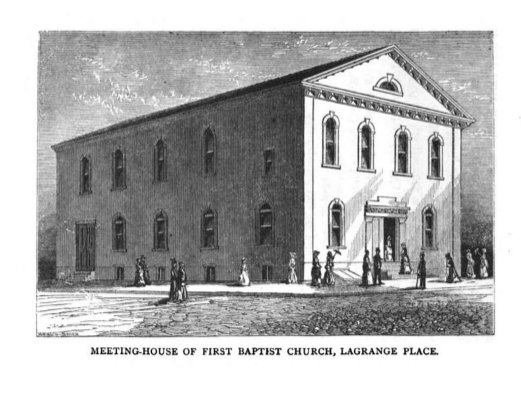 After a long recovery from an illness, which almost claimed his life, Holcomb left Georgia after accepting the call of the First Baptist Church of Philadelphia, PA in 1812. Here he established the first Sunday School in Philadelphia in 1815 and was elected a founding officer of the Triennial Baptist Convention in 1814. SPECIAL/Charles Jones
Shortly after Holcomb moved to Philadelphia, Luther Rice arrived seeking Baptist support for Adoniram Judson, a Congregationalist turned Baptist foreign missionary in Burma. Holcomb embraced the request and sent letters of recommendation on behalf of Rice to, Jesse Mercer and Richard Furman. Two years later in 1814 when Baptists organized their first national body to support missions, The Triennial Convention, Holcomb was elected one of its founding officers.
Holcomb established and supported many new ministries as well as mentoring. Two of these included Jesse Mercer and William T. Brantley Sr. both of whom became titans of Baptist life in missions and education.
Holcomb's talents and interest covered many areas. Any of the following accomplishments would have been a major life achievement. That they were the accomplishments of one man reflects what God can do when there is leadership and an openness by God's people to work together for the kingdom.
Holcomb's Legacy
Captain S.C. Dragoons, Revolutionary War.
Served on the S.C. committee to ratify the U.S. Constitution 1789.
S.C. pastor from 1785 to 1799.
Founding pastor of FBC Savannah, GA 1800-1810.
Leading promoter of Georgia Penal Reform 1801-1802.
Founder of the Savannah Female Asylum 1801.
Founder of the Powelton Conferences 1801-1803.
Publisher/editor of the first Baptist paper in the south, Georgia Analytical Repository 1802-1803.
Founder of the Savannah River Baptist Association 1802.
Founder of the Georgia Baptist General Association 1803-1810.
Founder of the Mount Enon Academy 1806-1812.
Pastor of the FBC Philadelphia, PA 1812-1824.
Founding officer of the Triennial Baptist Convention 1814.
Established the first Sunday School in Philadelphia 1815.
A founder of Columbian College (Baptist) ca. 1817.
Founder of the Pennsylvania Peace Society 1822.
A friend and supporter of African American Baptist work in Savannah and beyond.
A mentor to rising Baptist leadership.
Mercer University: Inspired layman Josiah Penfield to support Baptist higher education by bequeathing $2,500.00 to establish a school.
American Enlightenment and the Second Great Awakening
Sometimes, the winds of culture blow in a direction that foster the advancement of the gospel. The culture of innovation and change fostered by the American Enlightenment and the spiritual energy being generated by the Second Great Awakening combined in this era to produce much of the early infrastructure of the Modern Missions Movement. It was a remarkable season in the history of American Christianity.
Few people personified this generation of change more than Henry Holcomb. His life's work reflecting development and innovation of new ministries, illustrates the point that sometimes culture can be Christianity's friend. Holcomb was a man of his times who knew how to be "in the world but not of the world."
---