This is the seventh
of a dozen stories highlighting the upcoming Nov. 14-15 annual meeting of the Georgia Baptist Convention in Savannah. The stories are being published on Monday, Wednesday, and Friday through Nov. 11 and include both Convention-related content and a look at how the Savannah Baptist Association is making a Kingdom impact in Coastal Georgia.
SAVANNAH — For thousands of new Hispanics in Chatham and surrounding counties, when they think of assistance with immigration issues they think of First Hispanic Baptist Church on Gamble Road. Each Spring it hosts the Mexican Consulate from Atlanta to process passports and provide Mexican ID cards. The three-day event usually processes upwards of 5,000 residents. When they need assistance assimilating into life in America they know the church can help them through its contacts with the Red Cross, United Way, and government agencies. Through that vast network it provides programming dealing with health issues, immigration advice, employment, and food assistance.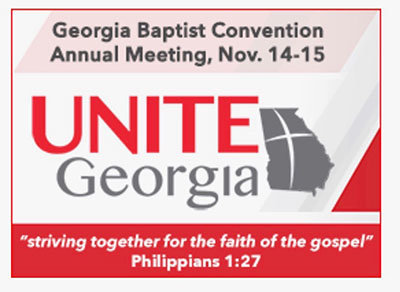 The growing congregation also has a food and clothing ministry and its annex, known as the Hispanic Community Center, is a popular location for recent immigrants who have moved with few possessions. It's all focused on helping immigrants assimilate into American culture and become just as valid and productive members of society as those from European or Asian nations. And along the way, they receive a chance to embrace the gospel and find a church where they and worship and build a spiritual network among peers. That's the goal pastor Samuel Rodriguez has as he seeks to the growing numbers of Hispanics from through the Spanish-speaking world, ranging from Mexico to Central and South America.
Largest Hispanic church in Savannah Association
First Hispanic is the largest Hispanic congregation in the Savannah Baptist Association, which is the coordinating agency among the 66 churches and missions in the Georgia Baptist Convention. Georgia Baptist churches, which are an affiliate of the Southern Baptist Convention, are autonomous so they voluntarily support the Association and are not bound by any theological interpretations or resolutions which are voted on by the churches. Therefore they work as a loose collective, pooling their resources for the furtherance of church planting and evangelism.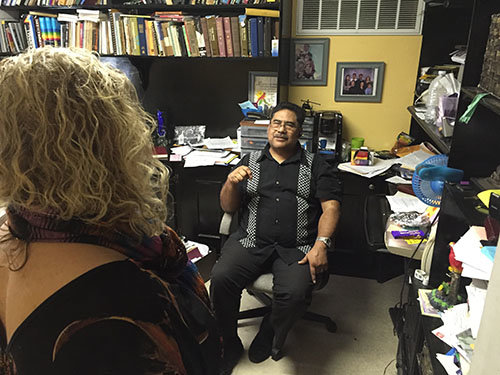 Pastor Samuel Rodriguez visits with a guest at the church-based radio station. Rodriguez, who turned 57 on April 26, recently celebrated his 29th anniversary of marriage to his wife, Marta. The couple have five children – 2 girls and 3 boys.
JOE WESTBURY/Index[/caption] The Association is culturally and racially mixed, with participating congregations from the African-American, Hispanic, Korean, Chinese, Filipino, and Vietnamese communities, says Associational Missionary Buddy Wasson. The group of churches, which will celebrate its 68th year on October 18, is hosting this year's annual meeting of the Georgia Baptist Convention. That group's 195th annual session will be held Nov. 14-15 at Calvary Baptist Temple at 4625 Waters Ave. Kenny Grant, the congregation's first African-American pastor, is a former U.S. Marine Corps staff sergeant and chief drill instructor. First Hispanic has not only established itself as a door through which people from throughout the Hispanic world of Central and Southern America assimilate into U.S. culture. Pastor Rodriguez has also led the congregation to start a low-power radio station with a diverse programming schedule.
Radio PESCA addressses spiritual, social programs among Hispanic population
Radio PESCA, the Spanish word for fish, is serving through a variety of ad-free programming that provides a Christian message while helping solve social problems common among all immigrants. PESCA is an acronym for the objectives of the station. P stands for "Preach the gospel," E for "Educate God's people, S for "Serve by showing the love of the Lord," C for "Companionship among God's family" through involvement in a local church, and A for "Adore God as he deserves." Rodriquez appreciates a good challenge and has rarely seen a problem he could not solve. Radio PESCA is one example. Rodriguez knows how hard it is to start a church with very little funds. Or absolutely no funds, in his case. That's why he is grateful to the Georgia Baptist Mission Board and the Savannah Baptist Association for the resources and training he received as being a Georgia Baptist. Through training and workshops he stays up-to-date on the latest resources provided through the Mission Board's Intercultural Church Planting and Missions Ministry, based in the Atlanta suburb of Duluth.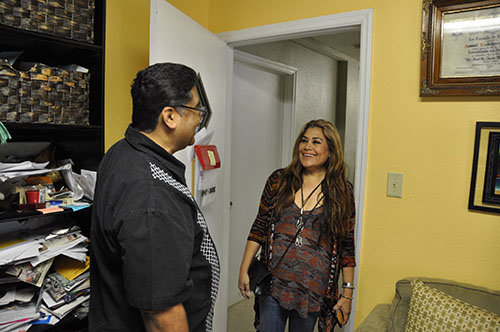 Practical programming, such as that by Miriam Rittmeyer – a Guatemalan physician and leader in the Hispanic community – bring medical advice to the station's listeners. JOE WESTBURY/Index[/caption] There are about 25,000 Hispanics in Chatham County with 15,000 with a seven-mile radius of the East Savannah church. The station helps get into homes that the church cannot otherwise reach. Rodriguez accepted the small congregation, a struggling mission of Bull Street Baptist Church, in 1995 with only eight members. Five years later the congregation began meeting at Wilder Memorial Baptist Church on Gamble Road as that congregation continued its decline. Wilder's decline … and the Hispanic congregation's growth … signaled the future of both congregations. The mission constituted as a church in 2001and, Rodriguez says, owes much of its growth to the English as a Second Language classes it provided at Jasper Springs Baptist Church and First Baptist Church of Garden City. Worship and language classes were also held at Emmanuel Baptist Church near Oglethorpe Mall.
English language classes "important part of who we are"
"Our English classes are an important part of who we are and why we have grown. There is an incredible need for this ministry and it is a valuable way to bring people into your congregation," he adds. In 2010 the Wilder congregation disbanded and donated its property to the congregation. Innovative way of sharing the gospel Rodriguez credits two Radio PESCA volunteers … Iris Sarria from Peru and Isabel Haring from Honduras … for keeping the programs running on schedule. Both are radio personalities; Haring, who had a medical ministry for 15 years in her native country, also serves the station director. Upwards of 10 other people work behind the scenes to make the station a success. The only 24-hour Christian radio station in the areais different from many traditional stations is that is does not focus on preaching or the broadcasting of worship services.
Nothing ventured, nothing gained
"I do not want a preaching station. Instead, on Fridays my program focuses on a two-way discussion between myself and Isabel. She will ask questions that I use to go into a more in-depth discussion of the previous week's sermon. It's a much more interactive approach to delivering the gospel," he explains. Rodriguez wants to expand the station's footprint by purchasing equipment that would allow for remote broadcasts from community events and festivals. The congregation does not just focus on missions in Chatham County but looks to mission trips to nations where its members are from. Trips to Mexico, Nicaragua, and Costa Rica are common. Peru is being added this year. But for now the station remains the flagship ministry of the growing congregation. "I sometimes do crazy things and take chances to spread the gospel. You know what they say," Rodriguez notes with a big grin. "Nothing ventured, nothing gained."