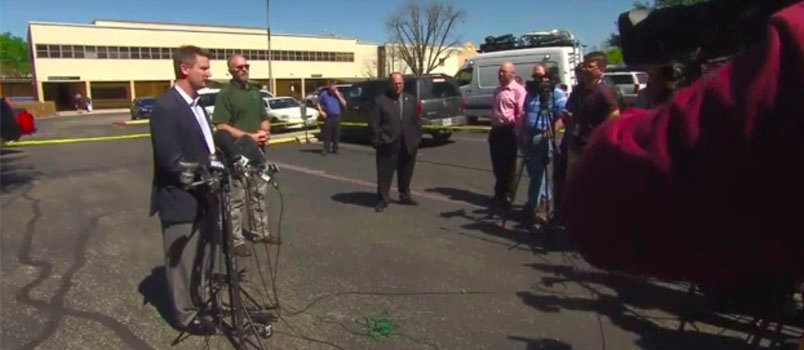 "Our priority as a church … is to take care of our families who have lost a loved one in this accident," Senior Pastor Brad McLean told reporters earlier today. "We want to help them through these difficult days."[/caption]
NEW BRAUNFELS, TX — First Baptist Senior Pastor Brad McLean stood before the media in the church parking lot. Measuring his words, he attempted to describe the loss of 13 senior adults barely 24 hours earlier, killed following a head-on collision with a pickup truck after a three-day retreat.
"Those individuals I saw weekly. Some had been members for years and gone on mission trips. These were individuals we'd sat next to, had dinner with, laughed and cried with, and worshipped. They were part of our church family … and will be deeply missed," McLean related earlier today in a press conference.
"I remember their smiles … the hugs. I remember couples coming in together … walking by and saying 'Pastor, we're praying for you.
"… You live life with folks and share so many small interactions that add up to a relationship," he pointed out. "That impacts you."
911 call placed prior to the accident
The bus carrying 14 senior adults yesterday, March 29, was part of a larger group of 65 members, McLean told reporters. They were returning from a retreat at Alto Frio Baptist Camp and Conference Center in Leakey.
Authorities determine the accident happened at 12:23 p.m. when the 20-year-old driver of a truck driving northbound veered into the southbound lane of U.S. 83 near Garner State Park, about 75 miles west of San Antonio, striking the church bus.
At 12:02 p.m., a 911 call had reported a white Dodge dually driving erratically. Deputies were dispatched, but arrived after the crash had occurred.
Bus driver Murray Barrett, a retired teacher, died at the scene along with 11 other passengers. Two survivors were airlifted to San Antonio hospitals, where one later died. The truck driver was also airlifted to a San Antonio hospital.
Wednesday services canceled, building open for prayer
The church canceled Wednesday night services, though it was open for prayer with counselors on hand.
"It is with heavy hearts that we confirm that thirteen of the fourteen passengers in today's bus accident were called home to Jesus," read a statement posted to the church's website at 10:40 Wednesday night. "The survivor is in serious but stable condition. Families have been notified. Out of respect for the families, we will wait until tomorrow to publish an official statement and list of names. Thank you for the outpouring of love and support. Please continue to pray."
And while an outward ministry mindset continues at the church – prior to the press conference McLean offered cold water and doughnuts to reporters who had been waiting all day – the moment requires an inward focus.
"Our priority as a church … is to take care of our families who have lost a loved one in this accident," McLean told reporters. "We want to help them through these difficult days."
The pastor also offered prayers for the family of the truck driver.
"That family is hurting. I encourage that we show grace to them, we pray for them, and show love for them as they work through a very difficult time as well."
Support from the SBC
Southern Baptist leaders such as LifeWay president Thom Rainer and former SBC president Ronnie Floyd posted condolences and prayer support for McLean and the First Baptist family online.


Texas governor Greg Abbott also offered condolences.
"We are saddened by the loss of life and our hearts go out to all those affected … and ask that all Texans join us in offering their thoughts and prayers," he said in a statement.
While the church's pastor acknowledged his congregation's strength in Christ, he didn't overlook the difficult days ahead.
"The hard reality [is] we won't see those faces walking in the door, be able to greet them and shake hands and hug them," said McLean. "Some out of that group served in our kitchen on Wednesday nights. It's the everyday interaction and relationships built that will affect us a week from now, a month from now."
One reporter asked about the retreat on which the group had been. What had the pastor heard about it before they left?
"They worshipped together, they shared testimony together, they opened God's word together," McLean told the group.
"They said it was an incredible three days."