By J. Gerald Harris
DULUTH – The Sons of Jubal, founded in 1954, and the Jubalheirs, founded in 1973, were established for the purpose of glorifying God through concerts of praise, engaging in active mission work and sharing the Gospel of Jesus Christ.
The Sons of Jubal is a men's chorus and the Jubalheirs is a ladies' chorus with each group having over 200 vocal members. The Jubal Brass accompanies the Sons of Jubal and has over 40 members. The Jubalheir Orchestra also has over 40 members and accompanies the Jubalheirs. These two main choral groups also have "a cappella" groups (Jubal Tones for the men and Tapestry 3:16 for the ladies). Additionally, the men and women each have handbell choirs that often participate as part of the concert programs.
With the Georgia Baptist Mission Board's emphasis upon making healthy churches a priority, a decision was made for the Sons of Jubal and the Jubalheirs to be incorporated into a domestic nonprofit corporation. Jubal Ministries, Inc. was officially incorporated as of April 4, 2021. Plans are now underway to complete the application for certification from the IRS as a 501(c)(3) charitable organization. Jubal Ministries, Inc. expects to receive the certification by the end of the summer but in the meantime is entitled to operate as a charity.
Thomas Hammond, executive director of the Georgia Baptist Mission Board, stated, "The Sons of Jubal and Jubalheirs have been a vital part of Georgia Baptist life for many years and have blessed multitudes of people here at home and around the world. The leadership team at the GBMB has worked in concert with the leadership of our Music/Worship Ministry to ensure that the incorporation of this ministry will serve our convention of churches and Jubal Ministries Inc. well and secure for this choral and service ministry a bright and productive future."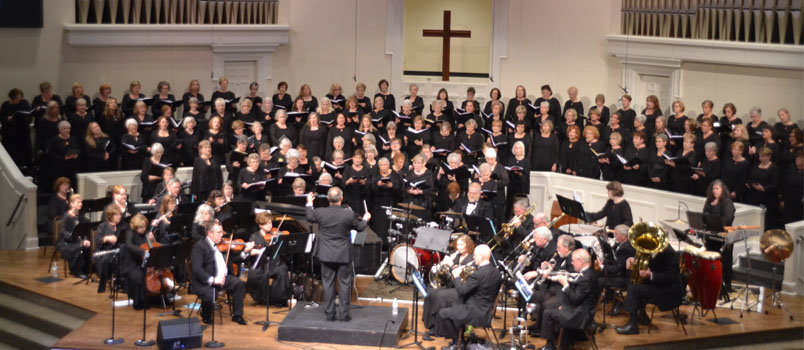 Georgia Baptists's women's choral group Jubalheirs, have concerts set for September and October.
Because Jubal Ministries, Inc. is primarily a music/mission organization, its members are committed to both worship enrichment and gospel proclamation. Over the remainder of 2021, a series of church concerts are planned that will feature excellent music designed to touch many with the Good News of Jesus Christ, enrich lives, promote revival and glorify God.
Rhon Carter, who has begun his role as the new worship and music catalyst for the GBMB, recently stated, "I am so excited about the future of Jubal Ministries. I have been a part of this group for almost 20 years and the relationships I have built and the musical knowledge I have gained have helped me be the best worship pastor I can be in my local church.
Carter continued, "I love the community that Jubal ministries has created. I look forward to ministering with all of the Jubal members, in addition to serving all Georgia Baptist music/worship ministries. My goal is to encourage all worship/music leaders in Georgia and help Georgia Baptist churches take next steps in their worship/music ministries."
The purpose and mission of the Jubal Ministries, Inc. will be enhanced by six regional worship/music ministers who are now a part of the GBMB staff.
Jon Duncan, formerly the worship and music catalyst for the GBMB, recently was called to be the senior professor of church music and worship at the School of Church Music and Worship at Southwestern Baptist Theological Seminary in Fort Worth, Texas. However, he will continue to conduct both of the main choral groups.
Duncan has 40 years of local church and denominational service; and his spiritual leadership in the areas of worship, personal devotion and scriptural primacy are admired and deeply appreciated by all associated with Jubal Ministries.
Rick Cook, president of Jubal Ministries, Inc., recently stated, "We are in a 're-starting phase' following the Covid-19 pandemic, but we expect that by and large, our concert ministry will proceed as it has in the past.
"Both the Sons of Jubal and the Jubalheirs have recently conducted an annual retreat to begin to learn new music for the upcoming concert season and also to welcome new members," Cook said.
A typical concert day," commented Cook, "involves a rehearsal at the host church starting around noon and then a concert in the evening, most often at 7:00 o'clock. We have utilized a dual concert format (one at 4 p.m. and the other at 7 p.m.) when we sing in smaller churches or when the number of anticipated attendees exceeds the seating capacity of the church. The dual concert format may be something we use as we resume concerts in 2021 in order to allow for some measure of social distancing. Smaller churches that are unable to host either of the main choral groups may want to consider hosting a concert by one of the a cappella, handbell, or instrumental ensembles.
"The concert programs presented have been and will continue to be focused on proclaiming the Gospel of Jesus Christ through a wide variety of music styles. Each concert also includes a time of decision near the end."
The Jubal concert ministry spans the entire state of Georgia based on invitations and availability. Churches or entities interested in hosting one of the choral groups for a concert will find the needed contact information on the website: www.jubalministries.org
Cook added, "For all Jubal events, the participants travel at their own expense and volunteer their time to participate in the ministry because of their passion to proclaim the Gospel of Jesus Christ through our music and mission activities. There is never a charge to attend a Jubal Ministries concert although we do accept a love offering from any attendees who wish to show their support and appreciation for our ministry.
"We have established accounts with the Georgia Baptist Foundation (www.gbfoundation.org) for anyone who desires to support our ministry through direct donations. Our vision is to build up our endowment fund at the Georgia Baptist Foundation so that the income generated from that fund will more than cover annual operating costs of the ministry.
"In addition to local (Georgia) concerts, each group typically participates in an international trip approximately every four years. Recent international trips have included: Israel, China, North Korea, Moldova, England, and Wales. Ultimately, we go where and when God leads us.
The Directors on Jubal Ministries Board are Erin Barnett, Bobby Boswell, Rhon Carter, Rick Cook, Barbie Doll, Eddie Mayfield, Phil Myers, and Monte Nichols.
The Officers of Jubal Ministries are: Rick Cook - President, Phil Myers, Jr. – Treasurer, Erin Barnett – Secretary, Jeff Brazell – Vice President, Sherin Hinnant – Vice President, and Jon Duncan – Artistic Director.
Upcoming concerts:
Jubal Chorus (combined men's and ladies' groups) – August 5, 2021 – First Baptist Church, Snellville, GA
Sons of Jubal: September 23, 2021 – First Baptist Church, Douglas, GA; October 21, 2021 – First Baptist Church, Blairsville, GA
Jubalheirs: September 24, 2021 – Brewton Parker, Mt. Vernon, GA; October 22, 2021 First Baptist Calhoun,
The Jubal concerts have the potential of being not only memorable, but life changing.