Atlanta Hawks guard Kyle Korver, on the brink of his 34th birthday, became a National Basketball Association All-Star for the first time in his twelfth season.
Korver, who is ridiculously accurate with his long-distance three point shots, has helped the Hawks craft an impressive season in the 2014-2015 NBA campaign.
At the time of the All Star break Korver was averaging 12.7 points for the Hawks on a remarkable 52.3% average from beyond the three-point arc. He is the leading 3-point shooter in the NBA.
K.C. Johnson, writing for the Chicago Tribune, explained, "The former Bulls guard is getting better as his career progresses."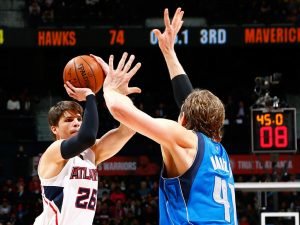 It took 12 years in the NBA before Atlanta's Kyle Korver had his breakout year, earning a slot in the 2015 All Star Game. The Iowa native has been a key cog for the Hawks this season, leading the league in shooting 50% from beyond the 3-point line. SCOTT CUNNINGHAME/NBAE/Getty Images[/caption]
Korver responded, "It's really amazing. I've never been like a basketball prodigy. There's a saying that it takes a village to raise a child. Well, a lot of people have played a part in the success I'm experiencing now. I've had such great coaching and such great teammates and system.
"It was just doing the daily work. The All-Star Game was never a goal of mine. I just wanted to keep on getting better as a player. And I just really love playing basketball. If you surround yourself with good people and work really hard, crazy things happen sometimes."
Concerning Korver's selection to be an All Star, the West All-Star coach Steve Kerr said, "He's having the greatest shooting season of anybody ever. But it goes beyond the shooting. It's what he does to the defense because of the threat of his shooting, the screens that he sets and the way he opens up his teammates. He has turned into a great player."
Korver responded, "People decline because their body breaks down. If your body doesn't break down, you should be a better shooter because you have shot more shots and have been in more experiences. For a bunch of reasons, I feel the best I've felt in my whole career."
However, after Korver's comments about feeling good he broke his nose in the second quarter of a game on March 15 against the Los Angeles Lakers.
Basketball heritage
Born in Lakewood, CA, Korver's family later moved to Pella, IA. He played college basketball for the Creighton Blue Jays where he was a consensus second-team All-American in 2003. He was the 51st pick overall in the second round of the 2003 NBA draft and had spent his professional career with the Philadephia 76ers, Utah Jazz, and Chicago Bulls before coming to the Hawks in 2012.
A recent news release from the Fellowship of Christian Athletes stated, "It's Korver's character, integrity, and ever-deepening relationship with Christ that will impact the NBA for years to come, far more than any praise stemming from his
on-court achievements."
Kyle comes from a family of preachers and basketball players. His parents and three uncles – Karl, Keith, and Ken – played basketball at Central College in Pella, NE. Another uncle, Kris, played basketball at Northwestern College in Orange City, IA. His mother, Laine, once scored 73 points in one game for her high school in Montezuma, IA.
Kyle's brother, Klayton, played on Drake's basketball team; Kaleb played at Creighton; and the youngest brother, Kirk, played basketball at the University of Missouri – Kansas City.
Korver's father, Kevin, is pastor of Third Reformed Church in Pella. His grandfather, Harold Korver, 75, is pastor of Immanuel Reformed Church in Paramount, CA. Kyle also has two uncles who are pastors.
"… a lot of people have played a part in the success I'm experiencing now. I've had such great coaching and such great teammates and system."
Last season, the Hawks awarded Korver the Jason Collier Memorial Trophy for his dedication to community service, and he's been a two-time finalist for the NBA's prestigious J. Walter Kennedy Citizenship Award.
The FCA article explained, "In a community of opulence, fast cars, and big bank accounts, serving others is what helps keep Korver and his family focused on what's truly important. He and his wife, Juliet, are also active in the Kyle Korver Foundation, which impacts cities across the U.S."
Korver responded, "It's easy to get caught up in stupid, vain stuff, wearing certain clothes or buying certain cars. How you spend money and what you invest in – those are big questions. It's also easy to start thinking you are more important that you are, but that's why true community is so important to us."
What you make it
In an exclusive interview with The Index, Korver stated, "You can make the NBA whatever you want it to be. If you want to make it a big party, you can do that.
"But I think you must surround yourself with people who can make you a better person – not people who will tell you things you just want to hear. I have been fortunate to have really great people around me – my family, good friends, and my church. You become much like the people you surround yourself with."
Korver met his wife, Juliet, in Utah when he played with the Jazz. He was introduced to her by the pastor of her church. Korver explained, "She is an amazing woman, and my career has gone in a whole new trajectory since I met her. She has helped me navigate through some injuries, frustrations, and difficulties. She has been a steady force for me. She speaks truth into me. She challenges me; and she loves me. She is everything I had hoped for in a wife.
"When you are in the NBA there are a lot of things that are thrown at you and I have found Proverbs 3:5-6 to be a good life verse for me. When I have trouble finding my way through the complicated life of a professional basketball player with the schedules we have to keep and the demands upon our lives, that passage of Scripture has helped guide and sustain me.
"So, I have found that it really helps when I do not try to work out everything in my own knowledge. Ultimately, you just have to trust the Lord and believe He has a plan for you."