Larry Harmon stands in the sanctuary at West Acres Baptist Church where he has served since he was 25 years old. He is scheduled to preach his final sermon as senior pastor on Sunday.

By Roger Alford

EVANS, Ga. – Crews used a crane to hoist Pastor Larry Harmon some 80 feet into the air to place a cross atop the colossal steeple at West Acres Baptist Church – proof enough that he has indeed reached great heights during his 35 years of ministry here.

But Harmon considers the highest heights he reached not to be on that crane but in the baptismal pool where more than 2,500 new believers have been baptized since he became senior pastor, according to records from the Georgia Baptist Mission Board.

Those records show the church has averaged over 70 baptisms per year during Harmon's ministry. His record for a single year was 367 baptisms, a feat few Georgia pastors have topped in modern times.

The easy-going Kentucky native will preach his final sermon as senior pastor at West Acres this Sunday, then, at age 60, will turn his attention to whatever "new adventure" the Lord calls him to.

"Believe me, we haven't heard the last of Larry Harmon," said Georgia Baptist Mission Board Executive Director Thomas Hammond. "He is a true champion for the cause of Christ, and I know the Lord will continue to use him mightily."

Harmon arrived at West Acres with his wife, Kaye, fresh out of Southwestern Theological Seminary. He would serve initially as an associate pastor to Senior Pastor Bob Rayner. As the associate, Harmon was responsible for student ministry.

He and his wife saw West Acres for the first time when they rolled onto the then-gravel parking lot and pulled up to a metal building that looked more like a small meat-processing plant than a church. While it wasn't much to look at on the outside, it was what they experienced on the inside that sealed the deal.

"When we walked through those doors, we were hit by the Holy Spirit," he recalled. "There was no doubt in my mind; this is where the Lord wanted us."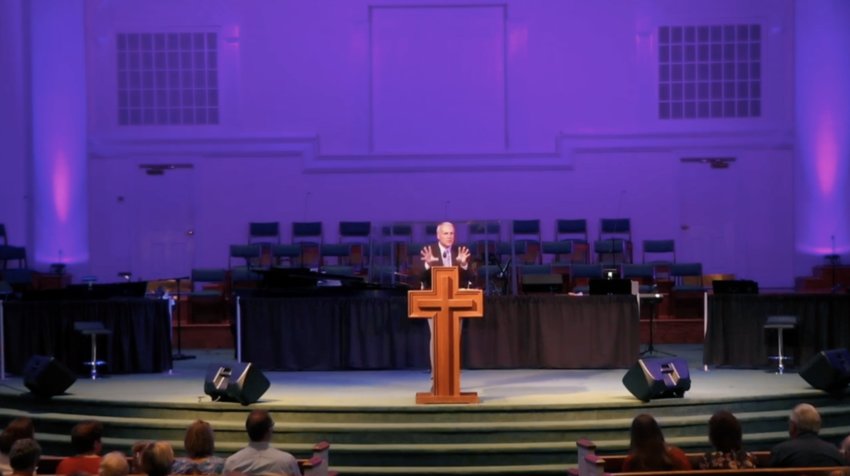 Larry Harmon preaches in the cavernous sanctuary built during his tenure at West Acres Baptist Church in Evans, Ga.
Harmon said watching the exponential growth of West Acres from a church plant to an established church has been amazing.

"Most importantly, I have seen God grow this church supernaturally and spiritually," he said. "I have often said that it is as if I have pastored several churches without ever moving because new people, new personalities and new challenges have come each and every year and have kept the ministry fresh and exciting."

West Acres was founded in 1983, meeting at first in a local school auditorium. Two years later, the congregation moved into the metal building, which now serves as the venue for children's church and youth activities.

When Rayner retired in 1989, Harmon served as interim pastor. The search committee asked him three times to become senior pastor. The first two times, he declined, thinking he was too young and too inexperienced for the job. When the committee approached him the third time, he agreed, and the congregation overwhelmingly voted to call him as senior pastor.

His early days as senior pastor were marked by rapid growth. Under his leadership, the congregation began making plans for a building expansion, and, in 1997, a spacious new sanctuary was completed with enough seating at the time for 1,700 people. That was the moment when work crews hoisted him to the top of the steeple to put the cross into place and "plug the church into its power source."

With the average tenure of Southern Baptist pastorates being somewhere between three and six years, serving in the same church more than three decades is rare. Lots of factors came into play, Harmon said, to keep him at West Acres, but the most important factor, he said, was simply trusting God.

"That is the glue that holds it all together," he said. "I have been in the equipping hands of the Lord Jesus from the very beginning of my call to ministry. My church family began praying for me, and those prayers have helped sustain me over the years."

Harmon said his wife's unwavering support was crucial. "She has stood by my side through the good and difficult times," he said. "I would not have completed 35 years at West Acres if it had not been for her prayers, love and support."

Truth is, Harmon is beloved in the church and throughout the community. His mild-mannered nature in one-on-one encounters endears him to just about everyone he meets. It always has, ever since his days as a student when he was voted year after year as "most shy" by his classmates.

In the pulpit, though, Harmon is a bold preacher with engaging and challenging sermons. Last week, he put aside his prepared sermon and went another direction, talking about Samson, the strong man of the Old Testament, having gone to sleep in the lap of Delilah, though his Philistine enemies were close at hand. Harmon said he fears the church, like Samson, has gone to sleep, despite the dangers lurking round about. He called for the church to wake up, wise up and clean up.

"Pastor Larry has been my pastor for 23 years, my mentor for 12 years, my boss for 4 years, and he will always be a very dear friend," said Malone Morris, West Acres' pastor of discipleship and missions who will begin his own tenure as senior pastor when Harmon wraps up on Sunday. "He is everything I want to be as a pastor. He is humble. He is an anointed preacher. He loves his people. And he is finishing well."

Harmon accepted Christ when he was 12 years old, responding to a Gospel invitation at a revival service at First Baptist Church in Mount Vernon, Kentucky. He was called to preach as a junior at the University of the Cumberlands in Williamsburg, Kentucky, where he was preparing for a career in physical therapy.

"I thought, being such a shy person, that I could do physical therapy," Harmon said. "I knew I was much too shy to become a preacher. That was the last thing I ever thought about doing. But I did understand that God doesn't call the prepared; He prepares the called."

Harmon said he has found that "lifestyle evangelism" has been the most effective way of reaching people with the Gospel. That, he said, means "falling in love with Jesus and never getting over it and letting other people see the life of Christ living in each of us."

During Harmon's tenure at West Acres, more than 30 people from the congregation have been called into full-time ministry. These are primarily people he had led to the Lord, baptized and discipled.

"With a long tenure it has always been a great blessing to see newborns at the hospital and then watch them grow up and have the opportunity to see them accept Christ and then baptize them, later even to perform their marriage ceremonies and watch their children grow up," he said. "This is what makes West Acres a true family."

Harmon, who has been trained to be a transitional interim pastor, has been reminding people that while he's retiring as pastor at West Acres, he's not quitting.

"God has a new adventure for me in the days to come," he said. "My desire is to continue serving the Lord in a different capacity."