LAWRENCEVILLE – A Lawrenceville church is making a huge impact on their community and the future in a unique way.
Research shows that if a student isn't a "moderately skilled reader" by third grade, he or she is "unlikely to graduate from high school." Researchers have also concluded that students from low economic backgrounds, particularly Title 1 schools, are likely to "slide" backwards in their reading level during the summer. This is called the "summer slide."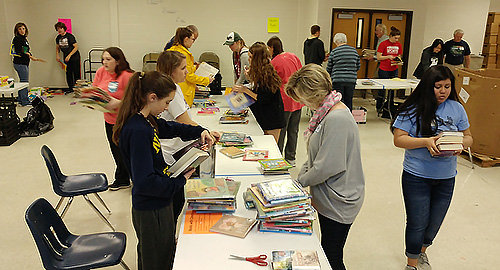 Volunteers from Lawrenceville First Baptist Church and the surrounding community rally together to sort books to donate to local elementary schools. FIRST BAPTIST CHURCH/Special
The reason for this slide – the kids don't have books.
But, if kids get to "self-select" around 12 books for summer reading over successive years, that does "in fact, limit summer reading setback," another report by the University of Tennessee's Richard Allington and Anne McGill-Franzen showed.
Recognizing the need
When Vicki Aiken, a member at Lawrenceville First Baptist Church and public school teacher in a low economic area for 25 years, learned this studying for her master's degree, she wanted to help.
First Baptist already had a tutoring program helping and investing in students from Lawrenceville Elementary, one of the five elementary schools in their local "cluster." However, most of the students there and in the area surrounding the church "are not kids who are going to museums. Their parents aren't taking them to the library."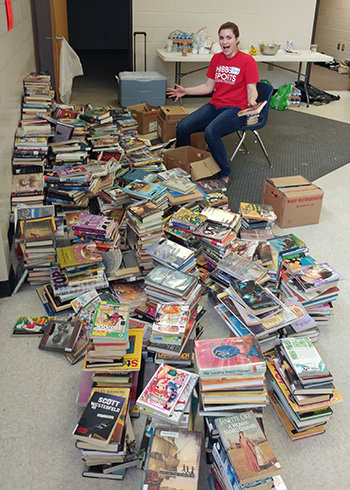 This year alone, volunteers sorted over 50,000 books. FIRST BAPTIST CHURCH/Special
When she asked the then-principal if the church could help provide books, she figured there'd be maybe 3,000, total. That would give that one school five or six books per student for summer reading.
After applying for and receiving a grant from Better World Books, they were able to distribute 20,000 books. Later that year, the church was able to give another school in the cluster the same amount. First Baptist Lawrenceville members rallied together to cover the shipping costs, the only expenditure required.
For the 2018-2019 school year, over 5,000 children received 12 books each, serving six schools in their area. Over 200 people volunteered, some from the church but many from the community. Fifteen members of Lawrenceville First comprise the committee for the ministry.
After volunteers sort the books, a group goes into the schools on a day in May. They "take over" the cafeteria, Aiken describes, and set it up like a book fair. Each student gets a bag and chooses 12 books.
The catch? Everything is free.
Making a difference
"My daddy can't pay for them. My daddy doesn't have any money," one little boy repeated to Aiken's team when they urged him to get some books. It took four or five volunteers explaining to him that "it's like Christmas" to get him to take books, Aiken recounted.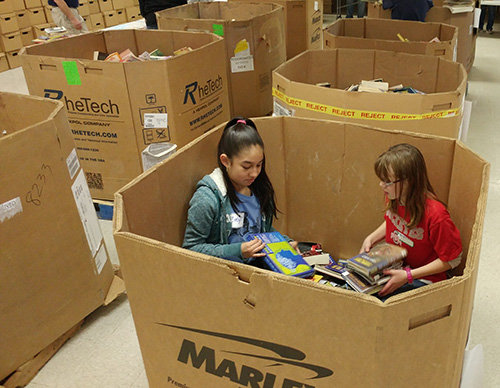 Volunteers young and old pitch in to sort books donated by Better World Books. FIRST BAPTIST CHURCH/Special
She told another story of a mother in tears because she didn't realize it was a book fair day and had no money. Another child asked if he could get books for his little siblings at home.
Aiken is just surprised by the sheer need for the books and the excitement on the children's faces when they receive them.
'Really not about the books'
"What we realized after the first year was that the book ministry is really not about the books," Aiken shared. "It's about the people."
This past year, not only did the church touch the lives – and futures – of 5,000 kids, but their parents and teachers as well.
"We realized it's just opened up so many conversations for us.," Aiken says. When people ask why they're doing this, they explain "why we do it, what our mission is, our love for their children, and our love for the Lord," she adds.
It's also opened the door to be in area schools, a place Aiken attests isn't always open to church groups.
"I tell people, I just think about these children, and a lot of them really have nothing. When your parents are just trying to pay the electric bill or get food, they're really not out buying books," she shared. "What if there's just one child in all of these children and we change their life. The ripple effect of that one child's life will be huge."
However, with the ministry exploding, Aiken and her team don't take credit for any of it.
"I just stand back, and we're just obedient to what we feel like God's telling us to do. It just works out, and we're able to share Christ's love with our community. That's just kind of an interesting way to do it."