By Diana Chandler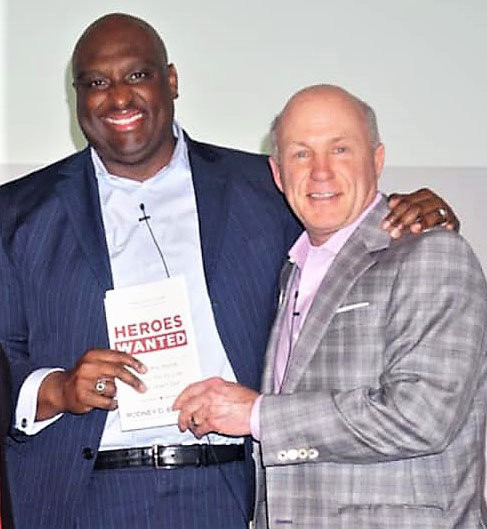 Chick-fil-A CEO Dan Cathy, right, stands with Chick-fil-A Foundation head Rodney Bullard, promoting Bullard's 2018 book "Heroes Wanted." FACEBOOK/Special
COLORADO SPRINGS, Colo. (BP) — An LGBT advocacy group cites Chick-fil-A CEO Dan Cathy's support of Christianity in opposing a Chick-fil-A vice president as a military academy symposium speaker.
Rodney Bullard, Chick-fil-A vice president of corporate social responsibility and executive director of the Chick-fil-A Foundation, should not speak at a February leadership symposium at his alma mater, the U.S. Air Force Academy (USAFA), the advocacy group said.
"Chick-fil-A has a long and sordid history of financially supporting rabidly anti-LGBTQ organizations such as the virulently homophobic 'Fellowship of Christian Athletes,'" the group said in a Feb. 12 letter to Lt. Gen. Jay Silveria, USAFA superintendent. "USAFA's outrageous decision to honor Chick-fil-A Executive Rodney Bullard with this high visibility speaking engagement to its 2019 (National Character and Leadership Symposium) NLCS is nothing but another wretched example, in a long line of such despicable instances, of fundamentalist Christian-based homophobic oppression by USAFA."
Bullard will remain a speaker at the event Feb. 21-22, USAFA told Baptist Press Feb. 15.
"That each speaker has an individual viewpoint on different aspects of our culture enhances the NCLS mission to present a rich variety of outlooks and perspectives to our audiences, which we feel is in keeping with the tenets of a liberal education," USAFA media relations chief Meade Warthen said in an email.
The speakers' "wide-ranging backgrounds, diversity of thought, and comprehensive leadership experiences will enable their listeners to appreciate the many opportunities life offers in fashioning pathways to success," Warthen said.
Under the name of the Military Religious Freedom Foundation (MRFF), the advocacy group said it represents 12 LGBT clients at USAFA, including cadets, faculty, and staff.
The MRFF stance is the latest in a string of objections to Chick-fil-A community involvement, stemming from Cathy's 2012 statement that he supports a biblical definition of marriage that prohibits gay marriage.
The Chick-fil-A Foundation did not respond to a Baptist Press information request by press time, but Chick-fil-A and its foundation Bullard heads do not fund anti-gay programs, Bullard told the Associated Press.
Instead, the foundation funds programs to benefit children suffering poverty, including groups that work with LGBQT youth, Bullard told AP.
"We are very much supportive of the family -- the biblical definition of the family unit," Cathy told the North Carolina Baptist journal, the Biblical Recorder, in 2012. "We are a family-owned business, a family-led business, and we are married to our first wives. We give God thanks for that.
"We operate as a family business," Cathy told the Recorder. "Our restaurants are typically led by families; some are single. We want to do anything we possibly can to strengthen families. We are very much committed to that."
Cathy has maintained his position despite targeted opposition to his stores from LGBT special interest groups. In promotional materials, Chick-fil-A lists 39 consecutive years of sales growth.
The foundation, established in 2012, has 194 partners nationwide, including ministries and community service groups helping underprivileged youth, the homeless and other populations.
---
Diana Chandler is Baptist Press' general assignment writer/editor.