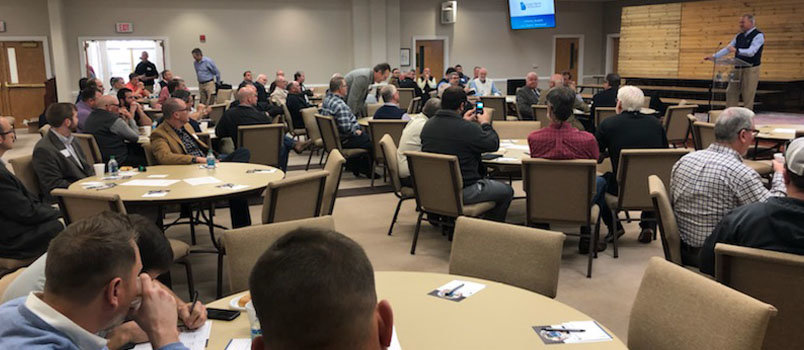 Approximately 66 pastors attended the listening session hosted Jan. 23 by First Baptist Church in Lyons and Pastor Dannie Williams. HARRIS MALCOM/Special
Meteorologists have had a tough week. The ones in north Georgia did, anyway.
The forecast for a chance of up to an inch or so of snow where I live didn't happen. It snowed for about ten minutes, but I only know that because my wife told me. I completely missed it working from my office basement, my back to the only window.
I don't blame the meteorologists. They bore the brunt of missing Snowmageddon five years ago and, if anything, their training and expertise is going to lean on caution. And even though complaints follow when they're less than perfect, we're still going to listen to them the next time the skies darken ominously or a polar vortex bears down from the arctic. We do that because they're the ones with the background in their field.
Similarly, pastors are in a tough spot these days, tougher than it's been in a long time. They're expected to have a church brimming with people, but done in the "right" way. The churches they lead are to welcome everyone, but when you do that it also invites the messiness people bring. Their position requires thick skin but also the ability to be sensitive to others. Those expectations bring a particularly tough job description, but it's one that included a calling they chose to answer. And when we have a theological question, child who has turned away from their faith, or need prayer, they're going to be the ones we turn to.
All that considered, it's no wonder the listening sessions currently being led by Georgia Baptist Executive Director W. Thomas Hammond Jr. have been a hit. And not just with the pastors, either. Every time I talk to Thomas (how he prefers to be addressed) after one of these sessions he's excited. I think the word I've heard him say more than once is "exhilarated."
I'll go to my first listening session this Thursday. No, it won't be to mine for Index stories. It will be because I'm interested in hearing what pastors have to say. To get an idea for what's in store I asked Harris Malcom, Georgia Baptist Mission Board regional missionary, what he noticed at the first listening session held at First Baptist Church in Lyons on Jan. 23.
"Everything was well-received and the pastors responded very well," said Malcom, who was a pastor for 26 years before joining the Mission Board 13 years ago. "The pastors felt like they could be very honest in their questions and Thomas was open with them in sharing his vision."
Upcoming listening sessions are scheduled for:
Jan. 31 – 10:30 a.m. at Roswell Street Baptist Church, Marietta and 6 p.m. at Hebron Baptist Church in Dacula
Feb. 20 – 10:30 a.m. at Concord Baptist Church in Clermont
Feb. 21 – 10:30 a.m. at Northway Church in Macon and 6 p.m. at Wynnbrook Baptist Church in Columbus
Feb. 25 – 10:30 a.m. at Tabernacle Baptist Church in Cartersville and 6 p.m. at First Baptist Church in Villa Rica
Feb. 28 – 10:30 a.m. at Sherwood Baptist Church in Albany and 6 p.m. at Central Baptist Church in Waycross.
Malcom's word to describe the Lyons meeting was "energetic."
"When Thomas asked them to discuss around their table there was great input. If they wanted to ask him something more personal, there were cards on the table for them to leave a note." The close of each listening session has included feedback sheets, where pastors can give their evaluation of the gathering.
Something Mission Board staff have grown accustomed to hearing Thomas ask is, "What's the win?" In other words, whatever your position or project on which you're currently working, how would you know it was successful? That's not in terms of numbers, but being able to feel and understand that, yes, this honored God and helped pastors. This was good.
As Malcom took up the feedback sheets he couldn't help but see what several pastors had written, something they knew Thomas would see.
"This was a win."