Volunteers and staff at Hebron Church in Dacula welcome students to the digital learning center, which was established shortly after local schools announced a delayed return to in-person instruction. HEBRON/Special
---
DACULA — While preaching at Hebron Church's outdoor service this summer, Pastor Landon Dowden couldn't ignore the buzz. 
It came from a small plane that kept circling overhead. Almost certainly, the pilot had taken off from nearby Gwinnett County Airport. He (or she) may have been a student, because their path remained constant and took it periodically over the 500 or so gathered on the grassy patch near the church known as the Hebron Lawn.
"I don't know who that is, but I wish they'd take a left turn," Dowden joked to the crowd, indicating the direction of the landing strip at the airport.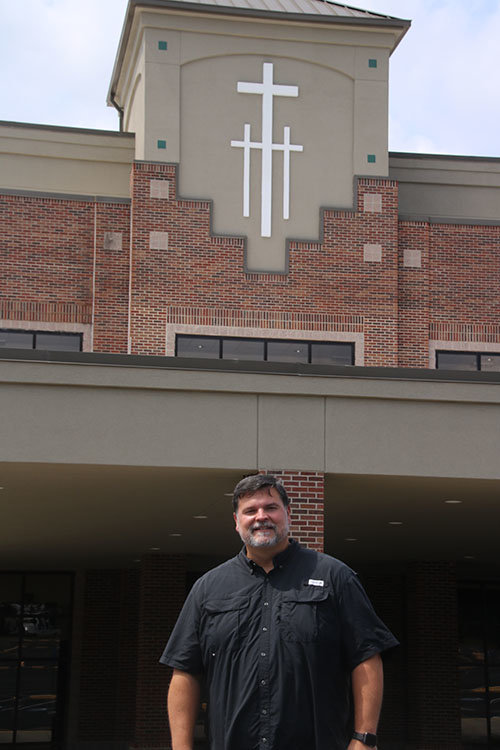 "Some think you show your impact by your productions, but I think you show it through your presence," says Landon Dowden, lead pastor at Hebron Church in Dacula. SCOTT BARKLEY/Index
Over the last several months a different kind of buzz has grown at Hebron. With COVID-19 knocking typical ministry for a loop, churches are exploring how to best meet the needs of their community. Hebron, long one of Georgia Baptists' largest churches, is finding those answers.
The outdoor worship services began May 31 with a desire to accommodate those more comfortable with maintaining social distance. A sea of chairs and tents more familiar at ball fields and family reunions face the large flatbed trailer from which the message is delivered.
On Father's Day food trucks provided all dads a free lunch. After preaching that service, Dowden walks inside to the sanctuary for another one.
It's not unusual for Dowden to change shirts between services due to sweating in the summer heat, but the extra work is worth it.
"We have several hundred who won't come to an indoor service, but will to this," said Dowden. "It's not easy on our staff or volunteers, but when has the gospel prioritized ease?" he pointed out. 
Hebron's 3,800-seat sanctuary gives the space desired in the time of a pandemic. In addition to room for distanced seating at church events, local schools and government groups constantly make use of it.
Strengthened connections
Two recent developments at the church address current and future needs. When Gwinnett County Public Schools announced in July that only distance learning would be offered at first, Dowden knew the difficulty that would be for families.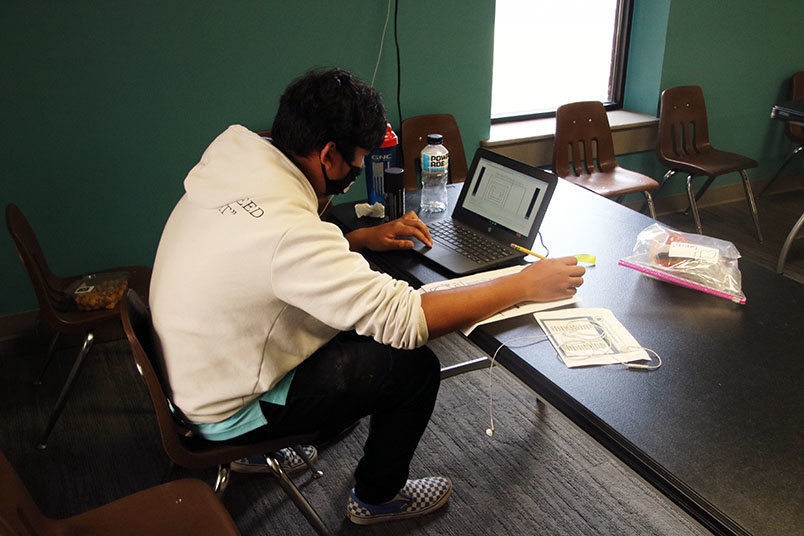 One of the older teens at the digital learning center finishes an assignment. SCOTT BARKLEY/Index
At the beginning of the quarantine last spring the father of four was juggling his children's education while his wife, Tara, helped her father recover at home in Mississippi from a heart attack. He was also aware of the burden it would place on teachers, as Tara is an educator at Dacula Elementary.
Adam Platt oversees missions and community outreach for Hebron. Approval of a plan to establish a digital learning center at the church was immediate, he said.
"The church loved it and the community really rallied around it," he shared. "It's really strengthened our connections to the schools and opened a lot of doors."
Located in Hebron's children's and student ministry areas, the digital learning center welcomed 40-45 children from 7:30 a.m.-5:30 p.m. Monday through Friday. The 85 volunteers broke up into two shifts and provided help where needed.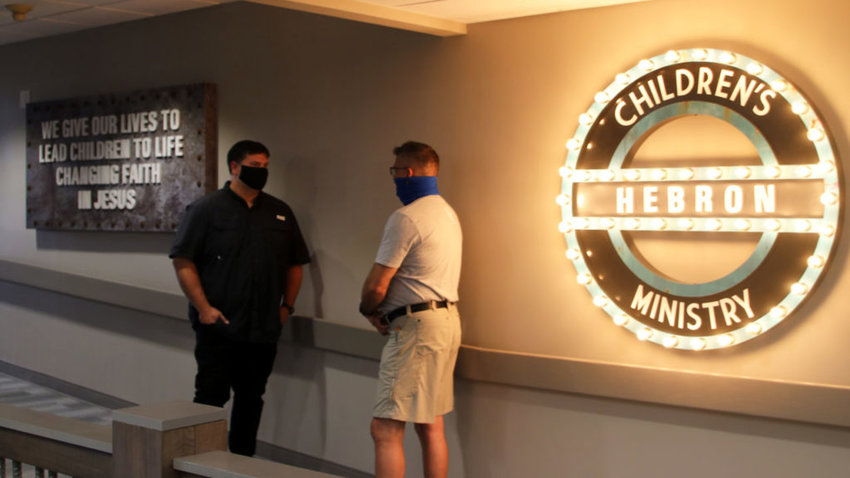 Landon Dowden, left, talks with Hebron member Doug Fowler, a volunteer with the digital learning center. Fowler and his wife, Karen, are currently stateside from their missions assignment at Hospital Shalom in San Benito, Guatemala. The couple and their two children plan to return once Guatemala allows Americans back into the country. SCOTT BARKLEY/Index
Gwinnett County began bringing students back to in-person instruction in shifts on Aug. 26. By Sept. 9 plans are for all students to be back on school campuses.
"We knew wasn't going to be forever; it's a sprint," said Dowden. "But we wanted to make sure we were doing what we could."
The majority of those in the digital learning center had no prior connection to Hebron. That's notable, considering the church has 50,000 contacts in its database from visitors and members over the years.
"One mom said she wasn't sure where her kids were going to go during the day, as she and her husband worked," Platt said. "The fact they could leave their kids with us was huge. Another dad said his daughter struggled in school and he wanted her to have a fun, safe place to learn. We wanted to give that to them."
For the gospel, for the kingdom
On Aug. 23 the church voted unanimously to begin building The Haven at Hebron, a maternity care center, on a nearby 60-acre tract.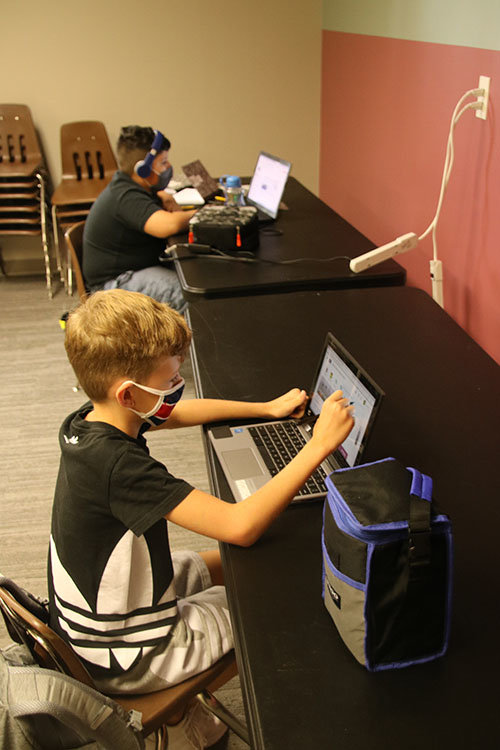 Children in the digital learning center are provided assistance and care by some 85 volunteers. SCOTT BARKLEY/Index
"There are crisis pregnancy centers, but we learned there's only one maternity care center in the state," said Dowden. "One of Gwinnett's biggest problems is homelessness. For those pregnant young girls, what if we had a specific place where they can go and be cared for while hearing and seeing the gospel?"
Plans are for The Haven at Hebron to provide a place for up to eight new mothers 21 and younger. An executive director, program director, and house parents will be there for counseling but will also provide training to meet financial, spiritual, emotional, and physical needs. That includes job training and addressing needed life skills.
"They can stay up to eight weeks postpartum," Dowden added. "We'll help them in every way to be a good mom. We'll also work with the mothers on if they choose to keep the baby or make an adoption plan."
The steps being taken by Hebron don't have to be unique to a big church, Dowden stressed. Churches of any size only need to address where they can help in their community and go from there. Individuals with a spare room can provide the same care as a maternity center. Maybe a church can't provide a space for distance learning throughout the week, but perhaps they can for a day or two and partner with other congregations to cover the other days.
"Some think you show your impact by our productions, but I think you show it through your presence," said Dowden. "Your community can see you love them."
The fuel for building those connections must be made obvious as well. Clients at the maternity center will be mentored by a Christian couple who will show what a godly relationship looks like. Every group that uses Hebron's sanctuary is prayed over in Jesus name by a pastor.
"The biggest thing is to do what you can where you are," Hebron's pastor encouraged. "We don't do these things for our church, but for God's kingdom."
---