Lead Pastor Randy Cheek, seated, and Executive Pastor Kevin Scott work together at Eastwood Baptist Church in Marietta.



By J. Gerald Harris
MARIETTA – Something is happening at Eastwood Baptist Church in Marietta. A fresh wind is blowing. The church has achieved what seems to be a perfect balance between the traditional and the innovative. It is exciting and it is challenging. It is convicting, but it is also liberating. It is old, but it is new. It is refreshing and invigorating. It is a celebration of the celestial on the grounds of the terrestrial.
To illustrate how the blending of the new and the old are beautifully working at Eastwood, Pastor Randy Cheek explained, "When I was called to Eastwood a little over one year ago, it was with the understanding that the search team wanted to implement a very new pastoral leadership concept not being done in many places in the Southern Baptist Convention.
"Kevin Scott and his family had been members of Eastwood most of his life. Kevin, at age 37 had his own leadership business called "ADDO." I was 68 and had been in fulltime ministry almost fifty years and had served as a senior pastor for most of those years. Kevin has a gift for administration and my gifts are in the area of preaching and pastoral care."
"I have the honor of being a mentor to Kevin; and due to his incredible skills in leadership and operating his own business, the match would create a combination that had the potential for success. So, in July 2020, I became the senior pastor; and Kevin was designated to be the executive pastor."
Scott is providing leadership as the church administrator by overseeing the staff and assisting me with the preaching responsibilities."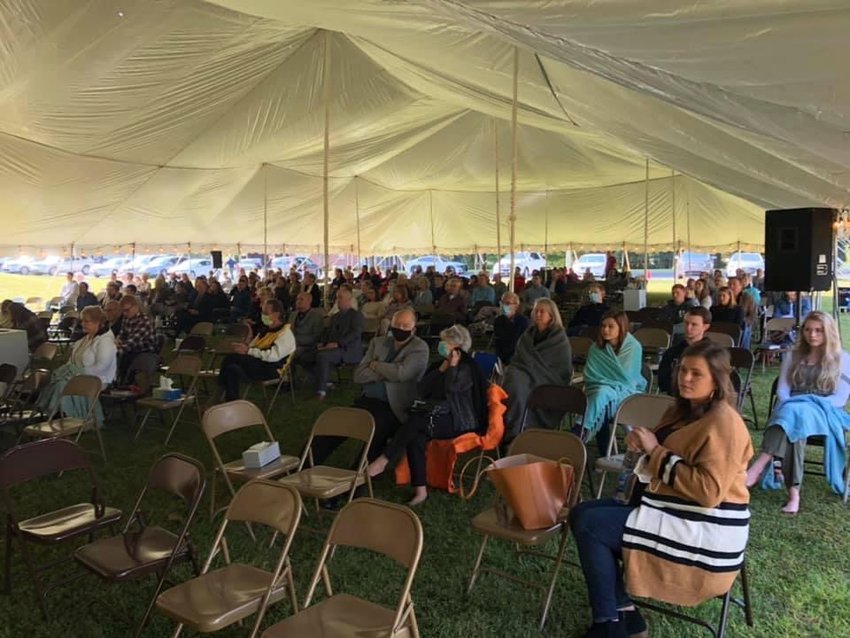 Eastwood's tent revival turned out to be a popular event in Marietta.
Cheek explained, "God is blessing Eastwood in a way that Kevin nor I could have ever imagined. We have seen growth almost every week. Our desire is to be sure we take Eastwood back to the fundamentals of doing ministry. Why re-invent the wheel? Our society is changing all around us; and developing new ways of sharing the unchanging Gospel of Jesus Chris is a must for effective ministry today. But we must never forget the basics of doing ministry.
The ministry of prayer
The ministry of Eastwood seems to focus on three basic or fundamental principles of Christian ministry. Cheek recalled, "When I first came as senior pastor to Eastwood, I led the folks to pray this simple, yet difficult prayer: "Lord, whatever You want, I want!" Praying such a prayer is the hardest thing, I believe, the genuine child of God will ever do. It means giving up complete control to God! I believe that prayer in the church must be pastor/staff led! From the beginning, these dear people began praying that prayer. They are constantly reminding me about that initial prayer by telling me they continue to pray daily, 'Lord, whatever You want, I want.'"
Cheek continued, "Through our prayer team we are constructing and staffing a prayer room for the purpose of intentional intercessory prayer. And I am happy to say, for the next fifty-two weeks we will have people in that prayer room praying intently for the morning service here at Eastwood.
"Individual and corporate prayer in the church not only must be intentional, but authentic! The foundation of all we do in God's Church is prayer! And, with that understanding, prayer becomes, as Charles Spurgeon said, the 'powerhouse!'
"Throughout the history of the church, every movement of the power of the Holy Spirit has been preceded with focused prayer. In response to the leadership of God's Spirit, I approached Kevin with the idea of having a tent revival meeting. From my childhood, I believed revivals were concerted efforts on the part of the church to do intentional personal evangelism and being on mission in their neighborhoods.
Kevin was in agreement and we presented the idea to the church. They quickly embraced the idea as well. We selected a core of dedicated members to begin to make plans for the revival. They immediately 'owned' the idea and they became an unstoppable team. The church began months of intentional prayer for this special meeting – their first tent revival ever. The church began months of intentional prayer for this special event. They all worked so hard in preparation for the revival.
The revival began on Sunday and continued through Friday evening. Preachers from the area, choirs, and groups joined with us. People came to know Jesus Christ as Lord and lives were recommitted to Him. In addition, the entire effort mobilized the folks of Eastwood like an army of workers! Kevin and I have been so proud of each of them for leading in this effort. We are looking forward to our second Tent Revival in the Spring of 2022.
The mandate of evangelism
Baptists have traditionally believed that it is the church's responsibility to keep the main thing the main thing - evangelism. Cheek agrees and insists, "The Great Commission is an imperative. Our combined effort at Eastwood is to live out this divine mandate in all areas of ministry and outreach in the church."
Scott highlighted the church's evangelism strategy by stating, "Our evangelism strategy is simple: we preach Jesus, and we equip our people to share their faith. Our teaching is both clear and uncompromising. I'm thankful that the people of Eastwood are committed to living their lives on mission and they exemplify that by giving of their time, their effort, and their resources.
"Under the direction of our children's director, Melissa McMahan, our church served as a COVID testing site and we distributed thousands of boxes of food over several Saturdays from our church. Additionally, approximately 20 percent of our annual budget supports global missions, through both The Cooperative Program and supporting individual missionaries through Faith Promise Giving. All of these efforts come back to one goal: telling the world the Good News.
"There are far too many churches that are waiting on the pastor or staff to come up with a good idea. At Eastwood, we are thankful that God is placing burdens on the hearts of our members and they are following His lead in being faithful to that call. A member of our church, Billy Wilkins, has a heart for young singles. He, along with other amazing volunteers, launched a Thursday night Bible study, called The Stump, where lives are being changed.
Scott continued, "One of my favorite stories out of The Stump is when Billy was in a fender bender car accident one day with a young man named Kyle. Billy took the opportunity to invite him to church. He came, Billy led him to Christ, and Pastor Randy baptized him two weeks later!
"Eastwood is a local church that exists to reach people for Christ! In order for us to accomplish that, we are intentional about meeting needs in our community. Jorge Romero, our Hispanic pastor, leads a Spanish language service for adults. One of the special parts about our Latino families is that their youth and children are fully integrated into our programs and the adults are some of the greatest volunteers in our church.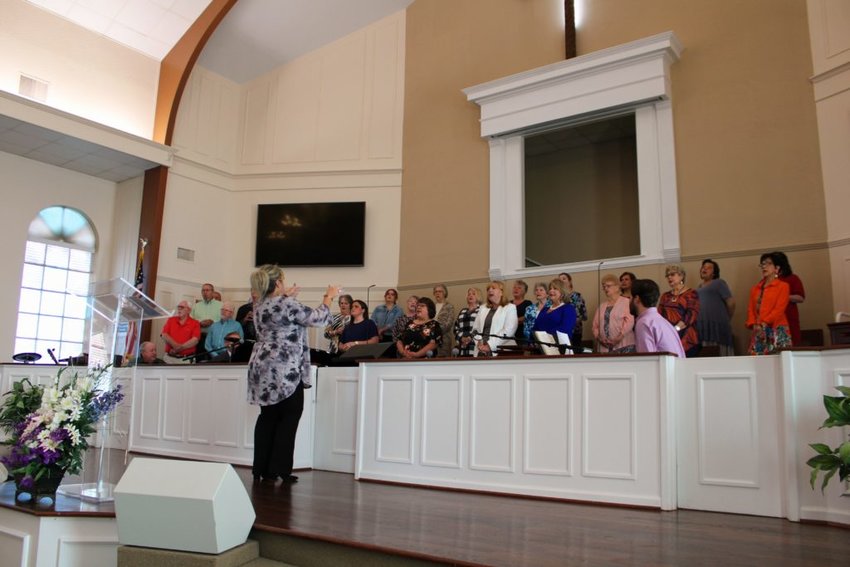 A choir ministry remains an important part of Eastwood's worship.
"Our ministry to Veterans is spearheaded by our missions pastor, Lee Martin and provides a safe space for those struggling with depression, anxiety, and PTSD (post-traumatic stress disorder).
Kevin exclaimed, "We want to help those that are hurting and share the Gospel with them. Pastor Randy is going to be leading a Stephen Ministry at our church later this year that will help us plan and utilize an effective caring/evangelism ministry. We also desire to be good stewards by using our building and property to be a blessing for our community. As we move past COVID, we will be utilizing our gym and facilities even more."
 The majesty of worship
Those who have worshipped at Eastwood know that their services are warm-hearted, inspiring, Christ honoring and uplifting. Since music is often a determining factor in individuals choosing a church, Kevin Scott was asked about the church's music program.
He responded, "We are not as concerned with a style as we are with having music that is Christ-honoring and doctrinally sound. With that being said, we believe people are drawn to many different styles. When churches started doing contemporary music, they filled a gap that people were looking for. Now it seems almost every church looks and sounds the same, and we want to provide something for those looking for something else, especially those who like a southern gospel style.
"We also believe in a choir, not just for our style of music, but because it provides a way for more people to be involved in leading worship. Instead of having only a handful of folks leading music, anyone who desires has an avenue to participate. We have a team approach to music, under the direction of Chris Pope and Melissa Adams. Our entire church believes this music is not just for senior adults but can reach people at any age and any stage of life."
Because of COVID-19 and other reasons, churches stopped having an altar call or Invitation at the close of the sermon. Randy Cheek was asked about his view of the Invitation. He declared, "I would not want to close out any service of preaching the Gospel without giving an opportunity for those in the congregation and those viewing by live-streaming to respond to the Word of God."
Cheek added, "'The Word of God is living and powerful, and sharper than any two-edged sword, piercing even to the division of soul and spirit, and of joints and marrow, and is a discerner of the thoughts and intents of the heart' (Hebrews 4:12).
"The true, focused worship of God demands our response. What are we going to do with what we have heard and experienced in worship? The goal of worship is our response to the leading and convicting power of the Holy Spirit in our lives. Giving an Invitation at the close of the service is, for me, fundamental to what I am called to do."
Eastwood is expanding worship opportunities for their members and for their community. Cheek explained, "We wanted to find ways to minister to our senior adults and others in the surrounding communities, so we have started having a Wednesday morning worship service. We would not use these services to increase our membership, but simply to provide an inspiring worship experience for those who are able to attend during the day. We will also combine this worship experience with a light meal for those attending.
"Our hope is that the additional worship service on Wednesday morning would make it easier for senior adults who find it safer to travel by day. We will be inviting pastors in the area to be our guests to preach this service along with individuals and groups to help us with our worship. The Wednesday morning worship for any and all adults who might be available to come will help us be more strategic and purposeful in utilizing Sunday and Wednesday evenings for our Children's and Youth Ministries."
Eastwood is growing. They are getting down to basics and making it as simple as A B C. Actually, and more accurately, it is as easy as P E W– prayer, evangelism, and worship.