This is the fifth of a dozen stories highlighting the upcoming Nov. 14-15 annual meeting of the Georgia Baptist Convention in Savannah. The stories are being published on Monday, Wednesday, and Friday through Nov. 11 and include both Convention-related content and a look at how the Savannah Baptist Association is making a Kingdom impact in Coastal Georgia.
SAVANNAH — There are not too many similarities between being a drill instructor for the Marines and the pastor of a church, but there is one: communicating clearly to those who need to hear your message.
Of course, the tone is significant also. A drill instructor is known for barking out orders to establish a clear line of command and followship. A pastor operates from a base of rallying troops who are volunteers, not recruits.
That is why Kenny Grant is making substantial inroads in reaching Savannah with the gospel. He has set aside his authoritative style and adopted a more conciliatory tone that builds a team which, in practice, makes his "army" disciplined and willing to sacrifice to win the battle.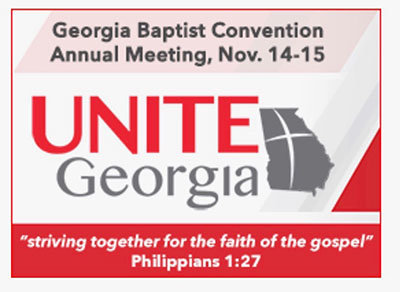 And relating his past drill instructor experience to pastoring, he sees himself far more as a shepherd than hard hitting staff sergeant.
"The Bible teaches that sheep live by the ear, they know the voice of the shepherd," he says. "Shepherds don't bark commands but speak in a voice that helps the flock move in the right direction."
Grant, a native of Brunswick, never thought he would leave the massive Marine base at Parris Island to return home to start a church from scratch.
"I felt a deep desire for my friends and family to hear the gospel and to know what God was doing in my life. So, I left the Marines after 9 years of service as a Marine Corps staff sergeant and a chief drill instructor," he explains.
Fourth year as pastor of Calvary
This past Mother's Day, Grant observed his fourth year as pastor of Calvary Baptist Temple. The congregation will host this year's 195th meeting on Nov 14-15.
"I was saved on May 3, 1979, and I have seen God work in powerful ways in my life. I wanted my friends and family to know that on a personal level," he explains.
After his honorable discharge 29 years ago he started Maranatha Baptist Church in Brunswick. He later moved to be senior pastor of a two-year-old mission, Christ's Community Church with its 25 members. The Savannah congregation eventually grew to 400 members.
The mission was a church plant of several area Southern Baptist churches in response to the denomination's Resolution on Racial Reconciliation and a commitment to church planting among African Americans. The resolution was passed by messengers to the annual meeting held in Atlanta in 1995 on the 150th anniversary of the Southern Baptist Convention and as part of its repentence to being founded on a defense of slavery.
That brought him to Calvary Baptist Temple in 2012 as the congregation's first African American pastor … a ministry that at first raised more than a few eyebrows in the Anglo as well as African American communities. His calling "was quite the talk of the town" he remembers, but now it's widely accepted.
96% vote in favor of his call as Calvary's first African American pastor
"Of course there were some who were opposed to my calling but with 96% vote in favor I was pleased. Those few who did not vote for me for whatever reason have since affirmed my role and have been very strong supporters," he explained.
"To be honest I'm surprised that my being called here was such a surprise because I have had nothing but a great reception. The people are kind and loving and are united on trying to reach the city for Christ."
Calvary had always been a strong church. When most of Savanah's churches were averaging about 600 in membership more than 20 years ago, Calvary was averaging between 1,800 and 2,000. It was easily the largest church but fell on hard times being in a changing downtown community. Around 2007 it tried to relocate but that did not materialize.
Today it remains in its historic location in the Medical District, across the street from Memorial Hospital – the city's largest health care facility. It has 1,200 membes with an average attendance of around 600.
The challenges facing the church are no different than others across the Convention – resources.
"My desire is to equip every member to be a clear, consistent witness to their friends, to be the salt and light in their world. Wherever we scatter when we leave the sanctuary we need to be the salt and light and love our neighbors and the nations," he states.
Evangelism as the granular level, not the programatic level
"I want our evangelism to occur at the granular level, not the programative level. I want for every member to see himself or herself as playing their role and not depending on a program of the church to do it for them," he notes.
Savannah is a large college town and military center and he would like to see increased ministry to those groups so when new believers return home they return as missionaries. It's also a town with an economy tied closely to the hospitality industry; it has the nation's largest historic district and visitors are in need of the gospel as much as local residents, he adds.
The soft-spoken Grant says he is "in a sweet spot where God has brought me to show others what the Christian community looks like across racial lines. We are a multi-racial, multi-cultural congregation and I love seeing our members embrace that new identify, that new reality."
That model has positioned the church to grow for years to come.
"We don't have a choice of where we do missions, it's not a one-or-the-other decision. We are called to reach the world beginning first in our Jerusalem and on to the broader field of Judea."
Heavily involved in missions outreach
To that end the church is heavily involved in missions in Savannah and has an active presence in Romania, Thailand, and Nicaragua. It is considering a church planting relationship with the North American Mission Board in Baltimore.
Locally it has a strong Vacation Bible School and a summer camp for hundreds of children as they are introduced to Christ. Six hundred are enrolled in its K-12 day school, plus an additional 180 in its pre-K early learning center.
"On any given day we have about 800 children and youth on our campus which we call Calvary Day School," he adds.\
Grant wants messengers from Georgia Baptist churches to see his town as a typical Southern city poised to make change in the world through its college students, its role as the nation's fourth largest container ship port, and its role in hospitality to tourists. Its churches can play a great role in influences those groups for the Kingdom.
About Kenny Grant
Former U.S. Marine Corps staff sergeant and chief drill instructor.

First African Amerian senior pastor of Calvay Baptist Temple.

Accepted the call to the historic Savannah church on Mother's Day in 2012.

Left the Marines after 9 years to return to hometown Brunswick to plant a church.

He and his wife of 37 years, Shirley, have 4 children – three in Greater Atlanta – and four grandchildren.