TOCCOA — On Aug. 6 the National Football League will enshrine eight new members into the Pro Football Hall of Fame in Canton, OH. The men who will be inducted into this elite fraternity next month include Brett Favre and Marvin Harrison on the players side, and Coach Tony Dungy and former owner of the San Francisco 49ers, Eddie DeBartolo, Jr.
Other inductees include Kevin Greene, Orlando Pace, Ken Stabler, and Dick Stanfel. While the 2016 inductees represent one of the most star-studded classes in years, the 1999 class of inductees was also remarkable in many ways and has a special place in the hearts of Georgia Tech fans and yes, Georgia Baptists as well.
The class of 1999 included Ozzie Newsome, Lawrence Taylor, Eric Dickerson, Tom Mack, and Billy Shaw. Shaw, a native of Mississippi, played college football at Georgia Tech in the late 1950s and early 1960s, one of only two Yellow Jackets to be inducted into the Pro Football Hall of Fame. After being a menace to other SEC schools, Tech's conference in those days, Shaw spent his entire professional career with the Buffalo Bills when they were affiliated with the American Football League.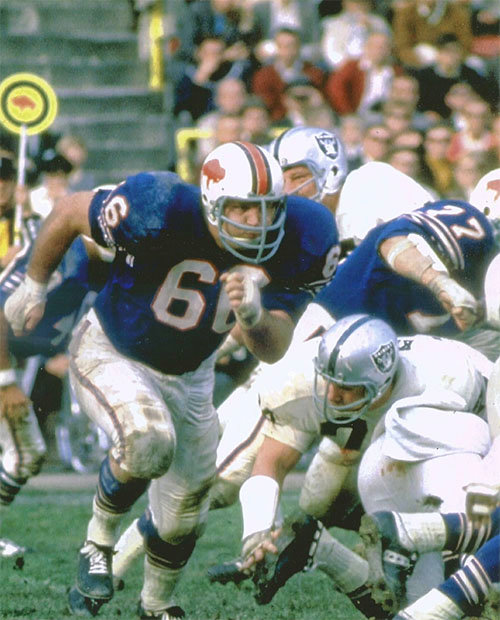 Billy Shaw, 66, pulls around to the right side of the line of scrimmage to block for a Bills' running back against the Oakland Raiders. BILLY SHAW/Special[/caption]
More than football
Billy Shaw is not only enshrined in the Pro Football Hall of Fame, but he is a Georgia Baptist who has been a good ambassador for Christ on the gridiron, in his community, and wherever God has given him an opportunity to be His representative. For more than four decades he has been a member of Ebenezer Baptist Church in Toccoa. Andy Childs, pastor of the Ebenezer church, commented, "Billy Shaw is a man's man who loves Jesus more than football!
"Whether it's quick, quiet moments when we pull aside for prayer and input regarding speaking opportunities or his regularity as one of the first to arrive to serve as a greeter on Sunday mornings even after arriving home in the middle of the night or early morning, Billy lives his testimony with intentionality. As his pastor for over twelve years, I am blessed by his faithfulness to the Gospel and to Ebenezer."
Begins at home
Billy Shaw grew up in a Christian home. He explained, "My parents were wonderful Christian people; and they had a great influence upon my life. Largely because of their teaching and example I was saved when I was eight years old. I was baptized in a fishing pond and became a member of Immanuel Baptist Church in Vicksburg, MS.
"When I moved to Atlanta to play football at Georgia Tech I drifted spiritually for awhile, but soon realized my need for a closer walk with Christ and rededicated my life to the Him.
"My parents moved to Toccoa during the time I was at Tech and it was while visiting with them one weekend that I met Patsy Alewine, the girl who became my wife. It has been a great journey and God was gracious to bless us with three wonderful daughters: Cindy, Cathy, and Cheryl."
On the field
In college Shaw earned All-American honors as a two-way tackle and was named to the Georgia Tech All-Time Team. At the end of his senior year he was named to the 1961 All-Star Team that played the NFL champion Philadelphia Eagles. Due to the injury of Houston Antwine, Shaw was switched from tackle to the guard position and played an outstanding All-Star game.
Both the Dallas Cowboys and Buffalo Bills drafted Shaw in the 1961 NFL draft, but the Cowboys wanted him to play as a linebacker and the Bills wanted him on the offensive line. Since Shaw thought he was better suited for the position Buffalo was recruiting him to play, he signed with them.
Shaw was able to protect the quarterback when he passed the football, but he was also effective at opening up holes for the running backs and had the speed to stay in front of runners far downfield. He became the driving force of the Bills' offensive unit.
Carrying the AFL banner
Shaw's professional career was most notable, spanning nine years. He was a first-team All-American Football League selection four times and a second team selection twice. He played in eight American League All-Star Games and was named to the All-Time All-AFL Team.
With the Bills, Shaw won three straight Eastern Division titles and two American Football League championships in 1964 and 1965. During those years the Bills were ranked among the best rushing teams in professional football history.
When Eddie Abramoski, who was an outstanding professional football head trainer, introduced Shaw on the occasion of his induction into the Professional Football Hall of Fame, he explained, "Billy Shaw is the first player to be inducted into the Hall of Fame who played his entire career in the American Football League."
To date Billy Shaw was not only the first player, but is the only player ever enshrined in the Pro Football Hall of Fame who spent his entire career in the American Football League.
Abramoski continued, "He was big. He was fast. He was intelligent, tenacious. As a matter of fact, Billy embodied all the words commonly used by this coaches and scouts to describe the really great players. Above all, Billy was extremely durable and dedicated."
The source of strength, ability, wisdom
When Shaw was inducted into the Pro Football Hall of Fame he acknowledged all those who had helped him along his journey in football and in life. He recognized coaches, fellow athletes, his daughters and their families, and his mother, but simply forgot in the emotion of the moment to acknowledge his wife, Patsy.
His daughter Cindy tried to get his attention by making a throat-slashing gesture and he realized that he had forgotten something, but during the intermission he went to the front of the stage and according to ESPN news got on his knees and "mimicked a reverential bow, theatrically raising and lowering his arms in his wife's direction.
Shaw's faux pas has humorously introduced what is known as "the Billy Shaw rule" at Pro Football Hall of Fame induction ceremonies.
What the Buffalo Bill star did remember was to acknowledge his Savior. At the end of his Hall of Fame speech Shaw testified, "No football player is ever complete without his faith. I thank the Lord Jesus Christ as my Savior. I thank him for dying on that cross for me, and for giving me the strength, and the ability, and wisdom for playing this game."
Christian manhood
Shaw recently stated to The Christian Index, "I tell young football players that being a Christian doesn't rob you of your manhood. In fact, being Christian in your conversations and activities will help you have a major positive influence upon others.
"I found that it is challenging to live the Christian life. Young people today have so many things pulling at them – temptations, peer pressure – but it is important to stay strong. If you maintain your faith and remain strong people will admire you for that. For eight years I was the captain of our offensive team in Buffalo. I think people looked up to me and respected me because of my character."
Stay in touch
Shaw continued, "I tell young athletes today that it is not easy to overcome temptations, but once you make that commitment to Christ, you have got to live it. But don't try to live it alone. Stay in touch with the Lord.
"One of my favorite scripture verses is Proverbs 3:5-6: 'Trust in the Lord with all your heart; and lean not to your own understanding. In all your ways acknowledge Him and He will direct your paths.'
"Since being an athlete often puts you on a pedestal, you have to be faithful to live out your convictions. Being an athlete will open doors for you that aren't open to others. Consider that a privilege and use those open doors to share your faith."