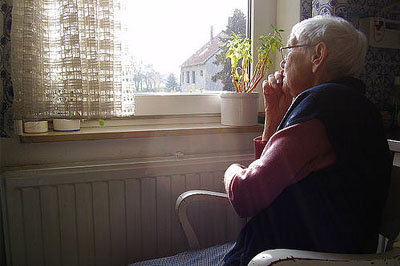 Credit
Boris Bartels
/Flickr[/caption]
Many families today are struggling to find help in caring for loved ones suffering with Alzheimer's disease and other dementias. Some of these people are dealing with the physical stress of constantly caring for a mom, dad, or spouse who must be constantly monitored. They are also dealing with the emotional and mental strain of watching someone they love slowly losing their capacity to function independently.
These families also begin to find out there is a limitation of affordable help to care for their family member. Generally speaking, Medicare and supplemental health insurance policy coverage is limited to intermittent home health care. These families need someone who can come in for a few hours and give them a break to shop, pick up prescriptions, and exercise. Many studies show that if family caregivers do not get a break, they too will become ill.
Unfortunately many family caregivers are often reluctant to ask for help. Often they feel that the burden of care belongs to them alone, and feel guilty asking others for assistance. Family caregivers also deal with the stereotype held by many inside and outside of the church that people with Alzheimer's disease and other dementias will always display some form of violent behavior. Most studies show that it is a small percentage of dementia patients who will ever display any type of violent behavior to another person.
There is a great resource these family caregivers have in their local church family. Quiet, often congregational, members are looking for a way to express their faith by caring for someone in need. Most of the time helping these family caregivers does not require another organized "ministry program" being initiated by church leadership. Here are some simple steps congregations can take to enhance their ministry to families caring for a loved one at home who has Alzheimer's disease or other dementias.
Simply raising the awareness of this need to provide temporary care on a volunteer basis to these families can help tremendously. Most congregations have some form of "shut-in" ministry where volunteers visit the homes of members physically unable to attend worship services. Some of these volunteers will be glad to extend their time of ministry from a 15-to-30 minute visit to a 2-to-4 hour stay .

Look for opportunities to host someone to share a presentation on how to interact with people who have Alzheimer's disease and other dementias. It does not take an expert to give temporary care to a person with dementia. However, it does help tremendously to understand some of the basics when communicating with someone who has dementia. Learning to communicate in a simple manner and not asking confusing questions will help the volunteer. Most congregations have some a monthly meeting for older adults in their church. Church leadership often looking for speakers for these meetings. Many public and private agencies who care for Alzheimer's patients have a presentation they can make to groups to help understand the basics of caring for a person with dementia.

Encourage volunteers to be direct and specific when offering to do respite care for the family. Instead of saying, "Let me know if you need any help", a better approach would be, "I have Tuesdays and Thursdays from 2 to 5 p.m. open. Could I come by and sit with John for a while so you can get out?" Family caregivers are more open to receive help when the offer is specific. Those hours of aid to the family caregiver will make a tremendous difference in their quality of life and spiritual and emotional health.

Assure the families that you will be confidential. Sometimes family members caring for loved ones with Alzheimer's disease are reluctant to ask for help because they are concerned an indiscreet volunteer will share information in the community that does not need to be repeated. Tell the family you will be confidential, and keep that commitment.

Appropriate humor can help family members cope with the stress of constant care for their loved ones. When you volunteer to help these families, look for opportunities to bring a light conversation into their lives. It is important to remember that we do not laugh at the difficult challenge other people are facing, but find humor in our difficult situations.

Communicate to congregational members the great takeaway they will receive by helping these families. We all know that the greatest reward received for serving others is not human recognition, but a sense of well-being that our purpose is not just to serve ourselves. Our Lord Jesus stated concerning the help we give to others who cannot help themselves, "And the King will answer and say to them, 'Assuredly, I say to you, inasmuch as you did it to one of the least of these My brethren, you did it to Me" (Matt. 25:40). Helping these families can bring special memories to you that will last a lifetime, and give you an unexpected blessing.