LINCOLNTON — When Americans raise their voices in supplication today as part of the National Day of Prayer, Georgia Baptists will be among those calling for national healing, revival, and a return to biblical values.
Georgia Baptists are among those gathering on the steps of City Hall in Maxeys,Warner Robins and Centerville; at the gazebo on the historic courthouse square in Lawrenceville, on the steps of the courthouse in Lincolnton, and in churches and chapels statewide.
Keith Etheridge, pastor of Double Branches Baptist Church in Lincolnton, will be one of several pastors from his town's Ministerial Association to give a prayer. Etheridge said pastors of various faiths will pray specifically for the nation, school, military, and other areas. The service will be held on the steps of the Lincoln County Courthouse.
"Our country has had troubled days in the past for sure, but I don't think we have ever been in the moral condition where we find ourselves today," he said. "I believe we need to pray for our nation to return to its godly heritage and for our churches to return to their desire to save souls and experience true revival."
In Lawrenceville, pastor Inman Houston and members of First Baptist Church will have two opportunities to observe the call to prayer. At noon, members will gather at the Fallen Heroes Memorial at the Gwinnett Justice Center for a ceremony while later that evening a second service, known as the Prayer on the Square, will be held at the Gwinnett County Historic Courthouse Gazebo.
Carol Walls, office manager and ministry assistant at the Gwinnett County church, said the city-wide praise and worship service will begin at 6:30 p.m. and followed by the program at 7 p.m. Attendees are being asked to bring lawn chairs or blankets.
The church, located barely two blocks from the gazebo on the square, will serve as an alternate location in case of rain. Program planners will make the decision by 2 p.m.
In Rehoboth Association, Director of Missions Tim Millwood said there are no Baptist-centric gatherings planned but churches are encouraging their members to attend a variety of interdenominational observances throughout Houston County. In years past Baptist churches would host a prayer breakfast but attendance was sporadic due to individuals needing to get to work on time.
"We decided to get out of ourselves and interact with the community at large and support the efforts of others," he noted.
To that end, Millwood will be one of area clergy leading in a variety of prayers at gatherings throughout Houston County today, most of which will occur at noon. He will be leading in the prayer for churches to have a redemptive presence in their communities and in the life of the nation. That meeting will be held in the Council Chambers of the Warner Robins City Hall.
There will also be similar observances at the Centerville City Hall and at the Courthouse in Perry.
Larry Finley, pastor of Henderson Baptist Church in Elko, and his wife Laura are prayer coordinators for the Association. Separate from the National Day of Prayer, the couple is organizing a prayer chain to coordinate intercessory prayer among the Baptist congregations.
"We must summon our Lord and Savior with the need, in a heartbeat, because in critical situations, there may only be one heartbeat left.  We are all one heatbeat away from death.  'The Lord hears the prayer of a righteous man,'" Laura Finley stated. " Tomorrow may be too late to pray."
In Atlanta, Georgia Baptist African-American Fellowship Director Jean Ward will be joining many metro area pastors praying at an evening observance at The Covenant Ministries in Decatur. Ward, pastor of East Atlanta Church, is urging pastors, clergy, and laypersons to the 7 p.m. event "for a night of powerful prayer and worship. This event, promoting men and women of God coming together, promises to be one that will not only change lives but change nations."
Ward said his personal prayer "is for healing for this country and that we may give the same mercy, grace, understanding, and forgiveness to others that we petition God to give to us.
The chapel at Mountain Park First Baptist Church will be available from 8 a.m. until 5 p.m. for personal prayer for the nation. At mid-morning members of the Stone Mountain congregation will leave to distribute cookie baskets to businesses in the community.
Pastor Paul Ballard said there are two dimensions to the observance for his congregation. The first is following the biblical commandment to pray for the nation and the second is praying for the businesses and their owners within a five-mile radius of the church. That dimension is part of the church's ongoing servant ministry which is known as Serve SML (Stone Mountain-Lilburn).
Ballard said members have been baking and packaging the cookies this week and teams of two will depart at 10 a.m. to distribute them to businesses and public service entities such as fire and police departments.
"We want to ask those individuals if we can pray on their behalf and if they have any specific prayer needs that we could include. In the three years we have been involved in this outreach I believe there was only one time when the prayer was declined. Overall people have been overwhelmingly receptive to our visits," he added.
"It is staggering for many people to realize that there are 170,000 people within a five-mile radius of our church, many who need to hear the gospel. This gives us another opportunity to be intentional about sharing our faith.
"We want to 'own' this area around Mountain Park First Baptist Church."
There are 28 locations to participate in the National Day of Prayer in the Greater Atlanta area. For locations statewide visit  http://www.nationaldayofprayer.org/events and click on FIND AN EVENT NEAR YOU.
The Christian Broadcasting Network is reporting that President Donald Trump may sign a controversial religious liberty executive order Thursday, just before he and conservative leaders celebrate the National Day of Prayer.
Citing senior administration officials, Politico reports that Trump has invited conservative speakers to the White House, where he will sign the executive order.
The draft seeks to provide exemptions for religious people and organizations who object to same-sex marriage, premarital sex, abortion, contraception and trans identity, CBN stated.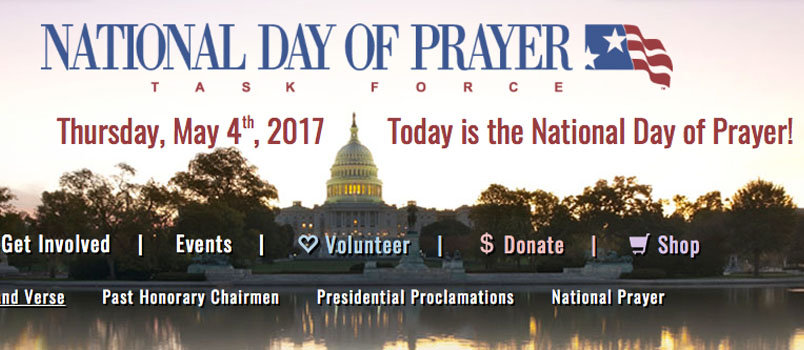 About the National Day of Prayer
By law, the U.S. President is required to proclaim a National Day of Prayer each year on the first Thursday in May.
Public Law 105-225 states "The President shall issue each year a proclamation designating the first Thursday in May as a National Day of Prayer on which the people of the United States may turn to God in prayer and meditation at churches, in groups, and as individuals.
President Abraham Lincoln proclaimed the first Day of Prayer in 1863. This year's theme is "For Your Great Name's Sake! Hear Us... Forgive Us...Heal Us!" The theme is taken from Daniel 9:19, which says, "O Lord, Listen! O Lord, Forgive! O Lord, Hear and Act! For Your Sake, O My God...".
The National Day of Prayer Washington DC Observance will be moving to an evening time frame of 7:30 to 9 pm Eastern Time tonight. Individuals can tune in by live stream on the National Day of Prayer website as Chairperson Anne Graham Lotz leads participants in unified prayer for America.