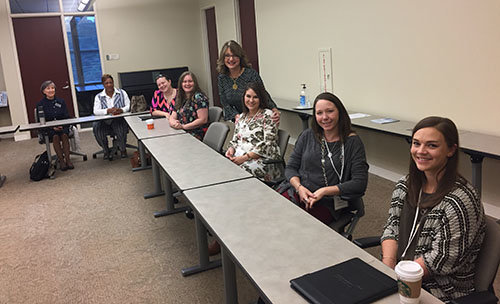 Mary Cox, standing, representing the Church Minister Relations Department of the Georgia Baptist Mission Board, provides encouragement and instruction for the ministers' wives at the Discover Georgia Baptist event. GERALD HARRIS/Index[/caption]
DULUTH — Each September the Georgia Baptist Mission Board welcomes new ministers to a two-day event called Discover Georgia Baptists. Bobby Boswell, associate executive director of the Mission Board, plans and orchestrates the event with the help of Phyllis Anderson, his administrative assistant.
The event includes three worship experiences, breakout sessions, sumptuous meals, and opportunities for fellowship with other attendees and the Mission Board staff. Mary Cox, representing Church Minister Relations, provided special breakout sessions for the ministers' wives.
Training, and much more
Significant attention was given to the Mission Board's current emphasis on Reaching the Next Generation. There were breakout sessions on Financial Freedom, the Cooperative Program, the Public Affairs Ministry, and specialized gatherings for worship/music ministers, student/youth ministers, children's ministers, and those devoted to discipleship and faith development.
Steve Smith, who recently became the pastor of Avondale Baptist Church in Macon, testified, "The new pastor training is aptly titled, 'Discover Georgia Baptists.' I have learned so much more about the available resources the Georgia Baptist mission Board offers pastors, staff, and churches.
"Having experienced mentors who have 'been there and done that' pour wisdom and encouragement into me has been a blessing."
Daniel Ng, music minister of First Baptist Church of Lindale, stated, "The Georgia Baptist Mission Board orientation is exactly the welcome that new ministers in Georgia need. The staff are so encouraging, filled with the love of God and genuinely invested in our well-being for the future.
"Every minister who came to the orientation now knows that none of us are an island unto ourselves, but a massive statewide family in need of each one's support and encouragement."
Jody Jordan, pastor of First Baptist Church of Norman Park, commented, "It has been an amazing two days. In some ways it's been like drinking water from a fire hydrant. We have received so much wonderful information.
"I am thankful for Georgia Baptists investing in me and loving on me. Also, it's more than just support for the local church, it's investing in kingdom life."
Welcome connections
Steven Greene, pastor of Central Baptist Church in Lawrenceville, declared, "Discover Georgia Baptists has been a great way to connect with the Georgia Baptist Mission Board as well as the new ministers from across the state.
"It was refreshing for my wife and me. We learned about missions and ministries in Georgia and connected with several people who are able to provide help and assistance to us and our church. What a warm welcome we have received these two days."
The new ministers who were present for the Discover Georgia Baptists event are serving their churches with passion and commitment and will make great additions to our convention and the cause of Christ in Georgia.