DULUTH — A newly-available CD featuring the Sons of Jubal is available for purchase, with proceeds funding a mission trip next year for the group as well as other Georgia Baptist ministers and laity.
The trip to England and Wales, slated for April 26-May, 2018, follows others for the group made up entirely of Georgia Baptist music ministers.
"The Sons of Jubal have taken several international tours over the last 15 years," explained Jon Duncan, director and state missionary in Worship and Music Ministries of the Georgia Baptist Mission Board.
Those mission trips, Duncan noted, included planting four churches and presenting three concerts in Moldova, witnessing 100 people come to Christ. In Russia, the SOJ led conference, worked with Southern Baptist missionaries, and presented concerts in churches and concert halls with attendance numbering in the several thousands.
Singing and missions in China, Israel
A particularly momentous mission trip in 2012 saw the group travel to China and North Korea.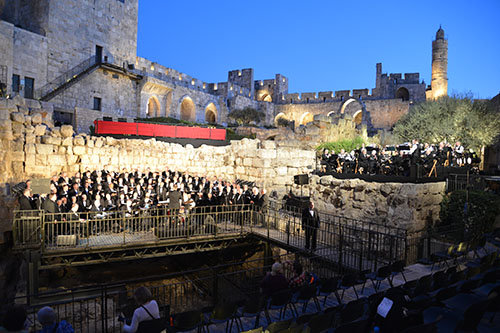 The Sons of Jubal journeyed to the Holy Land in 2015. There, the group presented a live television broadcast from the Citadel (Tower of David) in the Old City portion of Jerusalem. EDDY OLIVER/GBMB[/caption]
"We participated in an international arts festival in which nearly all the countries were communist," Duncan said. "They presented us the award for best chorus. We also sang to a nationwide television audience, and while in Beijing presented several concerts with the Conservatory of Music and local churches."
The group's talent will be on display through "Were You There?" a CD of 12 tracks at 230 voices strong.
In October 2015, the Sons of Jubal traveled to Israel. In addition to singing to schoolchildren, the group also presented concerts on the Via Dolorosa and at David's Citadel, which received international coverage.
"They also presented a concert at the convention center of the in Bethlehem," said Duncan. "Many Muslims attended, with two young Muslims receiving Christ as Savior."
Also, the SOJ distributed over 800 new winter coats collected beforehand. Muslim children throughout Gaza later received those coats via local Christian churches.
Ministry in Wales, England
Duncan and Georgia Baptist Executive Director J. Robert White, who will be participating in the England and Wales trip, will undertake a planning meeting this October. At that time, more details as to the group's itinerary will be nailed down. A major concert in Wales has already been scheduled for Cardiff. So far stops in England include Coventry and London.
Along the way, Duncan added, the Sons of Jubal will conduct workshops for Baptist churches in evangelism.
So why Wales and England?
"We selected this location through the prayers of myself and Dr. White," explained Duncan. "He felt led to take the first of the Gospel to an area in need of revival. Our choir is a rare mix of outstanding musicality and heartfelt passion for the Gospel of Christ. The impact this group can make will be quite significant."
The Sons of Jubal have 250 active members. Duncan expects approximately 175 to go on the mission trip next year in addition to 125 pastors, lay leaders, and spouses.
"Were You There?" is currently available for $15 through the Georgia Baptist Mission Board e-store. It can also be downloaded on iTunes, Google Play, Amazon, and CD Baby.
For more information or interest in participating, contact Dana Bailey, state missionary support in Worship and Music Ministries at dbailey@gabaptist.org or call (770) 936-5265.