Chris Hurst holds his bulletin with lyrics while Frank Lamb, music pastor at Friendship Baptist Church in Lee County, leads worship on Sunday, March 22. Friendship held a drive-in worship service, with attendees bringing their tithe through their car window. FRIENDSHIP BC/Special
---
LEESBURG — "Good morning! Welcome to Friendship Baptist Church, drive-in church today. Thanks, everybody, for coming."
Pastor Mark Spraggins never expected to give that type of welcome. However, like pastors everywhere, he knows these are different days. Approaching his fourth anniversary with the congregation, Spraggins also no-doubt didn't expect to make the following announcements.
"Please don't leave your Bible or any other personal effects to mark your parking space for next week."
"Please try to refrain from showing up really early and parking on the back row."
"Please don't honk for 'Amen.'" (Which, of course, a wise guy immediately met with two honks.)
The drive-in church was one of many ways Georgia Baptists are trying to adjust to ministry in the age of COVID-19. Friendship Baptist sits on a flat stretch of highway 32 in Lee County and selected an unused FM frequency to transmit Spraggins' message over the cars' radios. And while members also had access to the service on Facebook Live and an archive on the church website, this, at least, provided somewhat of a more personal experience.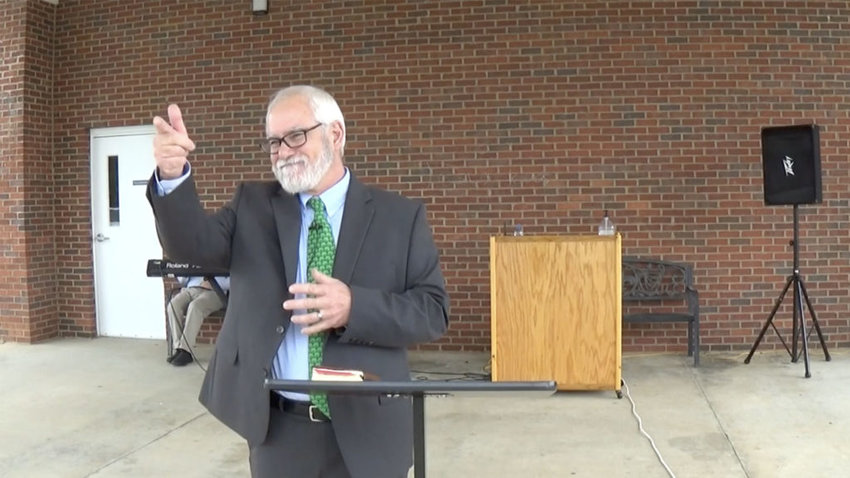 Pastor Mark Spraggins of Friendship Baptist Church responds to a church member giving an "amen honk" toward the beginning of his sermon.
The options for broadcasting services range for churches among airing it live to pre-recorded and across a variety of platforms. In addition, though, is the question of how do you serve the community when you're told that you need to stay away from each other?
Taken to the extreme, it's impossible. Some contact will have to take place. But it can be done so with precautions. Yesterday, for example, Friendship Youth Pastor Shane Williams handed out church bulletins to each car while wearing latex gloves. An offering was taken up under the church's pull-through outside its doors. Still in their cars, members dropped in their tithe as well as canned goods for neighbors.
An online campus launches early in Ringgold
Like Friendship, Peavine Baptist Church in Rock Spring has also been donating food, for them through a partnership with Walker County Schools.
"Our church has been great to respond," said Pastor Joel Southerland.
Before many churches throughout the state cancelled in-person services March 15, Southerland and Peavine leaders had been brainstorming the concept of a "virtual" campus. Seen initially as an outreach in addition to the church's regular services and ministries, the plan wasn't for it to become the main platform for worship.
"Our intention was to have a digital pastor to moderate the comments section while sermons were being presented," he said. "We wanted to have another purpose behind live-streaming our service."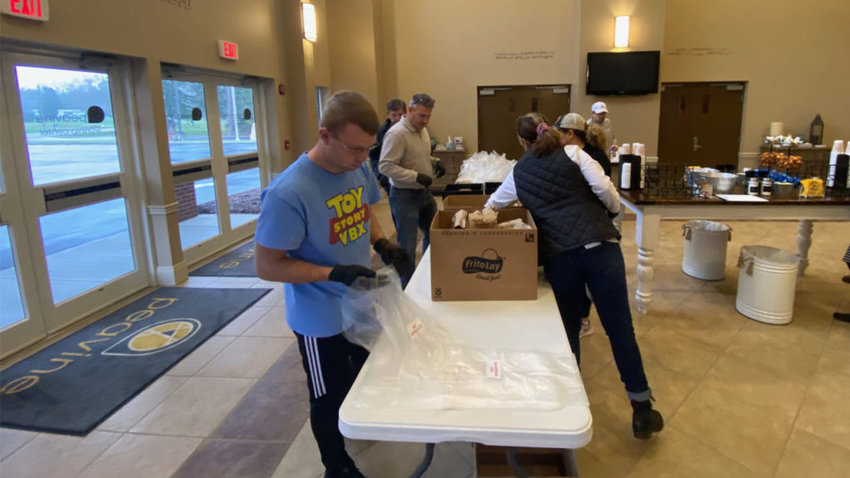 Members of Peavine Baptist Church pack boxes of food to be delivered to children in the Walker County School System. PEAVINE BAPTIST/Special
The plan was to launch the campus in May, or even August. However, on March 9 with concerns over coronavirus increasing, Southerland made the call to have an online service prepared for March 15.
"It's not that we expected to use it," he said. "We just wanted it to be ready."
A hectic week of preparing ended up being fruitful, as test runs insured everything worked for that Sunday when, indeed, Peavine joined others as an online church, even if temporarily. Southerland reported 5,438 viewers, three times Peavine's normal audience.
"They were from all over Tennessee, Georgia, South Carolina, and the world," he noted. "For us, it was a huge success."
First Woodstock providing childcare for hospital workers
Last week First Baptist Woodstock Pastor Jeremy Morton shot a text to Billy Hayes, CEO of Northside Hospital Cherokee in Canton. It was a text of support. Hayes' staff was stressed and becoming overwhelmed, and Morton wanted to let him know FBCW was there to help.
After exchanging texts over a few days, Hayes told Morton that there was something the church could do. As is the case everywhere, it was an all-hands-on-deck situation at the hospital. Could the church do anything for families of staff?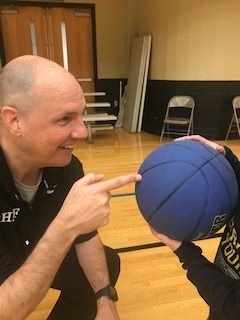 Greg Rikel, a sports and rec minister at First Baptist Church Woodstock, plays basketball with the child of a healthcare worker. FBCW/Special
In response, today marked the first where First Baptist provided free childcare for hospital staff. Morton told The Index that 22 children from 5th grade and younger were cared for by First Woodstock staff.
In keeping with the context of the situation, more workers are needed in order to maintain social distancing for children. However, Morton pointed out, only staff who have already been screened to work in children's ministries are being used in the outreach.
"Our cleaning crew is also working hard to keep people safe," he said. "Even as we're providing the childcare, we're practicing the guidelines on social distancing and handwashing as recommended by the CDC."
First Woodstock is also working alongside the Cherokee County School System to provide games, toilet paper, medical supplies, Bibles, study resources, and other materials. Last week, Morton added, 20 families who had never set foot on FBCW's campus connected with the church. Some members prayed to receive Christ.
In addition to ministering to health care workers, First Woodstock has also reached out to a local trucking company to say they're praying for drivers.
"Custodial supply, truck drivers, and doctors and nurses," Morton stated, "can you think of three more important jobs in our society right now?
"The church wants to support them. We're all in this together."
Editor's note: An earlier version of this article had Peavine Baptist Church in Ringgold, not Rock Spring. The Index regrets the error.