Blake Bishop from Bowden Baptist Church in Bowden, Ga., practices guitar at SURGE150 camp.

By Roger Alford

ROME, Ga. – A summer camp for young Christian musicians and singers has struck a chord with Georgia Baptist churches looking for ways to get children and teens enthused about serving the Lord.

More than 300 students from 97 churches across the state gathered at Shorter University in Rome for the annual SURGE150 music camp, an initiative of the Georgia Baptist Mission Board's church strengthening department.

"We need musicians to help us in our churches, and I personally believe that those musicians will come from the next generation," said Rhon Carter, worship and music catalyst for the Mission Board. "So, it's very important that we give them opportunities to develop musically. That's what SURGE150 camp is all about."

The "150" in the name refers to Psalm 150, which declares: "Let everything that has breath praise the Lord."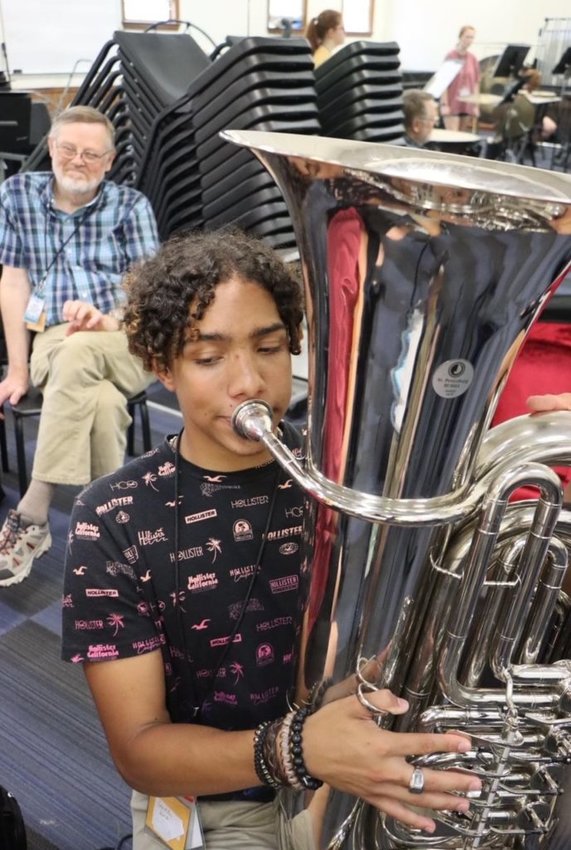 Zac Colquitt plays tuba at the SURGE150 camp for future church musicians.
The camp, which dates back to the 1950s, is about more than honing musical talents; it is also an opportunity for the students to grow spiritually. For six of the students this year, that meant making first-time decisions to follow Christ, and, for four others, it meant making decisions to serve in full-time music ministry.

Carter said the camp, which was held June 21-26, is a time of spiritual and musical revival for students. "It allows them to be with a multitude of people who speak a musical language. That builds encouragement and community when you do that."

Music faculty from all of three Georgia Baptist universities, as well as music leaders from churches across the state, assist with the camp, teaching an assortment of classes, including voice, choral, guitar, brass instruments, woodwinds, organ, piano, even handbells.

Classes were taught by 58 faculty members.

Carter said it takes years to master an instrument, so churches have to begin now if they expect to have musicians in their churches in years to come. That's why SURGE150 includes children as young as third grade.

"We've got to do everything we can to develop an interest and a skillset among the next generation," Carter said.

One mother said SURGE150 was a blessing to her 17-year-old daughter.

"She was smiling bigger than I have seen in a long time," the mother said. "She has gone to many music lasses in the past, but says she learned more this past week than ever before. In addition, her spiritual life was strengthened.

"It is obvious that the faculty poured into our kids this past week. They are our future church, and it is so important for us to set them up to succeed."