Mike Griffin shares some historic documents with students, including the Ten Commandments. FACEBOOK
---
ATLANTA – Since August, 13 groups have taken prayer tours of the Georgia State Capitol led by Mike Griffin, the Georgia Baptist Public Affairs representative.
The final group included 14 high school students, brought by Javier Chavez, pastor of Iglesia Amistad Christiana.
"The tour was informative but most importantly, spiritual. To hear 14-18 year old Hispanic-American students pray for our state authorities, assures me that the best days for Georgia are ahead of us. Christ is Lord of our state," Chavez shared.
The tour led the students through 12 different prayer stations where information about that location was provided along with prayer needs for government leaders.
Other tours included pastors, ministerial staff, mission strategists, families, and college and high school students. One tour even included a greeting from Governor Brian Kemp.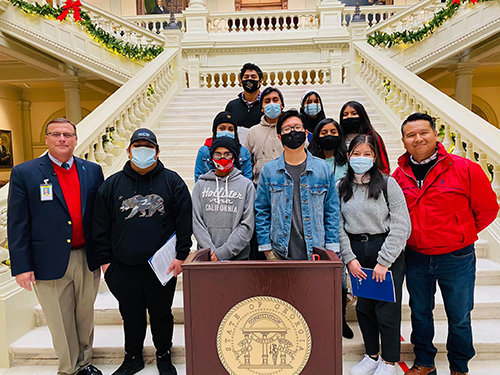 14 students, led by Javier Chavez, joined Mike Griffin for a tour of the Capitol. FACEBOOK
The final tour was special, though, both Griffin and Chavez agreed, and not simply because the Capitol was decked out with Christmas decorations.
"I call this historic, because for five years now I've been a prophet in the wilderness saying, 'This state will become liberal unless you move toward Hispanic support, not in a paternalistic way, but walking alongside and connecting with the second generation of emerging leaders,'" Chavez posted on Facebook after the tour.
He continued, "I can affirm today the NY Times said 'that the next electoral wave in America will be of Hispanic leaders, pastors, and young people who will vote based on conservative values -– values our Hispanic parents have been teaching at home and our pastors in our churches silently but without much support once our kids head to college.'"
Chavez added, "As our students prayed in the Capitol, I said 'God, the day is coming and it is very soon when the House, the Senate, and the Courts will have young people representing Christ, their communities, and their love for America.'"
The tour was also covered by 11Alive.
Those interested in touring the Capitol with Griffin may contact him at mgriffin@gabaptist.org.
---