Steve Pickern stands with his wife of 46 years, Alice, at a Memorial Day gathering. He has maintained a daily witnessing commitment since January, leading at least one person to the Lord during that time. STEVE PICKERN/Special
---
SUMMERVILLE — Since mid-January Pastor Steve Pickern of SonRise Community Church has led 186 people to the Lord.
Should Pickern remain with that pace established Jan. 16 – and there's no reason to think he won't – the number of those who accept Christ through his one-on-one evangelism will only continue to grow. Whether at Walmart, a restaurant, pumping gas, or anywhere, the 66-year-old asks others what would happen if they died that day. Sure, some say no, but least one a day since he started has said yes.
"I wake up each morning and ask the Lord to give me a divine appointment that day," says Pickern. "I always get one. He hasn't failed me yet."
Pickern points back to a sermon he heard earlier this year on tape by David Gibbs of the Christian Law Association. "It was called 'Doing the Impossible' and talked about how God does not want us to do great things for him," Pickern says. "God wants us to do impossible things for Him."
The message struck Pickern, who has witnessed to around a dozen people a day ranging from age 10 to 91. From Jan. 16-March 21, before SonRise Community Church stopped regular meetings due to the coronavirus and moved to drive-in services, he baptized 24 people. When the church comes back together for in-person worship June 7, Pickern will baptize a family of 11 he led to the Lord a few weeks ago.
Not every response has been positive, like the guy who called back to Pickern that, yes, not only was he going to hell, but he's going to ask to be the foreman. Nevertheless, the pastor has continued to tell numerous people about Jesus not only in Summerville but nearby in Menlo, Lyerly, Trion, and Rome. Where there are ears to hear, Pickern has a message.
"i just wish I had heard that sermon 30 years ago," he opines. "I'd have been convicted to do this then."
A big difference
"He's just trusted God to provide someone each day and God has been faithful," testifies Barry Peppers, associational missions strategist for Chattooga Baptist Association.
Last year Pickern and Tracy Espy, bivocational pastor at West Summerville Baptist Church, led an evangelism push that covered Chattooga County with a door-to-door strategy prior to Easter 2019. Peppers credits not only Pickern's desire to make the initial contact with people, but his dedication to follow-up.
"That part of it makes a big difference," he adds.
Pickern keeps a notebook that chronicles each conversation. The cover calls out the name of his witnessing excursions – "Soul Patrol." Those listed don't include anyone who indicates a decision for Christ during SonRise's services, only those Pickern witnesses to individually.
"I write down their names and address; I'll also ask for their phone number," he says. "I want to stay in touch and let them know I'm praying for their family."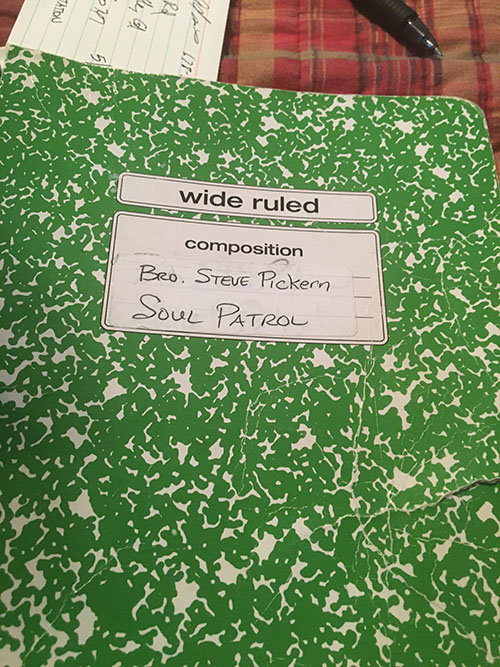 Steve Pickern records the contact information of those for follow-up in his notebook titled "Soul Patrol." STEVE PICKERN/Special
At the time Pickern spoke with The Index, he mentioned that he had 187 people on his list for follow-up. Two weeks ago, he witnessed to a young man who accepted Christ. That led to an introduction with the young man's mother, who also became a Christian.
Two minutes
The encounters start with Pickern's question about eternity and then a request for two minutes of that person's time if they're not sure. Some days have presented their challenges in meeting his goal, such as the one where the pastor hadn't led anyone to Christ until his discussion with a Walmart employee gathering carts in the parking lot that night. Another time, Pickern was held up at the doctor's office for an appointment. While waiting he called a student who had been visiting the church and led him to the Lord over the phone.
Pickern is a seventh-generation pastor whose father, Henry, died in his study on a Saturday night going over his message for the next day. He's occupied the pulpit at SonRise full-time for five years after serving at Riverbend Baptist Church in Ocilla. He sees his witnessing efforts as merely fulfilling his purpose as a Christian.
"Many people think their goodness is going to get them to heaven," he says. "But most of them are hungry and acceptable to the Gospel.
"I don't want to take credit for. It's all God. I'm just being obedient."
---