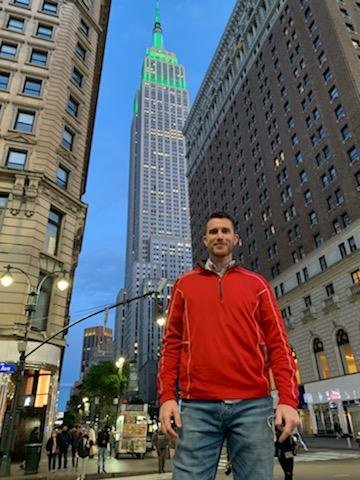 Ben Hunley, worship pastor at Oak Hill Baptist Church, visits New York City as part of a mission team from Georgia.
By Chuck Johnson

WILLIAMSON, Ga. – Stephen Dervan, pastor at Oak Hill Baptist in Williamson, led a mission team to New York City to help establish a partnership with Georgia Baptist Mission Board churches in the state's west central region.

The Georgians were exploring potential ways they could work with the Metro New York Baptist Association.

Dervan said only 8 percent of New Yorkers attend a worship service at least one time per year.

"Only 6 percent of those living in New York would consider themselves evangelicals and of those less than 2 percent would be Baptist, " said Kevin Cabe, Metro New York's partnership coordinator.

The Oak Hill mission team was able to see and hear about the great lostness in NYC, as Cabe worked with the team. 

"The need in NYC is bigger than what GBMB teams can provide," said Ben Hurley, pastor of worship and arts at Oak Hill. "The opportunities are endless." 

The estimated lost population in New York is 92 percent. The Oak Hill team suggested any churches wanting to send teams to New York to connect with the New York Baptist Convention, SEND NYC, and to utilize Kevin Cabe.

The GBMB is challenging Georgia churches to take a long-term partnership approach rather than a one-time mission trip. Team of eight to 12 people are needed to go to New York. 

Oak Hill Baptist is moving to a strategy where, 5 years from now, Dervan wants to see 80 percent of his congregation involved in missions.  He also plans to establish long-term partnerships.  They have a goal to see 95 percent of their mission partners and mission giving going to SBC partners.  The staff of Oak Hill, upon returning home, kept remembering the statement from one NY church planter who said, "We need Georgia churches to begin sending teams to New York now.  We don't need a thousand 1,000-member churches. Rather, we need ten thousand 100-member churches."
The GBMB partnership with New York will be coordinated by NY Convention Executive Director Terry Robertson for the entire state of New York.  Metro NY Association Executive Director George Russ and Cabe will handle the logistics for teams wanting to work in NYC.  Cabe will help arrange lodging, food, and urban transportation while teams are in NYC. 

Churches can find more information at www.mnyba.org.

___
Chuck Johnson is the central Georgia mission consultant for the Georgia Baptist Mission Board. Reach him at cjohnson@gabaptist.org.