Midway Baptist Church Pastor Todd Wright and his Treeing Walker hound Squeak look up a tree that a raccoon had climbed.



Editor's note: Pastor Todd Wright's hound, Squeak, is Georgia's top dog when it comes to one of the South's oldest traditions – coon hunting. Squeak is the current leader in the Professional Kennel Club's standings in Georgia and is in the Top 5 nationally, which is no small feat considering the thousands of hounds across the country that compete. But Wright, pastor of Midway Church in Villa Rica, has more reason than that to appreciate Squeak. In a round-about way, the dog may have actually saved his life.

By Roger Alford

ROOPVILLE, Ga. – It's nighttime in west Georgia. The temperature has fallen into the 80s, but heavy humidity makes it feel much hotter.

Pastor Todd Wright's four-wheel drive Ford pickup bounces along a muddy road on the way to one of his favorite hunting spots. He and a friend, Jeff Dollar, roll to a stop and step into the muggy air. Lightning flashes intermittently in the distance, but it's so far away they hear no rumbles of thunder.

They lead their hounds, Squeak and Bit, into the timber and unsnap their leashes. The dogs charge into the darkness like racehorses, kicking up dirt and leaves as they speed away. Within a minute, both hounds have crossed the trail of a raccoon and go after him with yowls and squeaks and bawls. The raccoon takes the dogs on a winding route through the undergrowth, across a creek and up a ravine before climbing a huge oak. He's sitting up there safe and sound, looking down at the baying hounds while the hunters look up at him.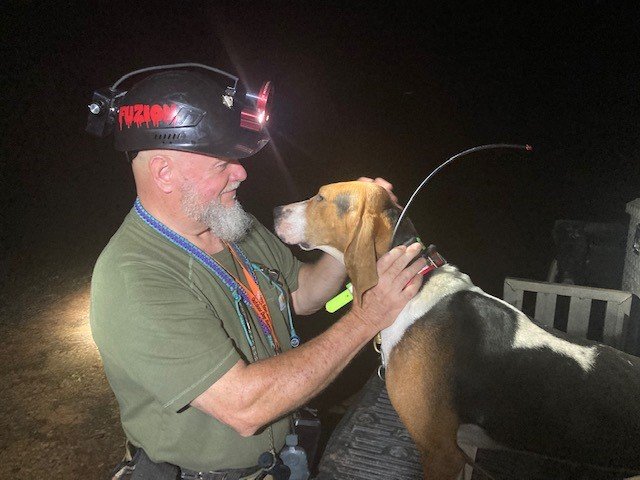 Todd Wright puts a tracking collar on his dog, Squeak, as they prepare for a night's hunt.
It's a routine the raccoon and the hounds have grown accustomed to. The hunters pat their dogs and lead them back to the truck. The raccoon watches their lights fade into the darkness before he climbs back down and continues his adventures.
When Wright was in the fifth grade, he read the classic children's novel, Where the Red Fern Grows, about the adventures of a boy and his hounds chasing raccoons in the Ozark Mountains. He said the novel sparked his passion for hounds, and he was able to get some of his own to chase through the woods when he was a boy. But as an adult life got busy. He put all his time and energy into ministry, becoming one of Georgia's most successful pastors.
Wright has been at Midway Church in Villa Rica for the past 25 years, watching it grow from a Sunday morning attendance of 200 people to a high of more than 2,000. Ministering to that many people left little time for anything else.

But when the COVID-19 pandemic struck, forcing churches to temporarily shut down, he found himself with time on his hands.

"I sat in my recliner in May of 2020 frustrated and depressed," he said "What had begun as a 'brief pause' for public gatherings five weeks earlier was going to last much longer than anyone expected. The shutdown gave me the opportunity to publish a new daily devotional book, Keeping Life in Focus,but, once that was completed, I had little purpose in my daily routine. No public gatherings. No hospital visitation. No lunch meetings. No staff meetings. No face-to-face social conversation. I also had little opportunity for physical exercise because fitness centers had been shut down, too. I looked at my wife and said, 'I feel myself dying mentally and physically. Something has to change.' She said, 'What are you going to do?' I said, 'I'm going to get me another coon dog.'"


Wright logged into the message board on the Professional Kennel Club's website and posted that he was looking for a young hound. Two months later, a man in Kansas contacted him, telling him about a dog he had named Squeak, a pup from a long line of champion hounds. Wright boarded a plane, flew to Kansas, rented an SUV, picked up Squeak, and drove her home.
Wright had no way to know at the time that the Lord was bringing a dog into his life for a special purpose. That began to become clear when Squeak treed a raccoon high on a mountain.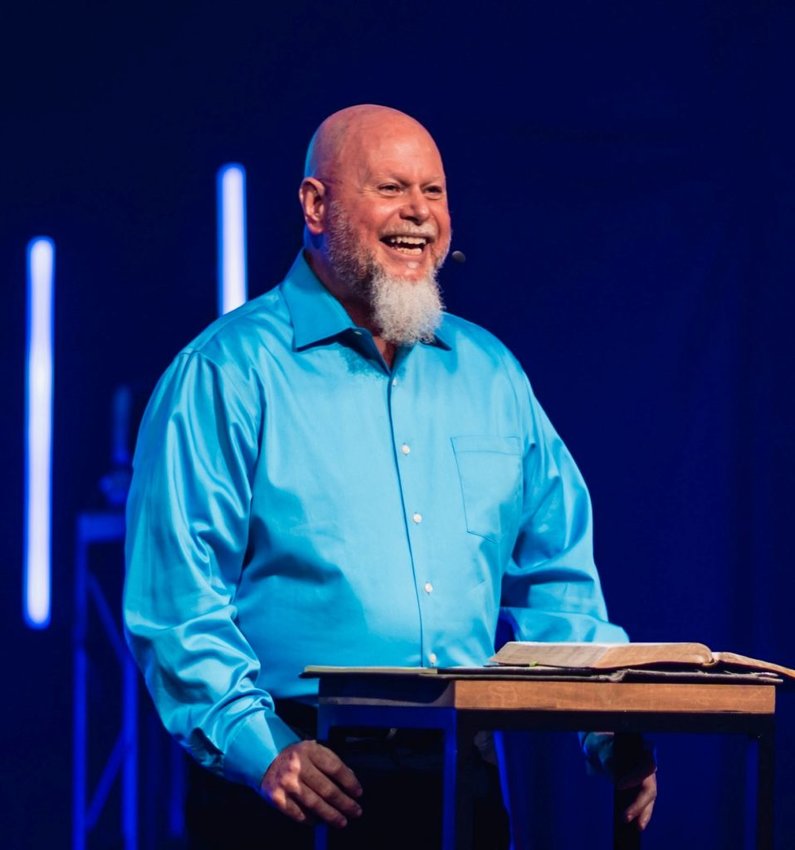 Todd Wright is shown here at his church with a pre-COVID attendance of more than 2,000.

"I got up there, and I got all dizzy," he said. "I had to sit down. I really didn't know if I was going to be able to make it out of the woods. I had another fellow with me. He asked, 'Are you alright?' I said, 'I don't think so.' I just never had felt that way."

A series of tests in November 2020 found his heart and lungs were fine, but an X-ray turned up a massive tumor on one of his kidneys. It was benign but dangerous because it was attached to a large vein.

"They told me, 'if it ruptures, you'll bleed out before you can get to the hospital,'" Wright said. "If I hadn't gotten my dog, and if I hadn' been climbing that mountain to get to her, I may have never known about the tumor. It may have ruptured and killed me, and people would have had no idea what caused me to die. So, in a round-about way, my dog saved my life."

Wright was hospitalized with a mini-stroke in February, recovering in time to undergo two surgeries on the tumor in March and May. Now, healthy again, he has turned his attention back to chasing raccoons, which gives him lots of exercise. He has lost 15 pounds so far this year.

As a boy, Wright had always dreamed of entering his own hound in the competition hunts that have been a part of rural American life for generations. He also dreamed of seeing his dog in the outdoor magazines.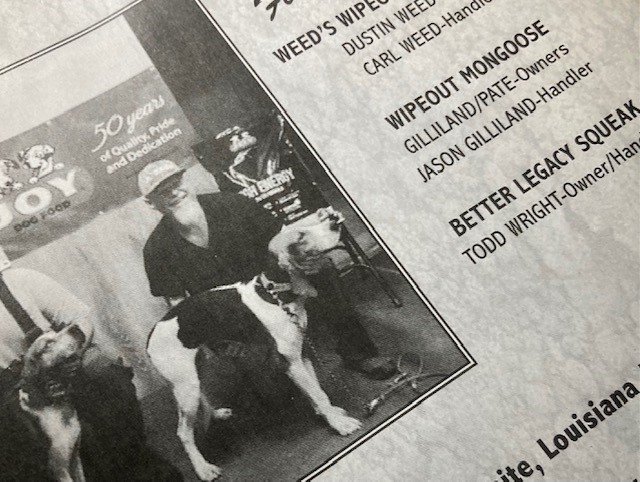 Todd Wright and Squeak shown in magazine photo after winning a hunt in Alabama.
"However, at the age of 19, ministry life, college, and marriage took me on a journey where I had little time or opportunity to hunt for several years," he said. "Then, I moved back to west Georgia in 1996 at the age of 31 to become the pastor of Midway Church in Villa Rica. The church had less than 200 in attendance in a rural community. I had no idea that church would become the church of my dreams."
Over two decades of steady growth, Midway would become a megachurch. It was there that he met his friend Dollar who brought him back into the world of hounds and hunting. Dollar said he has enjoyed watching roughnecks interact with his pastor. Some, he said, use rather salty language until they find out Wright is a minister.

"Then they start apologizing," Dollar said.

"Coon hunting gives me lots of opportunity to be around men who need Jesus," Wright said. "I've had the privilege of leading some of my fellow coon hunters to Jesus and baptizing them. There's a mission field out there, and this is a way that gets me out into the mission field on a regular basis in a way that, as a pastor alone, I couldn't be a part of."

Dollar said Squeak has made Wright well-known in hound circles. Their photo has been in Pro-Hound Magazine, one of the premiere publications in the coonhound world.

Wright said he didn't know how successful Squeak would be.

"When I bought her, I knew she had potential, but I had no idea she would become the dog that would fulfill my childhood dreams," he said.

Squeak has faced some challenges of her own. She was attacked by two German shepherds during a hunt in Alabama, requiring a veterinarian to stitch her up. As she recovered, Wright noticed that she seemed sluggish. It turned out she had a tick-borne disease called Ehrlichiosis, plus heartworms.

"Somehow, in the midst of her difficulties and mine, Squeak climbed from the bottom of the heap to the No. 1 spot in the Georgia state race," Wright said. "Then in June, she was the No. 1 pup in the nation, which earned her a ticket to a hunt next spring to compete for a new pick-up truck.

"She and I both are now in good health, and I'm trusting the best is yet to come. I'm thankful that God still lets 57-year-old men fulfill childhood dreams."