DULUTH — Does Georgia, affectionally regarded as the buckle on the Bible Belt, really need another church?
Couples considering their calling as church planters explored that question at a recent Church Planter Orientation held at the Georgia Baptist Missions and Ministry Center.
If statistics can be believed, the answer to that and similar questions is a resounding "yes."
The Glen Mary Study of Religious Congregations reports that on any given Sunday only 15 percent of Georgia's population will attend a religious meeting.

Approximately 7 out of every 10 individuals living in Georgia (and the United States in general) – or 70 percent of the population – are unchurched or claimed by any religious group.

In the year 2000 Georgia's total population was 8.2 million, with about 5.5 million of those considered to be unchurched. In 2020, just three years away, the state's population will approach 11.5 million with the unchurched estimated to be 8.1 million. That means there will be almost as many lost people in Georgia in 2020 as was the total population in 2000.
Studies also reveal that every non-Christian faith group is growing on U.S. soil while Christianity is declining.
Individuals attending the one-day orientation received a fact-filled notebook and were able to have questions answered about what is required to be a church planter, how to launch a new congregation, and what funding channels are available to birth a new church.
Guests heard presentations from state missionaries Butch Butcher, Ben Lang, and Gerald Colbert as they explained the pressing need for more churches. They also learned about the channel of cooperation between new church plants, local Baptist Associations, and the Georgia Baptist Mission Board.
Church planting begins with the Association
Lang stressed the importance of working through the Association to provide a good fit for the new plant, to gain information on where churches are needed, and receive demographic information as to the socio-economic environment. All of those factors contribute to increasing the likelihood of a new congregation having a good foundation for growing into a healthy church that can send out other church planters, he said.
Butcher, who oversees the Board's church planting efforts, explained the importance of giving through the Cooperative Program and detailed its value in church planting, missions, and evangelism. The Board also has an Intercultural Church Planting office which works with internationals throughout the state.
"Since 1925, Southern Baptists have been working together to send funded missionaries around the world. For many years the Georgia Baptist Mission Board has been a top national leader in Cooperative Program support," Butcher noted.
"Today the Board has approximately 3,600 churches with 389 state missionaries supported through the Cooperative Program. In addition, the North American Mission Board funds 1,400 missionaries and has nearly 1,000 self-funded missionaries; the International Mission Board has about 4,800 husband-and-wife teams who are reaching people groups around the world outside of North America.
"We are looking for church plants that want to be a part of that kind of team, that kind of family of churches. With the Southern Baptist Convention you can be a part of the largest church planting and missionary sending effort in the world," he added.
Any church plant funded through the Board is required to give a minimum 10 percent to worldwide missions such as 6 percent to the Cooperative Program, 1 percent to a church planting fund, and 2-3 percent to the local Association.
Every church planter needs to view himself as 'a Paul'
Colbert challenged those considering a calling to church planting to view themselves "as a Paul. The apostle was always involved in church planting, supporting new churches, and mentoring others in their calling.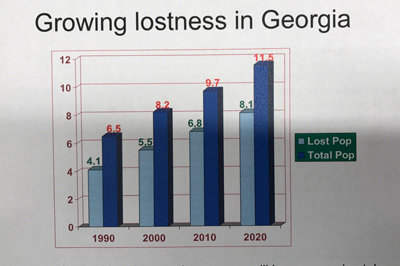 In just three years – by 2020 – the unchurched population of Georgia will equal the state's total population in 2000. JOE WESTBURY/Index[/caption]
"You will need to be seeking people in your new church who have the potential to go out and plant a new work where God is calling them. You need to identify that individual, cultivate him, invest your life in him so he will be prepared when the time is ready," Colbert noted.
"You will also need a Barnabas in your life … someone older and more mature who will be pouring themselves into your life to build you into the person God intends you to be. You will need to be an encourager to younger men just as much as you will need encouragement from an older pastor.
"Look at Paul's example; as soon as he lost Barnabas to a church plant, he looked around and identified Silas to serve in that role."
Colbert then gave the attendees practical information to get their new plant off on the right foot. For example, rather than a planter using his home address for the church mailing address (until the congregation has a permanent meeting place), use a post office box.
Practical tips for more effective ministry
"Not only will it help prevent personal and church mail from getting mixed together, but it will be a great way to meet people, build relationships, and establish yourself in the community," Colbert pointed out.
Vince Harrington, from Warner Robins, said he enjoyed the orientation and answers he received to his questions about starting a church. He is part of a group launching No Limit Baptist Church and learned about the orientation through Rehoboth Baptist Association, of which he is a member.
"This has been very educational. Anytime you start something new you discover there is a mine field out there … a right way and a wrong way to do things. It's important to have someone to lead you through that field to help you be as effective as possible for the Kingdom," he said.
Chris and Sondra Hurt, from Sasser, drove up from their community near Albany to learn more about church planting. They are members of a fellowship of about 25 individuals who are deciding whether to affiliate with an established congregation or start their own church.
"The information we received has been wonderful, especially the legal knowledge about how to begin a new work," Sondra Hurt explained.
The church planting orientation workshops are held every-other-month from 8:30 a.m.-2:30 p.m. and include lunch at the Missions and Ministry Center in Duluth. Remaining dates for 2017 include July 12, Sept. 13, and Nov. 8. Dates for 2018 are Jan. 10, March 7, May 9, July 11, Sept. 12, and Nov. 14.
Attending the orientation is one of the requirements to receive funding from the Church Planting Ministries office.
Individuals interested in attending should contact Lana Melton in Church Planting Ministries at lmelton@gabaptist.org for an invitation letter and registration form. Melton can also be reached at (770) 936-5228.