DULUTH — The current millennial generation (the generation born from the early 1980s to around 2000) has become the missing generation in many churches. They are sometimes referred to as Generation Y, Net Generation, and Generation Next.
Perhaps you have even seen a millennial wearing a T-shirt that says "Generation Text." Characteristics of this generation are generally marked by an increased use and familiarity with communications, media, and digital technologies. Speaking of T-shirts, there is one that has on the front "my biggest fear" and the image of a battery that needs to be charged.
One source, The Millennials: Connecting to America's Largest Generation, reports that those born between 1980 and 2000 constitute the largest demographic, but are the least religious group in American history. Sixty-five percent rarely attend church. Seventy percent say church is irrelevant. Only 13 percent consider spirituality important; but 84 percent say job success is important.
Some people in our churches think the millennial generation is simply too hard to reach with the Gospel. But, is the Gospel less powerful for this generation? No! Is Jesus irrelevant to them? No! Is the local church irrelevant to them? In many cases, Yes!
According to pastor, teacher, musician, and artist Dieter Zander, "No other generation has needed the church so much, yet sought it so little."
Dave Smith, specialist in student ministry, writes, "We are in a 'whole new ball game' as we face the complex issues affecting today's teens in our media-driven culture. Christian churches are discovering that the 'old days' of reaching teens with the gospel are no longer effective. Times have changed, and so must our methods of youth ministry and evangelism. An open and honest approach is essential as we face these challenges."
Finding connections
Many are asking, "Why do our students stay away from our churches in droves?"
Steve Parr and Tom Crites of the Georgia Baptist Mission Board took an entirely different approach in their recent book Why The Stray. Instead of asking why teens are leaving the church, Parr and Crites conducted a national survey to find out why young adults choose to remain faithful to their churches.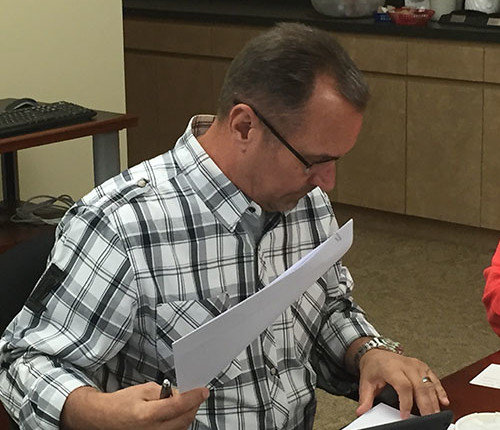 "We need to help parents see the value of being a Christian model to their children," said Steve Rohrlack of the South Carolina Baptist Convention. GERALD HARRIS/Index[/caption]
Thankfully, there are some very dedicated and spiritually astute people working full-time to find ways to connect with these millennials and reach them for Christ.
Doug Couch, and his fellow state missionaries in Student Groups and Faith Development hosted a meeting of their peers from other state conventions Thursday, March 24 to plan their annual "Conclave" for student ministers all across the southeast. The conclave will be held Jan. 26-28, 2017 in Chattanooga, TN. As Merrie Johnson from the Baptist State Convention in North Carolina explained, "The purpose of the conclave will be to equip youth ministers and youth leaders to do ministry with teenagers in their communities and local churches."
The "think tank" of Baptist state mission board leaders grappled with some of the challenges of having a consistent student ministry in the 21st century. Bruce Edwards of the Tennessee Baptist Convention stated, "The greatest challenges are faith development, bearing the Gospel message, getting outside the walls of the church to reach lost students, building relationships, connecting the truths of the Bible to their everyday culture, student ministries remaining relevant, and student ministers getting out of their offices and spending time with students."
Scooter Kellum, of the Alabama State Mission Board, added, "We have got to go to where the students are – into the schools and to sporting events and their extracurricular activities in order to build relationships, demonstrate our concern. and share our faith."
Steve Maltempi of the Louisiana Baptist Convention added, "I am trying to show our students ministers how to better network with other youth pastors, parents, and youth leaders."
The consensus of the group was that parents must be re-engaged in the spiritual development of their middle school and high school age children. Steve Rohrlack of the South Carolina Baptist Convention commented, "We need to help parents to see the value of being a Christian model to their children, focus on providing good resources for discipleship, and actively involve parents in the church's student ministry."
Billy Young, who is with the State Board of Missions in Florida, declared, "Since students today are involved in so many different activities, we must continuously show them that the cause of Christ is greater than anything in all the world."
'Stop the compromise, change the focus'
One millennial wrote, "We young people don't merely crave for more material stuff. We aren't only searching for churches that flash fancy graphics on the PowerPoint, build deluxe buildings, or construct coffee shops in order to attract us. Instead, we clamor for churches to stop the compromise and change the focus to that of Jesus, His love, and His Gospel. We want people to be real and live the faith. We want change. We want authenticity."
The best chance for spiritual revival that so many believers long for could very likely begin with these millennials. Perhaps the last really significant revival in America started one morning in 1970 at Asbury College's 10 a.m. chapel service. What happened there among the students spread across the United States and into foreign countries. The revival that started at Asbury College in Wilmore, KY has been compared to the Great Awakenings of 1740 and 1800.
Often, the most well attended meetings sponsored by Baptist state conventions are meetings where students gather for worship and praise, like Georgia Baptists' MOVE Conference where as many as 7,500 students gather each year for two days just after Christmas. Perhaps this year that particular gathering will erupt into a spontaneous revival that will sweep across Georgia and the United States.
Or perhaps it will happen at this year's Conclave in Chattanooga when as many as a thousand student leaders get rekindled with the fire of spiritual renewal and take that spirit home to ignite a spark in the hearts of the students in their churches. The planning and passion on display at the meeting Doug Couch hosted inspired the hope that it could happen.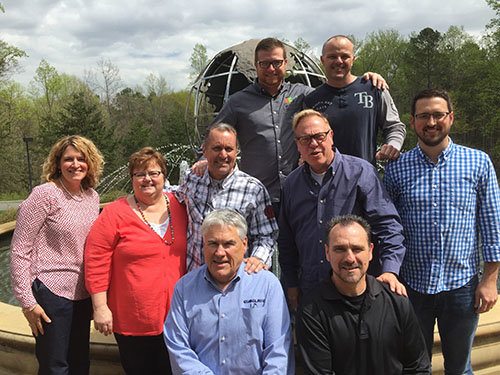 State Baptist student leaders planning this year's Conclave, held in Chattanooga, include, left to right beginning in front row, Doug Couch (GA) and Steve Maltempi (LA); Cindy Fruitticher (GA), Merrie Johnson (NC), Steve Rohrlack (SC), Bruce Edwards (TN), and Brian Bone (GA); and back row, Scooter Kellum (AL) and Billy Young (FL). The group gathered at the Missions and Ministry Center recently to plan the event involving several state conventions. GERALD HARRIS/Index[/caption]