MARIETTA – Years ago, while living in New Orleans, Ann Lampert waited outside an emergency room. There, she saw a scene that would lead to what her husband Andy deemed her "calling."
While waiting for her own son to finish a project in the hospital that day, Lampert saw a Hispanic lady rush in with her bleeding child. When the woman approached the desk, she could not explain what was wrong with her son.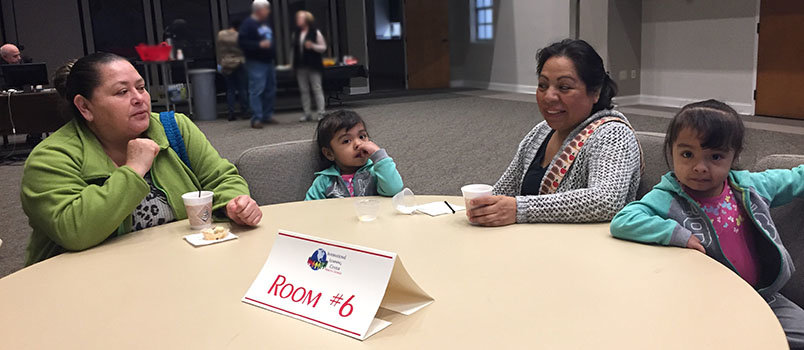 Twenty-seven countries are recognized at Roswell Street's International Learning Center. MYRIAH SNYDER/Index
"It was hard," Lampert's husband, Andy, recounted. "Her heart just melted."
"Something's got to be done about this," he remembers her saying.
This experience led to Ann Lampert feeling called to make a difference. When she saw the struggling mother, she thought of what it would be like if her family were in a foreign country. What if she couldn't get the help needed because of a language barrier? "From that point on, she started teaching (English as a Second Language, or ESL) and got me into it," he said.
Roswell Street's International Learning Center
Today, the Lamperts lead the International Learning Center (ILC) at Roswell Baptist Church. The ministry, in its second year of operation, has seen around 500 individuals come to the program. Each week 150-200 people, ranging from kids to adults, show up for the various programs offered through the ILC. Approximately 300 are enrolled.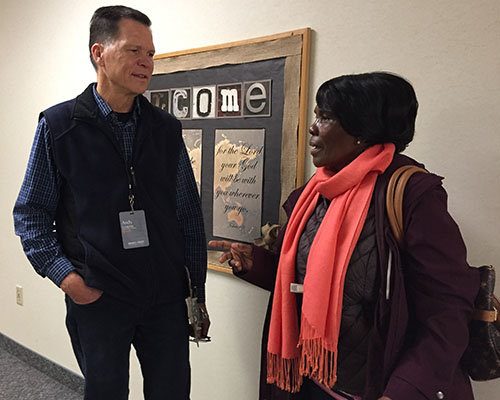 Andy Lampert listens as Nancy, a student from Kenya, shares part of her testimony. MYRIAH SNYDER/Index
The Lamperts moved to Marietta from Dallas, Texas looking for a church in which to serve. The couple met Roswell Street Pastor Michael Lewis, heard his heart for internationals, and wanted to join in. When a group traveled down to Jacksonville, Florida to learn more about ILC, the church had around two or three students coming each week. With the restructuring of the program under the Lamperts' leadership, numbers grew fast.
Andy loves the ILC's model "because it's not just about English. We want to give them Jesus through the whole thing."
And that's exactly what they do each week. On Tuesdays and Sundays, the ESL program at Roswell Street begins with a time of refreshment and fellowship where the groups gather together. When the classes begin, students separate according to class level, starting at the very basics of English, level one, and progressing to level five.
Level one classes focus on basic words, phrases, and usage. Pictures are relied on during this stage. Some that come to this class know little to no English at all. As the levels progress, the curriculum gets harder. Level four students study basic grammatical structur, as well as conversational English. Then they practice on each other. Level five helps prepare students for more advanced English in real-life situations. All classes that start in the fall and are structured so that each level takes a year, if the student attends faithfully.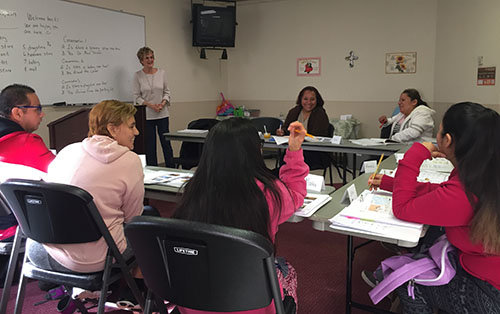 Students practice giving directions to each other in a level one ESL class at Roswell Street's International Learning Center. MYRIAH SNYDER/Index
At the end of their time together, students gather for reading club. Here, they read through a Bible story led by Andy and do an English activity. Each session ends in a time of prayer.
Besides their ESL classes, various other programs are provided. The Lyons Club periodically offers vision testing, an immigration lawyer visits and offers free counsel from time to time, and occasionally medical resources are available. Children in grades K-6 can attend a study buddy program offered on Sunday nights.
Last year, 27 nationalities represented included people from Greece, Russia, India, Senegal, Tanzania, Kenya, Togo, China, and Latin American countries.
At Roswell's ILC, they've seen many not only come to know Christ, but had many students join the church. Through the program, "they see Jesus means something to us, and their hearts just open up," Andy shared.
"Andy and Ann have done a beautiful job. The community has rallied around the fact that Roswell Street Baptist Church is offering ESL," Paulette DeHart, Georgia Baptist state missionary for literacy missions, shared.
In addition to Ann's teaching and passion for the ministry, Andy's "gift of hospitality has just been making every student feel welcome," DeHart added.
Georgia Baptists and literacy missions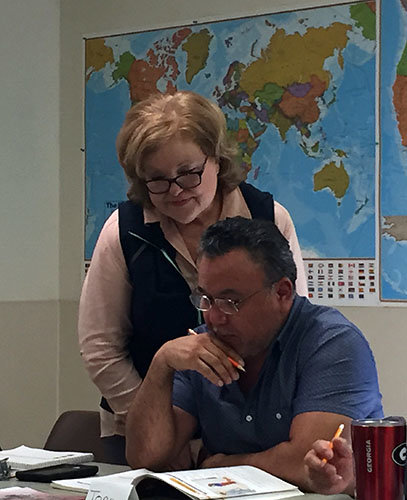 Ann Lampert puts her passion for literacy missions into action when she teaches her level five ESL class at Roswell Street. MYRIAH SNYDER/Index
Within the Georgia Baptist Convention, over 80 churches offer ESL classes in some format. At least six of those are using ILC's unique model. Churches have also embraced a writing track, a tutoring track for youth and children, citizenship classes, and adult reading and writing in Spanish, among other ministries.
For 60 years, "we have been training people to share the good news of Jesus Christ with the people that the Lord has brought to our shores," DeHart said.
She added, "When there is a need, the Lord expects His Church to respond to the need. Whenever the Lord is sending to our shores people from abroad who need to learn English, then the body of Christ needs to respond."
Emphasizing the great reward and urgency of literacy missions, DeHart urged, "We obviously see the international mission field coming to our neighborhood. Why shouldn't we respond, and how can't we respond?"
Click here to learn more about literacy missions throughout the Georgia Baptist Convention. Click here to learn more about the International Learning Center. To get involved in Roswell Street Baptist Church's ILC, email mclainhenry@roswellstreet.com.