Volunteers gather for prayer outside the Morganton Mountaintown Baptist Associations ministry center on Wednesday.


By Roger Alford

BLUE RIDGE, Ga. – Wide-eyed children walk through rows of bicycles of nearly every size and color outside a ministry center operated by the Morganton and Mountaintown Baptist associations, sliding their hands across shiny chrome handlebars and testing brake levers before settling on just the right ones.

Meanwhile,  volunteers from local churches carry box after box of food to be loaded into the vehicles of waiting parents.

For these volunteers, it's just another day to love their neighbors in this Appalachian town in northern Georgia.

Realizing they can accomplish far more together than they ever could separately, Baptist churches in Gilmer and Fannin counties are operating a ministry center that is both changing lives and saving lives.

It's here where needy families can come to get free canned goods and fresh vegetables to fill empty stomachs, and where free bikes put smiles on the faces of impoverished children who may not otherwise have a lot to smile about.

It's where unwed mothers-to-be can come for help when they have nowhere else to turn. Here, they find the physical, emotional, and informational support they need to carry their pregnancies to full term and deliver healthy babies.

It's the go-to place for people who can't afford dental care. Volunteer dentists will pull aching teeth free of charge.

It's where those without medical insurance can see a volunteer physician at no cost.

And it's where volunteer pharmacists can fill prescriptions for antibiotics and other non-narcotic drugs.

But, most importantly, it's where people can come to encounter Jesus.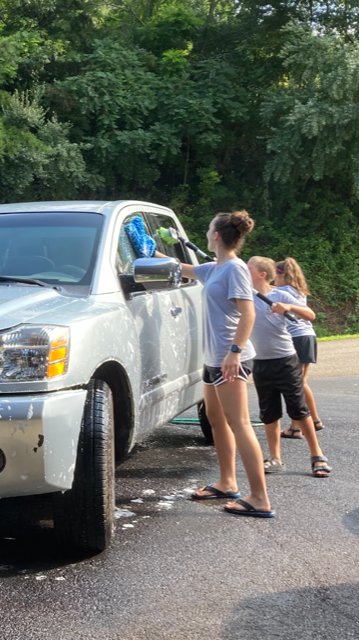 Church youth volunteer to wash cars at the ministry center in Blue Ridge.
"People come to us with their physical needs and we get to minister to their spiritual needs and to share the gospel with them," said Associational Mission Strategist Stacy Dyer who organizes and works alongside volunteers at the ministry center in Blue Ridge. "We are able to pray and share the gospel with every one of them."
Since September, Dyer said he has led 11 dental patients to faith in Christ in the ministry center's waiting room. At the counseling office across the hall, Dr. Deanna Brown reported 14 salvation decisions and three rededications since January 1.
People from several churches were volunteering on Wednesday, including a group of children and teens from Macedonia Baptist Church in the Hiawassee Baptist Association who spent the day doing free car washes.
"We are all working together for one common goal and one common good," Dyer said. "There's just nothing better than seeing churches work together like that."
Kyle and Joanna Fleener of Blue Ridge were all smiles as they picked out bicycles for their three children, including one for their two-year-old to use when she's a little older.
"When we heard we could get bicycles for our kids, we had to come," Kyle Fleener said. "They're going to love these."
Brittney Francis of Talking Rock said she hadn't been able to afford the bike her daughter wanted. That problem was solved on Wednesday when the bashful little girl found the very one she wanted. It was a trick bike.
"She had been wanting it for a long time," Francis said as volunteers loaded it into the back of her aged SUV.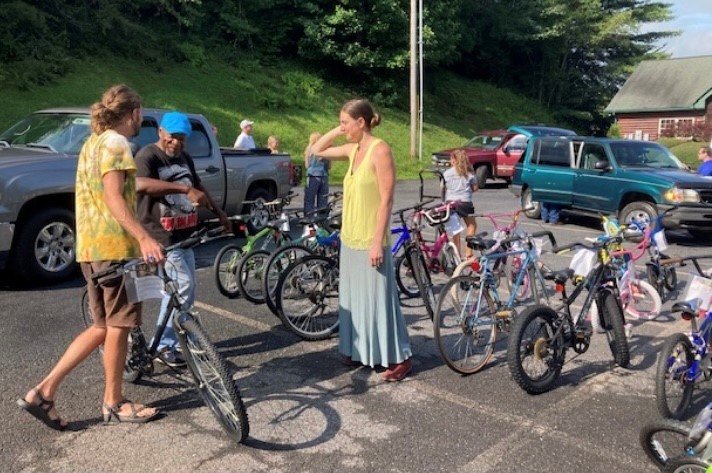 Free bicycles drew people to the ministry center in Blue Ridge on Wednesday.
Dyer, who has been the associational missionary since September, said he's thankful churches in northern Georgia realize that they can accomplish more by working together.
"Our churches and pastors put a very high value on the work we're doing," he said. "Let me be clear, I didn't create these ministries. They were already in place when I got here thanks to my predecessor, Claude Mathis."
Mathis, the longtime leader of the Morganton and Mountaintown Baptist associations who retired last year, had done an outstanding job in leading local churches into cooperative ministries.
Dyer said the key to the success of cooperative ministries like his is churches that understand the value of working together to meet crucial needs.
"There was a tremendous need for dental ministry, for medical ministry and for food ministry here," Dyer said. "Our churches felt strongly about meeting those needs."
The bicycle giveaway was courtesy of Mars Hill Baptist Church in Carrollton, Ga., where one of the members visits yard sales every weekend to purchase all the bikes he finds for sale. He then refurbishes them for needy children.
"That thrills this old preacher's soul to see the joy on those little faces," Dyer said. "The happiness on those faces is priceless."
Since April, some 200 people from local churches have volunteered at the ministry center. That includes the dentists and doctors.
"These are wonderful people who volunteer for this ministry," Dyer said. "If not for them partnering together, lots of people would be doing without food, living with constant dental pain, and not receiving basic medical care."