DULUTH – Starting June 1, Rhon Carter will be the new Worship and Music catalyst for the Georgia Baptist Mission Board. Carter has served for the past seven years as the worship pastor at First Baptist Church Statesboro.
A gifted pianist and singer, Carter grew up attending Hoboken Baptist Church with his family. Carter said his grandmother was the church organist at Hoboken Baptist Church, and she had the same gift of playing by ear as Carter.
"God gifted me with a musical ability," Carter said. "My family saw it and started helping me develop it at an early age. I've loved music my whole life. My other grandmother had a stack of hymnals on top of the piano, and we would play and sing all the time."
Carter likes to say that he is bilingual in his worship language in that he has worked in both small and large churches. He grew up listening to Southern Gospel quartets and Baptist and Broadman hymns, and he participated in children's choir and youth choirs. He enjoys the idea of writing new songs for the Church, and he likes blending the old and new to merge them together into a cohesive worship song or experience.
Carter received Christ and was baptized during a revival service when he was 12 years old. He was a good kid, he explained, but he knew he needed the Lord. As he grew older, he came to understand more of why he needed the Lord and what his salvation meant for his life.
A full-time commitment to ministry was not something Carter intended to pursue when he started his college career. He explained that all of the leaders at Hoboken Baptist were volunteer or bi-vocational, so he really didn't have an understanding of what full-time could mean for him and he thought he needed another job.
He began attending the Medical College of Georgia, hoping to obtain a degree in hospital administration. As he neared the end of his degree program, Carter felt the call to full-time ministry and chose to attend Brewton-Parker College. It was there that he earned a degree in vocal performance with a minor in piano and communications.
"Those years at Brewton-Parker shaped me," Carter said. "Hildegard Stanley and all of the music faculty took a self-taught, gospel-playing musician and taught me to be the best church musician and worship leader I could be."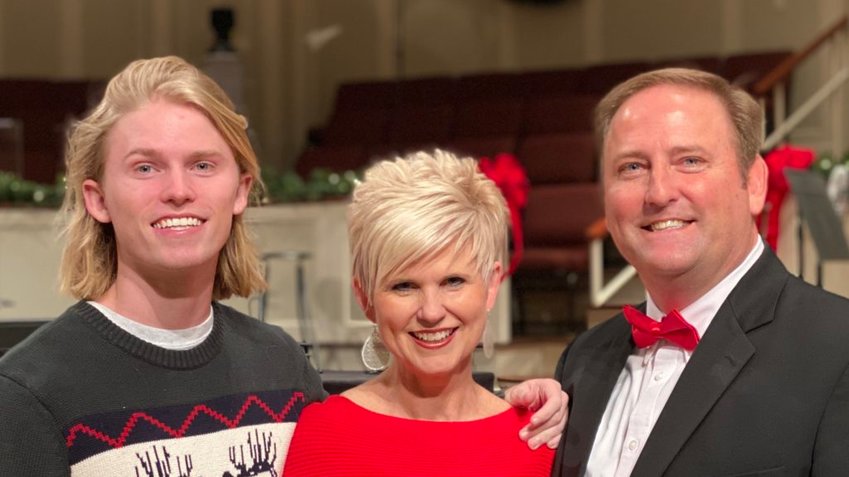 Rhon Carter (right) will step into the Worship and Music catalyst position June 1. He is pictured with his son Barhon and wife Vickki. COURTESY/Rhon Carter
It was also at Brewton-Parker that Carter met his wife Vickki. Vickki is a Language Arts teacher. The couple has one son, Barhon, who is a senior Mechanical Engineering major at the University of Georgia.
While at Brewton-Parker, Carter searched for a music ministry job. Dr. Carroll Phillips, pastor of Emmanuel Baptist Church in Blackshear, brought Carter on as the music and youth leader. Phillips discipled Carter, and Carter chose to stay on full-time after he graduated.
Since then, Carter served churches first in Rockdale County, Ga., Orange Park, Fla., and Waycross, Ga., before serving seven years at First Baptist Church Statesboro.
"These past seven years have been some of the most awesome years of ministry for me," Carter said. "John Waters has helped me learn how to be a leader of leaders as well as how to live a life of grace and transparency. For that, I will always be grateful."
Carter said one of his favorite parts of his time with FBC Statesboro was the worship ministry intern program.
"We have had the opportunity to help many college students learn about worship ministry," Carter said. "We allow them the chance to develop and use their God-given abilities in the local church. It's been one of my greatest blessings in all of my churches to pour my life into the next generation."
Carter said he desires to see young people love God, love others, and love the local church. One of the best ways to love the local church, he said, is to serve it.
For his position as catalyst, Carter said he wants to help identify where churches are and how they can take their next step to further develop their worship and music ministries. He explained that his time working as the GBMB Southeast regional consultant will help in his new role.
"I love to see congregations engage and sing in worship," Carter said. "I love that music, which is an emotional language, is something God chose for us to use to worship Him. I love God, I love people, and I love His Church. I want to spend my life using the gifts God gave me to worship Him and encourage others to do the same."
---