BAXLEY — Red Oak Baptist Church sits more than 200 miles from Atlanta in a part of Georgia about as country as you can get. Directly across Red Oak Road a defunct gas station shares a dirt lane with a pasture and cattle chute. The nearest Walmart is a 20-minute drive to Baxley.
And from there, the congregation presents Atlanta homeless the opportunity for a hot shower, clean clothes, and most of all, the gospel.
Rural churches need to shake the idea they can't contribute to urban ministry testifies Kris Parker.
"We've seen a good number of amazing partners from churches in rural areas," says Parker, co-planter and co-pastor of Tapestry Church in Atlanta with Matt Stacy. "We super-love these these smaller churches to be involved in Atlanta missions. They do an awesome job."
Giving service, hope in Atlanta neighborhoods
Tapestry began two-and-a-half years go as part of the Urban Atlanta Church Planting Network and Atlanta Metro Baptist Association. Today, church members serve among the communities of East Atlanta Village, Lake Claire, and Cabbagetown. Plans include establishing ministry in the Capitol Gateway neighborhood. Each Sunday, the church gathers for worship in a rented space in Cabbagetown.
Sharing Christ remains the focus. However, the way to get there may sometimes include a dirty shirt or overgrown yard, Parker points out.
"Awhile back Tapestry received a bus we wanted to convert into a 'shower bus' for our friends experiencing homelessness. But, we decided to use that for transporting people."
The trailer given by Red Oak, he says, fills out a greater vision for ministry. A second converted trailer will hold a washer and dryer – "Kind of like a mobile laundromat," says Parker.
Red Oak provided the first. Now, Parker and others with Tapestry continue searching for the second.
Once in place, the shower/laundry combo trailers can provide services most people take for granted. Parker will tow one with his '01 Suburban. Parker will haul the other with his Ford F150.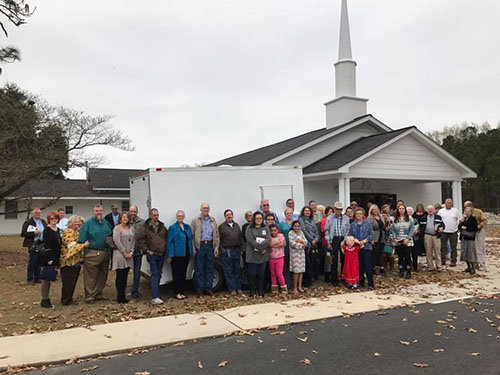 Red Oak Baptist Church members stand in front of the enclosed trailer purchased for Tapestry Church in Atlanta. Support from congregations like Red Oak have been instrumental for Tapestry, says co-pastor Kris Parker. "We super-love these small churches in rural areas of the state that are involved in missions," he said.[/caption]
Helping senior adults
Red Oak and its pastor, Daniel Harris, reached out to Tapestry on hearing about the need for a trailer. "They got it customized with extra height and width as well as tandem axles for our needs," Parker adds. Those steps help with the laundromat/shower setups, but also for additional plans.
"Our church has connected to the Atlanta Commission on Aging to help senior citizens. In talking to them, we realized how many senior adults there were in the city who need assistance. We just asked where we could help."
The answer came with lawn maintenance and minor home repairs or upkeep.
"Many of these senior adults live on fixed incomes and either can't do those things anymore or don't have the money to hire someone," Parker explains. City workers often can't help until something has fallen apart in a home. At that point, it's become a health concern for inhabitants. Tapestry members head that off by making small repairs beforehand.
Such work requires a vehicle to transport equipment. And while shower units, lawn care tools, and a washer/dryer will weigh down the Tapestry trailers, the most valuable cargo can't be measured.
"The goal is to serve and share the gospel," Parker testifies. "If we're washing someone's clothes and there's an opportunity to talk about Jesus, we will."