SAVANNAH
— During any day of the week, a young mother most likely turns to 94.7 on her radio dial to receive health tips for herself and her family. Later, an automobile mechanic may be listening to the station to hear a two-way discussion of a previous week's sermon. And even later, a broadcast on anger management, domestic violence, or children's programs stream through the airwaves into homes that may never be reached by a knock on the door. Radio PESCA, the Spanish word for fish, is ministering through a variety of ad-free programming that seeks to glorify God and direct listeners to a church not too far away. The low-watt station is the brainchild of pastor Samuel Rodriguez and members who donate their time to provide programming. It is also just the tip of the iceberg of how the congregation is thinking outside the box to bring Christ to homes and businesses on the east side of Savannah.
Loyal following that is changing lives
The only 24-hour Christian radio station in the area has a loyal following that is changing lives and bringing visibility to Primera Iglesia Bautista Hispana, or First Hispanic Baptist Church, on Gamble Road.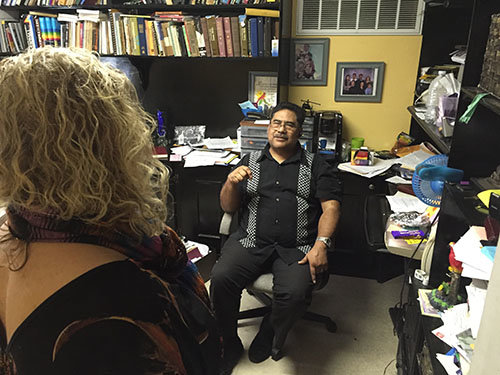 Pastor Samuel Rodriguez visits with a guest at the church-based radio station. Rodriguez, who turned 57 on April 26, recently celebrated his 29th anniversary of marriage to his wife, Marta. The couple have five children – 2 girls and 3 boys.
JOE WESTBURY/Index[/caption] The station offers a well-rounded program schedule with each day having a special emphasis. Monday is business, Tuesday is medical information, Wednesday focuses on domestic violence, Thursday on anger management, Friday on a discussion on a previous sermon at the church, and Saturday on children's programming. "We teach how to start a business, how to prepare for a job interview, and other related topics," Rodriquez says as an example of the daily programming options. PESCA is an acronym for the objectives of the station. P stands for "Preach the gospel," E for "Educate God's people, S for "Serve by showing the love of the Lord," C for "Companionship among God's family" through involvement in a local church, and A for "Adore God as he deserves." Rodriquez appreciates a good challenge and has rarely seen a problem he could not solve. Radio PESCA is one example.
"A step of faith from the very beginning"
"It was a step of faith from the very beginning," he says with a guarded chuckle. He doesn't want to minimize the seriousness of the challenge but softens the odds with a slight laugh. "We knew nothing about operating a radio station but just took a step of faith. We sat down and began researching the Internet for suggestions on what steps we needed to take. As a result of this ministry, God has opened up so many doors for us here in Savannah. "The step of faith was for me, our church, and our on-air personalities. None of us had any radio experience but we wanted programming that spoke from the heart to solve every-day problems our listeners may be having. We wanted to share helpful information from a Christian perspective."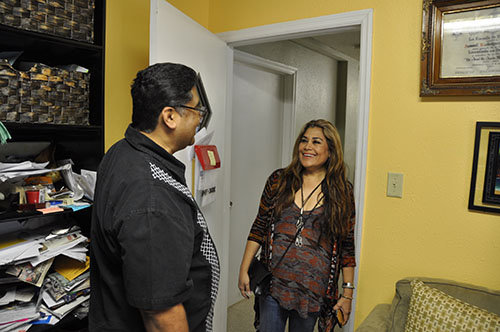 Practical programming, such as that by Miriam Rittmeyer – a Guatemalan physician and leader in the Hispanic community – bring medical advice to the station's listeners. JOE WESTBURY/Index[/caption] Last year was another in a series of steps of as the church received a permit for a non-profit, low-watt station. Rodriguez credits two volunteers … Iris Sarria from Peru and Isabel Haring from Honduras … for keeping the programs running on schedule. Both are radio personalities; Haring, who had a medical ministry for 15 years in her native country, also serves the station director. Upwards of 10 other people work behind the scenes to make the station a success. The church is very active in the community and works through the Red Cross, United Way, and government agencies to help new and current immigrants assimilate to life in America. It provides programming dealing with health issues, immigration advice, employment, and food assistance. The congregation also has a food and clothing ministry and its annex is known as the Hispanic Community Center. Due to its total involvement in the community, the FAA looked favorably in deciding to grant the license.
Getting into homes that the church cannot otherwise reach
There are about 25,000 Hispanics in Chatham County with 15,000 with a seven-mile radius of the church. The station helps get into homes that the church cannot otherwise reach. Rodriguez accepted the small congregation, a struggling mission of Bull Street Baptist Church, in 1995 with only eight members. Five years later the congregation began meeting at Wilder Memorial Baptist Church on Gamble Road as that congregation continued its decline. Wilder's decline … and the Hispanic congregation's growth … signaled the future of both congregations. The mission constituted as a church in 2001and, Rodriguez says, owes much of its growth to the English as a Second Language classes it provided at Jasper Springs Baptist Church and First Baptist Church of Garden City. Worship and language classes were also held at Emmanuel Baptist Church near Oglethorpe Mall.
English language classes "important part of who we are"
"Our English classes are an important part of who we are and why we have grown. There is an incredible need for this ministry and it is a valuable way to bring people into your congregation," he adds. In 2010 the Wilder congregation disbanded and donated its property to the congregation. The new church has had a strong influence with new immigrants who are moving to the fast-growing Savannah area. It hosts the Mexican Consulate from Atlanta each April to process passports and provide Mexican ID cards. The three-day event usually processes upwards of 5,000 residents. "This is another was to show the Hispanic community that we are here to share the love of the Lord with them. We want them to have the joy we have and to know the peace and love of God," Rodriguez says. But the soft-spoken pastor is not ready to rest on his laurels. Last year the congregation started a mission in Hilton Head, meeting in a non-denominational church on Sunday evenings with about 10 attendees. The station – about 100 watts – broadcasts a signal up to eight miles away, which puts it right in the middle of the county's demographic for its Hispanic population. Six hours a day are devoted to live programming, the rest is filled with music and short devotionals. The station is broadcast simultaneous on the Internet.
Innovative way of sharing the gospel
What sets the station apart from many traditional stations is that is does not focus on preaching or the broadcasting of worship services. "I do not want a preaching station. Instead, on Fridays my program focuses on a two-way discussion between myself and Isabel. She will ask questions that I use to go into a more in-depth discussion of the previous week's sermon. It's a much more interactive approach to delivering the gospel," he explains. Rodriguez wants to expand the station's footprint by purchasing equipment that would allow for remote broadcasts from community events and festivals. The congregation does not just focus on missions in Chatham County but looks to mission trips to nations where its members are from. Trips to Mexico, Nicaragua, and Costa Rica are common. Peru is being added this year. But for now the station remains the flagship ministry of the growing congregation. "I sometimes do crazy things and take chances to spread the gospel. You know what they say," Rodriguez notes with a big grin. "Nothing ventured, nothing gained."
Prayer requests
Rodriguez asks Georgia Baptists to join the congregation in praying for four specific needs:
More doors to open in the community for the spread of the Gospel.
Revival
Funds to purchase adjoining property – 1 acre behind the church, 2 acres to the side – to expand its ministry.
More leadership to share the growing work load.