This is the ninth of a dozen stories highlighting the upcoming Nov. 14-15 annual meeting of the Georgia Baptist Convention in Savannah. The stories are being published on Monday, Wednesday, and Friday through Nov. 11 and include both Convention-related content and a look at how the Savannah Baptist Association is making a Kingdom impact in Coastal Georgia.
SAVANNAH — In 1843, a full 21 years before Gen. Sherman gave the City of Savannah to Abraham Lincoln as a Christmas present, the seaport was well established as a major shipping center.
As tall-masted ships brought their wares from around the world to trade for cotton and other goods, rowdy sailors working for low wages ventured into the city for landside recreation. Many of those men, like those frequenting the port today on some of the world's largest container ships, came face to face with the gospel through a seafarer's ministry led by Georgia Baptists and four other denominations.
Today, Everett Tumblin is the descendent of those seaport volunteers of the past 173 years and is the current face of Georgia's 1.8-million Baptists.
For the past 11 years Tumblin, with support of his wife Joy, has established himself as the seafarer's friend. On repeat visits many seek him out, looking at him as a long-lost relative.
They depend on him to help them navigate the few brief hours they have in port to stock up on personal supplies, purchase gifts for family on the other side of the world, or simply call home. The hands and face of Christ never looked so good, many might say if they could only understand the language.
The times may have changed drastically with the modernization of the shipping fleet and technology but little else has.
"Today, Savannah is the fourth largest container port in the nation but the needs are pretty much the same," Tumblin observes. "Men live their lives on the open sea, pull into port and off-load their cargo with a minimal amount of 'port time' to relax. Then it's back out to sea. Ships do not make money sitting at port so they return to the world's oceans as quickly as possible."
The seafarers confidant, chauffer, translator
Tumblin, now 77, serves as the men's confidant, chauffer and translator between their worlds and his. Some are fully fluent in English, others only marginal. Some not at all. The most commonly represented nation is the Philippines, with those residents being very fluent in English.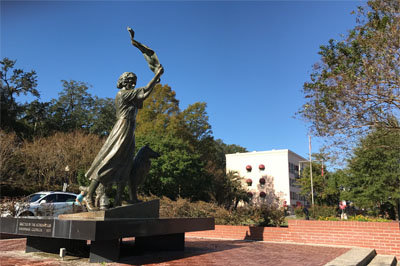 As a small child Florence Martus was fascinated by cargo ships that passed by her native Cockspur Island on their way to the Port of Savannah. She waved her handkerchief as they passed and the sailors often waved back. A few years later she went to live with her brother, a light keeper, in a small cottage close by the Savannah riverbank. From that time on she continued her tradition, waving at every ship that passed – a table cloth or towel by day, a lantern by night. For more than 44 years she never missed a ship, and each ship, as it passed, returned her salute with three blasts of the whistle. Many stories were told of this small girl, who finally grew to be a white-haired old lady. Florence Martus passed away in 1943, but her efforts live on in the stories and legends of the Waving Girl of Savannah. The Waving Girl and her statue have come to symbolize the city's spirit of hospitality to the world. JOE WESTBURY/Index[/caption]
The ministry, funded through the Savannah Baptist Association and Georgia Baptist Mission Board, provides a variety of assets such as international phone cards for seamen to call home, though that demand has dropped 90 percent in recent years. In today's digital age, telephone company T-Mobile provides, – at discount – SIM cards for the men to use in their cell phones while in port.
The International Seamen's House provides a ministry site with a specially constructed double-wide trailer within the Garden City Container Terminal. There the men have access to free Wi-Fi to place calls back home or surf the internet for news from their homeland, a kitchen, restroom, game room, and a slightly larger open room.
A chapel at 25 Houston Street in the historic district also provides a more peaceful place to worship or for counseling sessions and witnessing opportunities. But sharing the gospel is never far away in any of the settings.
Evangelistic tracts, Bible studies, and volunteers are ready to share God's love. One entire wall in the chapel is covered by boxes of tracts in languages for people from Russia, Ukraine, Romania, Japan, China, Sri Lanka, India, Myanmar, and dozens more.
Speaking the heart language
Tumblin can't always understand the languages but he does speak the men's heart language of love and meeting their needs.
"They spend a lot of time on the open sea so it's important to listen to their spiritual needs as well as physical needs. It's important for them to get off the ship and just go somewhere, anywhere," he states.
So he offers rides to Oglethorpe Mall and Wal-Mart. It's not uncommon for him to put 1,000 miles a month on his15-passenger van, transporting the seamen around town. He also helps secure Western Union money orders.
"I once had a seaman from the Ukraine who desperately needed to send money to his brother-in-law who was a coal miner who had not been paid in five months. This seaman sent his own salary so his brother-in-law could heat his home and feed his family," Tumblin explains.
"That's just one example of the kind of crisis we encounter where we step in and help these individuals. The world's problems pull into port and become our problems. That's why we are here."
Speed is the focus of ministry these days when a ship enters port. Twenty years ago a container ship would dock and stay two or three days discharging and loading cargo. But with today's technology the ship can be ready to sail within 18 hours or less.
"We attempt to meet every ship but we don't always get to. Some of them come in late at night, so we meet them in the early morning … then they are gone by lunch.
Homeland Security concerns have also tightened how the men move around the city. Before September 11 the seamen were allowed to roam around town on their own but today, passports are required. The men are not even allowed off the ship to stay within the secure fenced port area.
Tumblin has to personally escort his guests from the time they leave the ship until the time they return.
"No one gets off the ship without a security pass from Homeland Security. They cannot even walk to our ministry site on the grounds, and certainly not walk to the nearby chapel," he explains.
Even then, he and his volunteers from the Association and other denominations are waiting at the docks to greet them.
"These seafarers traverse the globe, making ports-of-call in many nations. In the brief time they are here many seek spiritual truth, love, and friendship. That's why we are here."
Here's how you can help
Georgia Baptists wanting to be personally involved in the ministry never have to leave their homes. If they do not live nearby, they can easily assemble "ditty bags" from the comfort of their home. It's a great ministry for Sunday School classes, youth groups, or missions organizations.
"The bags contain practical items they can use and are a good witnessing tool, complete with a scripture verse. Georgia Woman's Missionary Union recently blessed us with 554 bags during their April retreat at Jekyll Island. I cannot tell you enough what WMU from churches across the state mean to this ministry and to the men who they never meet," Tumblin said.
The bags should include the following in a one-gallon plastic zipper bag:
Toothbrush

Toothpaste

Shaving Cream

Razor and, if possible, additional blades

Deodorant

Washcloths and body wash
For information on how to deliver the bags contact Joy Tumblin in Savannah at (912) 353-8332.