Working with children has been a staple of Send Me Now missions, as Rachel Tumlin of Georgia Gwinnett College did last year. This summer, social distancing guidelines will have to be practiced for the current crop of missionaries, said state missionary Clarissa Morrison. Tumlin will be one of those serving on a short-term trip. RACHEL TUMLIN/Special
---
DULUTH — Due to concerns over the coronavirus and to stay within social distancing guidelines, the annual Send Me Now commissioning service will be held online this Saturday, beginning at 2 p.m.
Instability brought on by COVID-19 has affected the summer missions program for students in Baptist Collegiate Ministries throughout Georgia, said state missionary Clarissa Morrison. "We had around 132 missionaries signed up a few weeks ago," she said. "But many situations have changed. Some projects were cancelled. Others involved students needing to stay home and work to support their families. 'Flexibility' is the word of the day."
Nevertheless, more than 90 students are preparing to go throughout the country as overseas positions were cancelled. Many service opportunities are taking shape in Georgia, particularly in Savannah and Augusta.
"Short-term projects have been added to accommodate students, with several being in-state to better suit travel needs," Morrison noted. "I told students from the beginning that as long as they're willing to serve, we're willing to do what we can to make it happen."
Currently, 14 missions sites exist for the missionaries. While there are no international projects, Morrison is hoping a team can continue with its scheduled trip to Alaska in July. Originally there were 38 positions planned for Georgia students. Twenty-six were cancelled, with 14 of those being international.
Just as the Send Me Now missionaries are adjusting to changes brought by COVI-19, so are the churches where they will be serving.
"The jobs include sports camps, day camps, food distribution, and evangelism, but all that depends on that state's recommendations," explained Morrison. As a result, many of the positions added in Georgia will lean primarily toward community ministries where hands-on labor can lend itself to more easily maintaining social distance.
Like the commissioning itself, training for missionaries had to take place online. For the last few weeks, students have been working in small groups as well as with campus ministers virtually. That training covered areas such as evangelism, finances, and building relationships on the mission field amid coronavirus concerns.
While prayer needs for the student missionaries certainly covers what they'll encounter on the field, it also includes the uncertainty they face back home.
"College students can be as flexible and capable of working with the changes as they need to be, but there is still anxiety," Morrison said. "They're uncertain about their school situation and if they'll be having classes on campus. They don't know what is in the future when they graduate. Every time a question is answered for them, ten more rise up."
The service on Saturday will begin with comments by Morrison and Joe Graham, Collegiate Ministries' lead state missionary. Mark Marshall, Church Strengthening lead strategist, will be the featured speaker. A time of guided prayer will also be part of the service. A prayer guide is available below along with a list of missionaries. Click here to view a preview of Saturday's program. The same link will also be used for the commissioning service itself.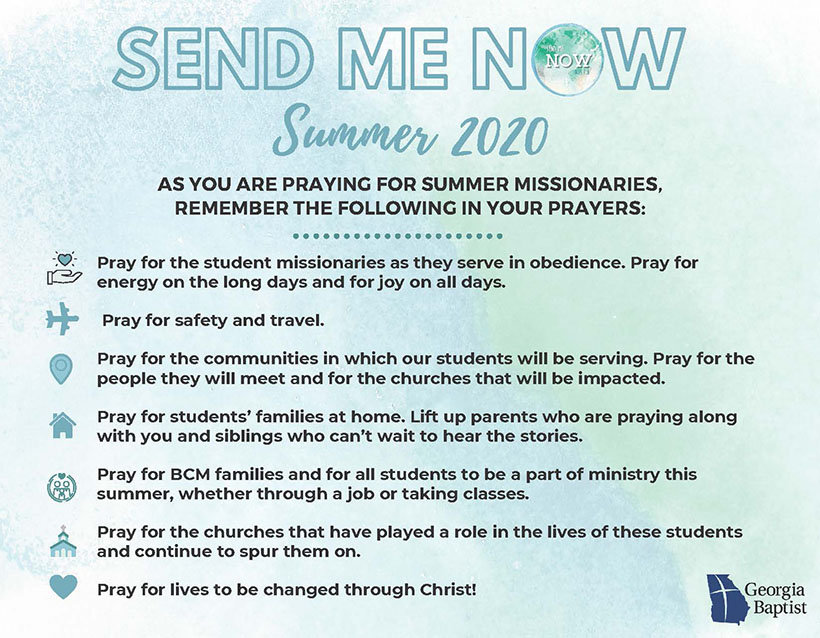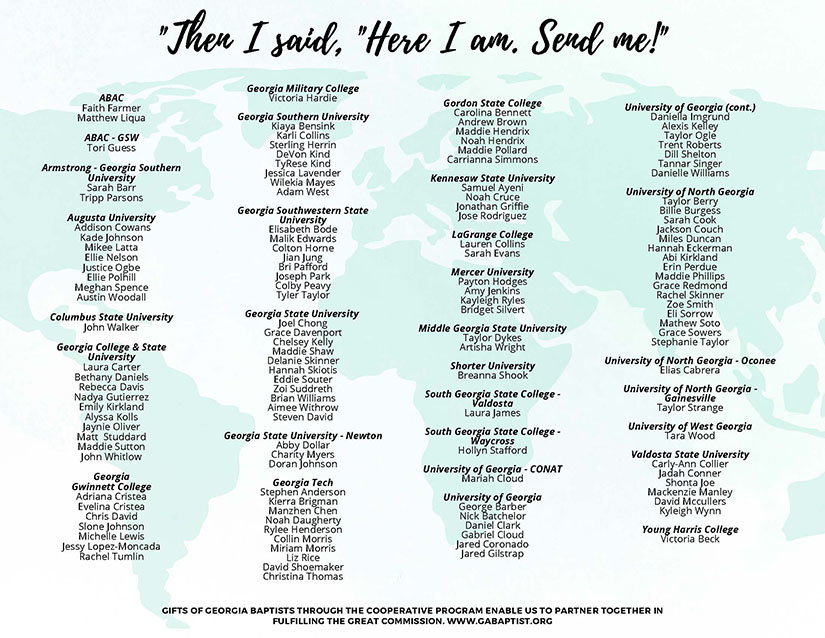 ---