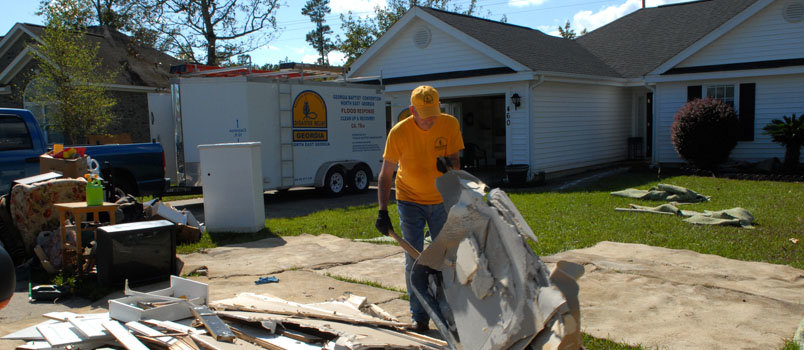 Georgia SBDR volunteer Fort Oglesby, of FBC Hartwell hauls debris to the street from a flood damaged home in Longs, SC. He worked with 6 others to help homeowner Ray Childers, 71, who has lived in his home for 20 years in the Aberdeen Golf Community. Childers' wife is in a nursing home and he is staying with his daughter. Almost all of the homes in the community took on several feet of water. LAURA SIKES/NAMB[/caption]
LONGS, SC — It didn't take disaster relief volunteer Ronnie Register long to describe the situation where he is serving.
"The situation here is pretty rough. There are a lot of hurting people," he commented as he looked across the church parking lot at a flooded subdivision.
Not only was the water just below roof level of some homes, but the buzzards were having a field day feasting on dead fish floating in the murky waters.
"I could drive to where those birds are feeding in five minutes today but on Monday it took me an hour and a half. The water was so deep in areas we had to drive way around the flooding to reach the homes," he explains.
Register has been serving for about a decade and says he has just about seen it all – but, on the other hand, hopes he has not seen it all. He's followed in the aftermath of floods, ice storms, and tornadoes from Albany to Louisiana. He served locally in his home of Adel after a tornado last year took several lives.
His unit's most recent deployment was to serve in assessment and mud outs in Kingsland near St. Mary's after that flooding near the submarine base.
This week, Register and other volunteers are operating out of the parking lot at Living Waters Baptist Church in this small, unincorporated community directly west and northwest of North Myrtle Beach. The area consists largely of new developments, planned communities, and a few golf courses.
In fact, the community Register was looking across is known as Aberdeen, situated on one of those golf courses common to other fast growing communities of the Grand Strand.
In spite of all the heartbreak of lost lives and lost homes – few, if any residents had flood insurance – the Adel resident and member of Brushy Creek Baptist Church did have good news to report.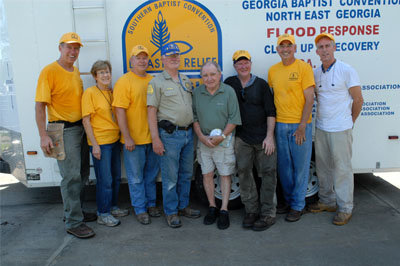 Bob O'Neal and Kay O'Neal of Briarlake Baptist of Decatur, Tony Saxon of First Locust Grove, George Milner of First Hartwell, homeowner Ray Childers, Brian Kunzelmann of New City Church of Macon, Fort Oglesby of First Hartwell and Wayne Broadwater of Ephesus Baptist of Villa Rica. The seven-member team did a complete tearout of the flood damaged home in Longs, SC. They pulled up flooring, tore out sheetrock and cabinets and sprayed for mold in one and half days. Childers, 71, said they are a "God send." They are expedient, thorough and very pleasant people." LAURA SIKES/NAMB[/caption]
"In just the first three days of this week, through Wednesday, we had five professions of faith. That's five people who prayed to receive Jesus as their Savior," he said.
"They ranged in age from a 15-year-old boy who was out for driving lessons with his grandmother, to a 71-year-old Vietnam veteran who prayed right here at our Command Center."
Register said it was a long 10-hour drive from South Georgia to the church because of all the detours. It has only been a couple of days that the slow-moving water has begun to drop at a much faster pace.
"We've been here for two weeks doing assessment and can now actually begin mud outs. We are only now able to actually enter some of the houses and get a feeling of where we can get to work.
"The situation here is pretty rough, I can tell you that," he added.
Disaster Relief Coordinator and State Missionary Stuart Lang said this morning that about 25 volunteers have been onsite for about three weeks. The effort is basically a statewide callout for volunteers rather than individual units, he noted.
"Until Hurricane Florence hit South Carolina we had had a pretty light season," he noted in gratitude.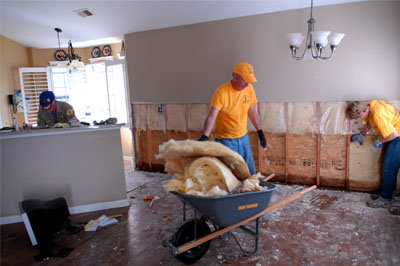 Georgia SBDR volunteers George Milner and Fort Oglesby, both of First Hartwell, and Kay O'Neal of Briarlake Baptist of Decatur work with their seven-member team on a tearout of a flood damaged home in Longs, SC. LAURA SIKES/NAMB[/caption]
It's too early to know how long Georgia Baptists will be involved in the South Carolina cleanup and recovery because "there is far more there than we can possibly get done. We have adopted a multi-prong approach that includes helping people, equipping them to help themselves.
That means teaching them how to mud out their own homes with tools and supplies donated by Georgia Baptists and others responding to their needs.
"At this time there is nothing churches can do, but we will send out the word as soon as we get a better understanding of the needs and how we can respond," he noted.
"We will continue to assess job requests as we are able to get to them. So far, we've received 90+ requests but many, if not most of those requests, are currently inaccessible.
"Mass feeding is slowing down but we will continue to assist South Carolina feeding units as needed and then morph into low volume feeding for our own volunteers. But at this point, we are staying at a camp that is providing meals, which means our feeders on-site are helping however they can."
Lang noted that many are wondering how much longer they will have to wait before they can really start to help people.
"Let's be reminded that hurricane flooding requires the most patience of any natural disaster we face. We currently have feeding volunteers assisting South Carolina units in Florence and now Conway. IMT, feeders, assessors, chaplains, and one mud-out team are in Longs. So be assured, we are there and are touching lives.
Lang did thank Georgia Baptists that, because of the generosity of having leftover Buckets of Care donated to last year's hurricanes, more than 400 flood buckets had already been distributed to Florence, SC.
"At this time, states have not asked for us to collect any more buckets. If and when we are asked, details will be posted here and on FaceBook. As a reminder, please do not self-deploy or collect any items unless requested. Monetary donations can be made by clicking here.