Drone footage shows damage from an EF-4 tornado that struck Lee County, Alabama on Sunday, March 3. SCREEN GRAB/CNN
COLUMBUS — While two deadly tornadoes that killed at least 23 in Alabama left little damage in southwest Georgia, pastors in that part of the Peach State are preparing to minister in areas as close as just a few miles from where they live.
Billy Duncan, pastor of Beallwood Baptist Church in Columbus, grew up in the Alabama town of Beauregard where, officials believe, a tornado measuring an EF-4 in strength struck yesterday. Duncan attended Providence Baptist Church in Beauregard in young adulthood and lives near Smiths Station, Alabama. He said the tornado delivered extensive damage to Smiths Station, including an elementary school.
"My brother, mother, and their families still live in Beuregard. So, I went over and checked on them yesterday. The damage was about a half-mile south of where they live," he said.
"It was a devastating storm. I've been to a lot of Disaster Relief work, and this is one of the worst."
Having grown up in the area, Duncan said the heaviest damage was in a community called Wateloo. "It's probably the most rural area of Lee County. There's a lot of new building going on out there, but also many modular homes and farmland. We're waiting to get clearance to take a generator over there and help out."
Slight church damage in Ellerslie
Columbus Baptist Association missions strategist Jimmy Blanton also attended Providence Baptist Church when he was in high school. The Alabama Baptist reported that Providence is serving as a reunification point for families and is open as a Red Cross shelter.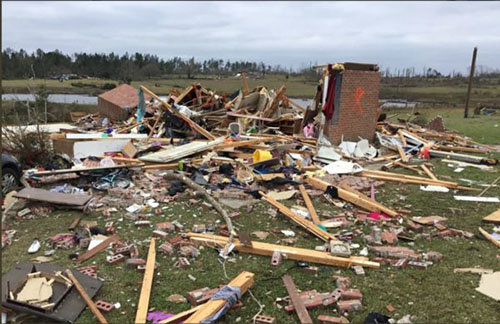 CARRIE BROWN MCWHORTER/ TAB
Blanton reported that an awning at Bethesda Baptist Church in Ellerslie, about 11 miles east of Columbus, had been blown off. Otherwise, Georgia Baptist churches in the area were unscathed. Blanton added that the association is preparing to send at least one shower trailer to Beauregard and two large tents if needed.
After passing through the Columbus area the storm continued east. Warner Robins was under a tornado warning, but Rehoboth Baptist Association's Tim Millwood reported no damages to churches, though some homes in Crawford County were destroyed. No injuries were reported.
Chris Allen, senior pastor of First Baptist Church in Cairo, shared on Facebook that "businesses in the downtown area and a few blocks off south (sic) broad street have experienced major damage. I am personally thankful to God that as of now, I have not heard of any major injuries or fatalities.
"In times like these, times of wondering and even questioning why, it is important for us to remember that God is in control and one day, all things will be made right according to His promises."