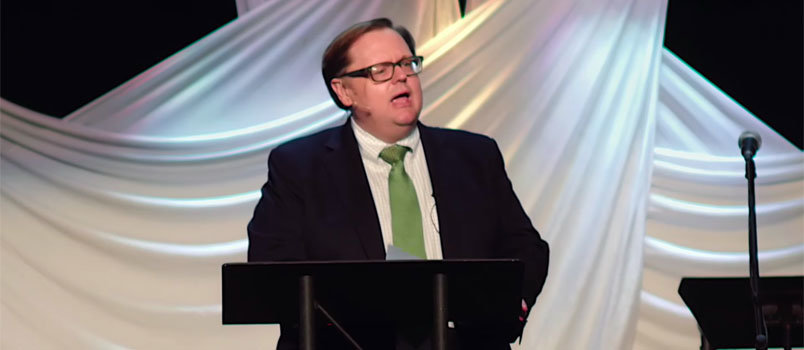 "I believe we are just a few short years away from the government imposing their will on Christian churches," commentator and writer Todd Starnes told the crowd at Truett-McConnell College March 3. Starnes was speaking at the 3rd Annual Ray Newman Ethics and Religious Lecture Series.[/caption]
CLEVELAND — Todd Starnes, host of FOX News and Commentary, addressed a large audience of faculty, students, and guests at Truett-McConnell College on March 3. For the second straight year Starnes was the guest speaker for the Ray Newman Lecture Series.
Starnes proclaimed, "I don't play a make-believe conservative on radio or television; I happen to be a red-blooded, conservative Christian in real life. And I am proud to call myself a gun-toting, chicken-eating, Bible-believing son of a Baptist.
"I believe we are one nation under God with our documents flavored by Judeo-Christian precepts. I believe in an extremely limited government – the more limited the better. I support a flat tax; and I believe we should return control of our public schools to local communities. I believe in the second amendment; and I believe that we should defend American sovereignty and secure our borders.
"I believe that we are at war with radical Islam. I believe in religious liberty and will gladly fellowship with any religion that doesn't want to blow me up. I believe in the sons and daughters of liberty defending our nation – the greatest military on the face of the planet. And I believe in putting American workers first.
"Now, you may or may not agree with everything I have to say this morning, but that's okay. I also believe in the great First Amendment and your right to say what's on your mind even if you happen to be one of those hippy-dippy, pot-smoking liberal loons. I believe in America – the most exceptional nation on the planet."
The next civil rights movement
While it is unlikely that you will hear such bold and unabashed pronouncements on many college and university campuses, The Christian Index hails Truett McConnell and TMC President Emir Caner for hosting a strong conservative voice for the Newman Lecture Series.
Starnes continued, "I want to sound a warning. There is a war on religious liberty in the United States of America and this war is not targeting people of the Jewish faith or the Muslim faith or the Buddhist faith or the Hindu faith. This war on religious liberty is targeting people of the Christian faith."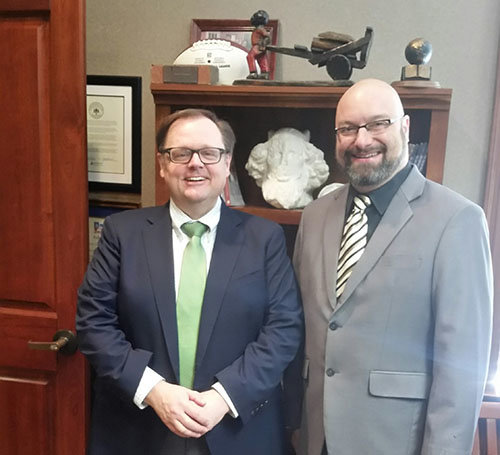 "Apathetic Christianity" was one of America's biggest dangers, said TMC President Emir Caner, right, following Starnes' address. JOHN YARBROUGH/Special[/caption]
Starnes stated that Rick Warren of Saddleback Church in California believes that the issue of religious liberty will be the civil rights issue of this generation. Starnes added, "I believe we are just a few short years away from the government imposing their will on Christian churches. I also believe that many Christian pastors – many future pastors in this room – will find themselves at odds with the law of the land."
The FOX News commentator cited the problems with the Supreme Court's decision to redefine marriage in June of last year. Starnes then thundered, "But God has not redefined anything. Franklin Graham told me just a few hours after the Supreme Court ruling that the persecution of Christians in America was about to commence. His words were prophetic, because just a few months after that ruling came down Kim Davis became the first Christian in America jailed by our government because of the ruling. I believe the government was trying to send a message to every Bible-believing Christian in our country – that if you dare defy the LGBT agenda we will make you suffer.
"I wrote at the time that federal judge David Bunting did with the gavel the same thing that Bull Conner did with dogs and fire hoses in Birmingham, AL – intimidating the people into submission. But just as Bull Conner underestimated the will of the people in the 1960s I believe the federal government has sorely underestimated the determination of 'we the people.'
"And religious liberty is under assault in the U.S. Military. The greatest fighting force on the planet is being turned into a social engineering petri dish by this administration."
Starnes continued, "I tell in my book, God Less America about a training seminar for young officers where they were told about religious extremism, about al Qaeda and Hamas. And then they were told that here in America the greatest threat of religious extremism would come from places like the Roman Catholics and evangelical Christians. Why is the military telling these young officers that what is happening here at Truett-McConnell is akin to what al Qaeda and Hamas are doing?"
Starnes continued to give powerful illustrations of how the Christian faith is coming under attack in America today.
President Caner offered concluding comments by saying, "My fear for this generation is not that we don't believe correctly, because I see it. I see it in your hearts. But my fear is that most dangerous thing in this world is not radical Islam, but apathetic Christianity. But the question today is this: are you going to stand? Will you stand for liberty, for life, for those Judeo-Christian principles upon which our nation was founded? Take a stand! We are called into a service much greater than ourselves."
Starnes' entire address is available below: