SAVANNAH — Stepping in front of a crowded Calvary Baptist Temple sanctuary Nov. 15, Mackenzie Ford spoke from experience on her award-winning speech "For Such a Time as This."
Ford, a student at the University of North Georgia in Dahlonega, began crafting her speech last March as a senior at Lowndes County High School. Delivering it innumerable times in the mirror as well as to family, friends, and anyone else willing to be an audience led to her winning the Student Speakers Tournament for Georgia May 14 at Mountain Park First Baptist Church in Stone Mountain. Ford went on to a second-place finish at Nationals in Texas last June.
Ford drew from examples of bravery such as the story of a U.S. Coast Guard rescue dramatized in the movie The Finest Hours for her speech. The main point of it, she expressed, is for people to not limit themselves in what God has created them to do.
Though a challenge for most people, talking in front of others comes easy for Ford. It's not to be overbearing with her perspective – "I like to listen to others' opinions before giving my own. Sometimes you can miss something if you're too quick to speak," she said. It's just something she learned from observation and her parents Beth and Jeff, the latter who serves as director for the Baptist Collegiate Ministries at Valdosta State.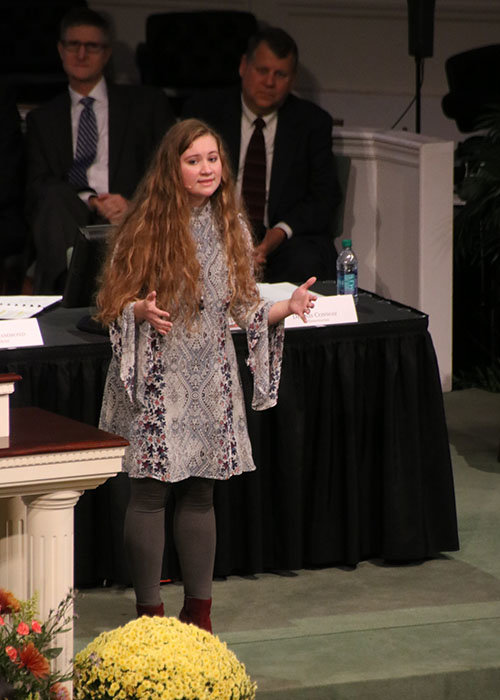 "God wants to use us but our sin and disobedience limit our usefulness," Mackenzie Ford told messengers at the Georgia Baptist Convention last week. SCOTT BARKLEY/Index[/caption]
God chooses us
The heart of her address, she said, appears early. "'God wants to use us but our sin and disobedience limit our usefulness.' To me, whenever I listen to the Holy Spirit I need to be intentional to be obedient. I have to be ready to do what I have to do," she noted.
"I speak to make a difference."
Recently Ford, a member of Crossroads Baptist Church in Valdosta, received one of those opportunities God provides but His people rarely accept with excitement. A speech assignment in one of her classes came with a stipulation – actually, more of a suggestion – to avoid religion, politics, or other controversial topics.
"I felt God wanted me to share the gospel as part of my informative speech," she said, "but my professor strongly discouraged me from doing it. I kept praying about it and sent an email explaining my topic (presenting the gospel) and he said, 'Fine. Go ahead and do it.'"
Although eventually cleared to give the speech, Ford admitted a definite push to not do so. She received several words of appreciation from the class of 25 or so, and is hoping for spiritual conversations with those looking for more on what she said.
"God doesn't necessarily have to use me, but He chooses to. He presents these opportunities for me [to speak out] not just for the people in my life, but for me personally. No matter what He calls me to, He's going to see me through it and I need to trust Him."