Sam Taylor, Boston Area Regional Coordinator for the Baptist Convention of New England, shares about the development of strategic missions partnerships with Georgia Baptist pastors and associational mission strategists. COURTESY/Buck Burch
---
The Georgia Baptist Mission Board has continued developing relationships with its state partners. On Feb. 8-11, Keith Ivey, Northeast Missions consultant, hosted Sam Taylor, the Boston Area Regional Coordinator for the Baptist Convention of New England, in seven pastor meetings to discuss the development of strategic missions partnerships with New England Baptist churches. A Virginia native, Taylor served as a pastor, as a director of missions, and as an international missionary for many years in Eastern Europe prior to coming to the mission field of New England.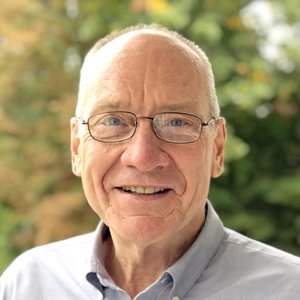 Sam Taylor
Meeting locations varied from Lawrenceville, Lilburn, Royston, Rutledge, Helen, Cornelia, and Blairsville. Each meeting saw a combination of pastors and associational mission strategists (AMSs). The meetings explored the possibilities for missions projects and partnerships between the Georgia Baptist churches of the Northeast and the 380 Baptist churches in the six states of the New England Convention.
Why New England?
It is a lost place. According to the statistics from 2018, five of those six New England states represent the least religious locations in America. There may be other less religious cities, but as a large region New England is the most lost territory. New Hampshire is the least religious state in the US, with Massachusetts, Vermont, Maine, and Connecticut following accordingly.
Taylor shared with the pastors that New England is "the bullseye of lostness in our country." He continued, "As a center of education, Harvard, MIT, and many more institutions of higher learning make it a place of strategic influence. The landscape is covered with beautiful chapels and vintage church buildings, but the preaching of the gospel is absent." He emphasized that this is why an Acts 1:8 strategy is so important to connect sister churches like those in Northeast Georgia with struggling congregations and isolated pastors of the Northeast part of our country.
Taylor shared, "In seven of the last eight years, the Baptist Convention of New England has seen a consistent increase year over year in baptisms. This is the only state convention in the nation for which this is the case." But strategic engagement to join God where He is already at work requires a clear understanding the New England culture.
The workers in New England are few. Taylor described "two New Englands," with the southern part of the Atlantic seaboard (Connecticut, Massachusetts and Rhode Island) representing the more affluent, white collar, and highly educated population, and with the northern part of Vermont, New Hampshire and Maine representing the more rural, small town, blue collar, and isolated population segments.
"In many of those towns, there is sometimes a tiny Southern Baptist congregation or more often no evangelical church at all," Taylor said. "And for about half of New England, that small Southern Baptist church is the only voice of the Gospel that area has." In most cases, the pastor is bi-vocational and has not had the educational opportunities that Georgia pastors have enjoyed.
A Different Strategy for Partnerships
Developing partnerships with New England churches will require a different kind of strategy than traditional volunteer work. Single mission trips are fine, but Taylor is hopeful that pastor to pastor relationships could develop that would form long-term partnerships. The key is that through ongoing conversation with a local pastor in New England, a Georgia church could shape missions teams that make a culturally-appropriate fit for the specific needs of the New England church.
When Taylor spoke to the pastors, he promoted a contextualized strategy.
"New Englanders are private people," he said. "Striking up conversations with strangers is very foreign to them. And it takes a long time to 'get in on the inside.' So for a Georgia church to come alongside a New England congregation to do a community service and share the gospel, to host a crowd-drawing event that gives visibility to the local pastor and promotes that local church, this would help establish more credibility for ongoing ministry long after the Georgia team has returned home."
Taylor suggested starting with a one-time project to establish relationships between the Georgia and New England church, and then move into a longer-term partnership. Examples he gave were sports camps of all fields, children's ministries like VBS, fine arts camps to reach kids and parents, remodeling and construction projects.
Taylor said, "It makes sense to combine projects, for example, where senior adults could do prayer walking, a team could complete a construction project, and young adults or teens could host a VBS week."
An Open People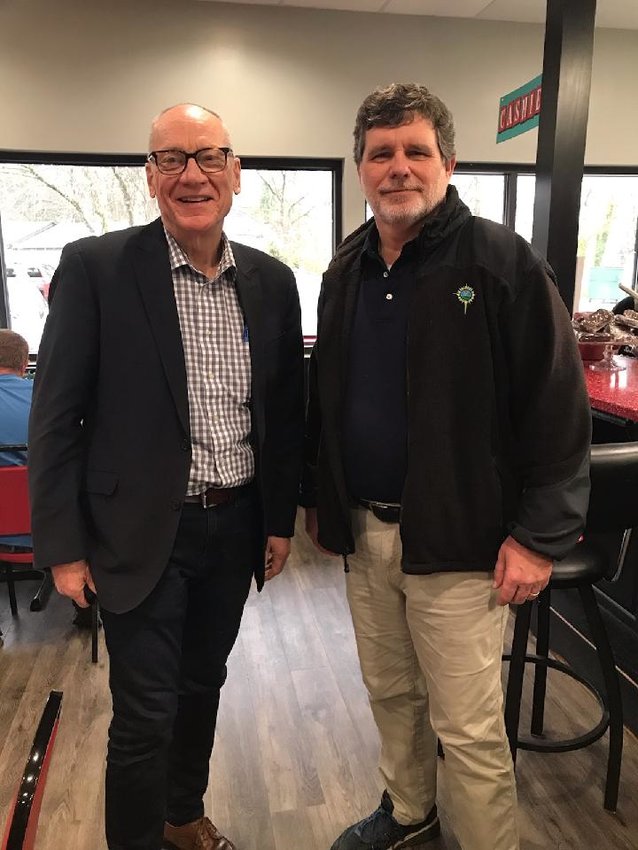 Sam Taylor, Baptist Convention of New England, and Keith Ivey, Georgia Baptist Mission Board worked together to provide information to pastors and AMSs about ongoing state partnership opportunities. COURTESY/Buck Burch
Taylor said there is a tremendous openness among New England Baptists to host Georgia mission teams to meet needs, but the greater vision is for church to church partnerships and pastor to pastor relationships to be developed for long-lasting impact.
Ivey said he is excited about the possibilities for connecting Georgia's northeast churches with New England congregations.
"After hearing Sam Taylor appeal to over 30 of our pastors in seven meetings over a 4-day period, I am ready to go!" Ivey noted that several pastors have already developed relationships with New England churches, and several more indicated at the meetings that they were ready to find their partnerships. "This is a different level of partnership," Ivey said. "Not only is this church to church, but it is pastor to pastor and convention to convention."
Pastor Reaction
The reaction of pastors around the Northeast Georgia region was very positive. Pastor Eric Boyd, Reed Creek Baptist in Hartwell, commented, "I really enjoyed Sam Taylor's presentation Tuesday! He gave a passionate plea for missional efforts to his region, while clarifying some of the defining cultural points that make the Northeast Region so unique. If God wills, I look forward to being a part of this Kingdom effort in the future!"
MJ Smith, Missions Leader at Centennial Baptist in Rutledge said, "The meeting with Sam was very much appreciated, informational and timely for our church. He presented a variety of needs and types of mission opportunities that any church could participate in. He was very knowledgeable about how to go about connecting with the Pastors in New England and gave many examples of how to engage with these Pastor's in Mission support. He was very compelling in his presentation as to why the need exists for GA churches to become engaged in ministry with this area of our Nation. Personally I had little knowledge of the great need that existed in the New England area."
Pastor Marvin Jones of Central Baptist in Lilburn said, "Sam explained the culture of New Englanders and how to effectively share the gospel. I got a better sense of the expectations that helped me make a decision to work in New England. It was great to hear that we will have the opportunity to build lifelong relationships with fellow believers who share the same desires in ministry. Many of us left with a sense of purpose and the ability to share our gifts and talents to fulfill the great commission. I am encouraged to have this great opportunity."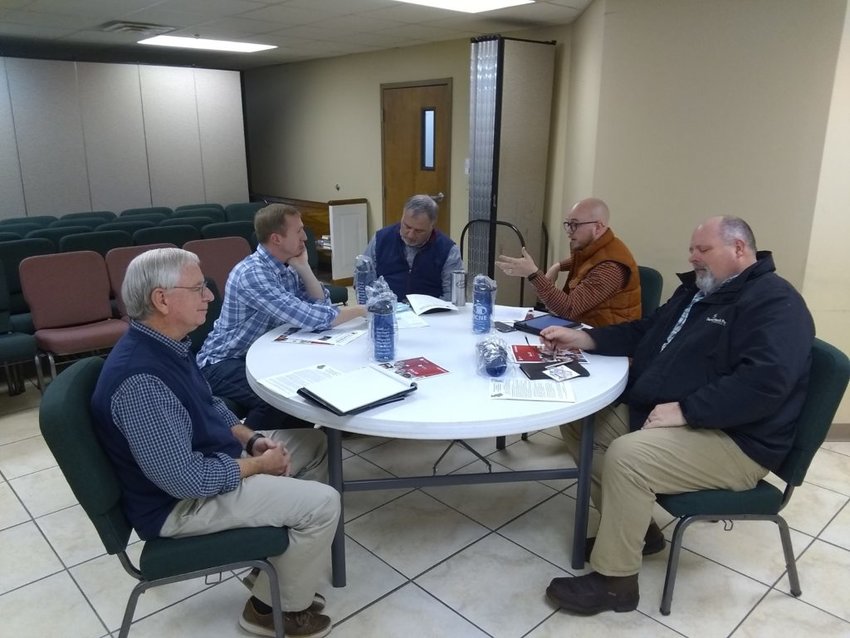 Tony Gray (left) is the AMS for Habersham. He met with other pastors and AMSs to hear Taylor's heart for the gospel and state partnerships. COURTESY/Buck Burch
And the reaction was not limited to just pastors. Tony Gray, new Associational Missions Strategist for Habersham, made this comment: "It was good to finally meet Sam face to face (outside of Zoom) and I thought he engaged well with our pastors and leadership! He gave us a good chance to put a face with who we will be working with and to hear his heart and passion for NE. I feel that with Habersham we will have 4 to 6 churches working together and some good church to church partnerships going to happen. We talked afterwards about the possibilities and we all wanted to see this long term in inviting our NE partners back down to Habersham/N GA for R&R and ministry/reporting to our local folks."
For more information about getting connected with a state missions partnership, churches can begin a conversation at gabaptist.org/missionsconsultation.