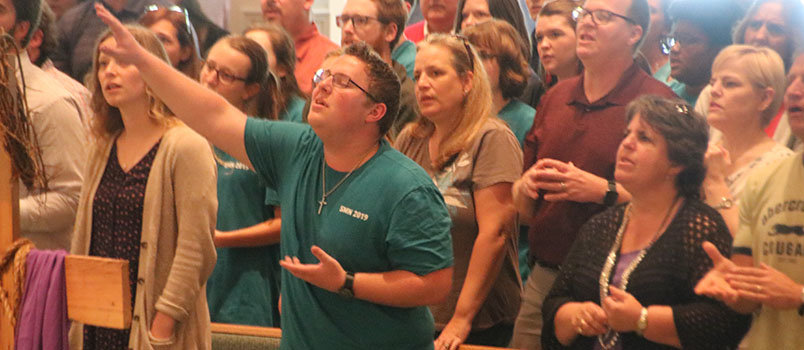 Students and parents gathered together for a time of worship, celebration, and exhortation during the commissioning service. MYRIAH SNYDER/Index
STOCKBRIDGE – During the Send Me Now LAUNCH weekend hosted by Georgia Baptist Collegiate Ministries on April 12-13, 122 students were commissioned as summer missionaries.
Students will be serving May 12-Aug. 12. Areas of summer service include camps across the United States, working with Disaster Relief in Puerto Rico, ministry in Alaska, Uganda, Europe, Vermont, and here in Georgia.
Commissioned for service
"Students, I have sat figuratively where you sit now… Parents, I literally sit with you," Jeff Ford, campus minister at Valdosta State University and South Georgia State College, shared during the commissioning service. He was not only the keynote speaker for the afternoon but the father of a summer missionary, his daughter, who is serving through Send Me Now for her third summer.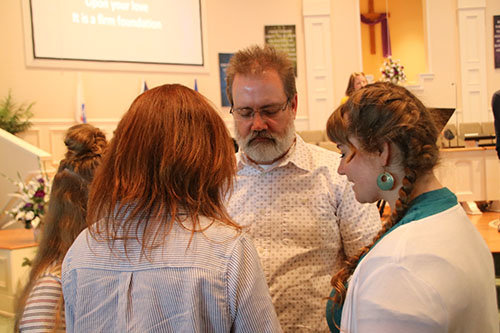 Jeff Ford, keynote speaker for the commissioning service, prays with his family. MYRIAH SNYDER/Index
"I know some of you parents are struggling the way me and my wife struggled. We miss our children. We want them to come home because we want to be with them," he empathized, quipping that he knew the real reason parents wanted their student home was so they would get a job.
Ford continued, "But as a campus minister and as a father, what I've seen is few things change and transform our kids more than missions. It's a whole other level of discipleship in their lives."
However, as much as "our sons and daughters do come back different," he said, referencing the "greater sensitivity toward the move of God in their lives," "the needs of other people," and "greater awareness of what's going on around them," the transformation of student missionaries isn't what missions is about.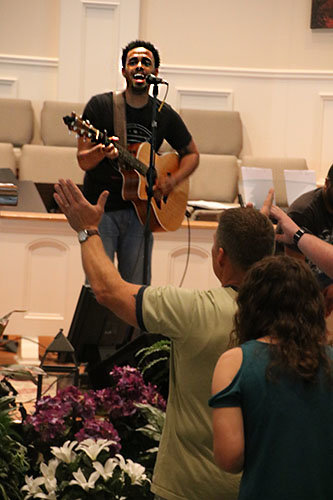 Jaylon Jenkins, worship leader at Gospel Hope Church Atlanta, lead worship for the commissioning service. MYRIAH SNYDER/Index
"We do missions because our Lord and Savior tells us to go. To not go would be disobedient," he said.
Citing Matthew 28 and Acts 1:8, Ford continued, "For us not to offer this opportunity for our students to go and grow, we think we would be disobedient in what we're supposed to do as ministers. Because we want to please Him, because we want to honor Him, because we want to obey the one who gave his very life for us, we go."
Ford thanked students for their willingness to go, reminding them that this summer of service may be "discouraging at times," but "you said to God, 'Here am I send me,' and He's doing just that.
"Never underestimate what God can do in and through you. And know this: God will always honor those who honor him," he said.
To the parents, – those excited about their children's summer mission, those with concerns, those who don't completely understand, and those experiencing all three emotions – he gave one major plea.
Their student needs to know their parents love and support them. "They need your blessing as well as your prayers. But don't deny them your blessing. It's important to them."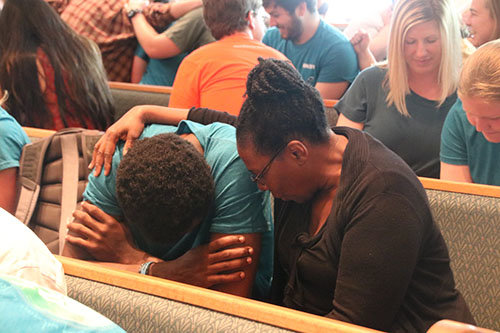 Parents spent time praying for their students as they send them out to a summer of service. MYRIAH SNYDER/Index
The service ended with students spending time praying with family and friends, being sent out to their summer of service.
Understanding yourself
During the students' first group session of the weekend, Joe Graham, Georgia Baptist collegiate ministry's lead state missionary, explained the importance of each student understanding their personality and spiritual gifts.
As they took personality tests, Graham gave five key reasons why they were taking the time to do so.
For self-understanding
To help them understand others and how they are different
To teach them how to tolerate the differences of others
To help them appreciate that difference
To teach them interdependence.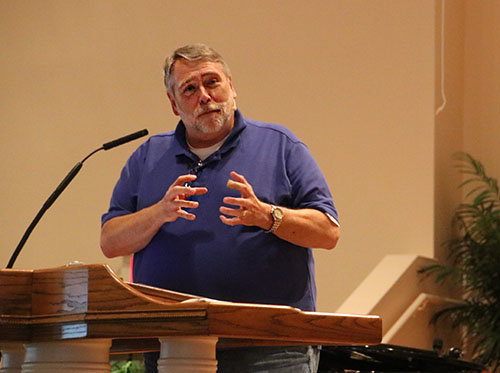 "Understanding yourself is the first step to understanding how you all can do ministry together," Joe Graham, lead state missionary with the Georgia Baptist Collegiate Ministries, encouraged summer missionaries. MYRIAH SNYDER/Index
"Understanding yourself is the first step to understanding how you all can do ministry together," Graham said.
He continued, "When I realized the essence of personality and how it begins to affect my personality and the personality of others, some things began to click in place for me."
Different people will be drawn to different books of the Bible, Graham explained. Typically, extroverts feel closer to the Lord during group prayer. Introverts usually only connect in a prayer closet. Many feel compelled to give the Lord the first part of their morning. To some, the best part of their day to spend with the Lord is at night.
He reminded students that there are so many complex and different personalities. "If I could give you that piece of grace today, you don't have to do your spirituality just like somebody else does in order for it to be valid."
Graham also encouraged the students to recognize their spiritual gifts and serve where they fit. "I've got to find things that match my passion and my giftedness or I'm going to be a miserable puppy," he said.
Preparing to be sent
During the weekend, students spent time in prayer together while parents, who came on Saturday, had a time of fellowship with the BCM leaders, a Q&A with State Missionary Clarissa Morrison, and just a time to gather more information and be encouraged.
In addition to the time of scriptural encouragement and fellowship, students were trained practically. Georgia Baptist Mission Board Security Manager Ben O'Neil gave a security briefing covering situational awareness and basic safety procedures to teams going overseas and those serving within the United States. Tanaya Meaders, Georgia Baptist Mission Board wellness coordinator, gave an overview of basic first aid for both groups as well.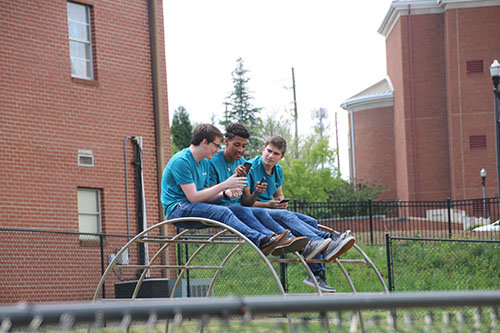 Summer student missionaries take a break during LAUNCH weekend. MYRIAH SNYDER/Index
"It is God who has prompted you into this mission. He is pressing you into action for what He's called you to do. It is a great privilege to carry this message to the world," Ken Jones, senior campus minister for the University of North Georgia, said during his session encouraging students in the faith.
Jones added, "Now is the time to prepare and to continue to do it all summer long. Now is the time to listen and be obedient all summer long."
For more information on summer missions through Send Me Now, click here. For more information on Georgia Baptist Collegiate Ministries, click here.