By Karen L. Willoughby

RAPID CITY, S.D. (BP) — The Sturgis Motorcycle Rally in August will be the final time the Dakota Baptist Convention will host its annual evangelism thrust that began at the iconic biker gathering in 2006.
But the outreach will continue.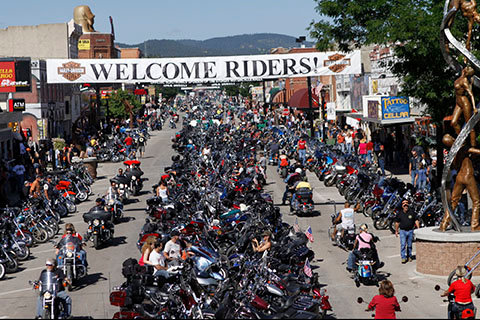 The 2010 Sturgis Rally brought its usual crowd of motorcycle fans along with those sharing Christ through a partnership with the Dakota Baptist Convention. Recently, the convention announced it was handing over the outreach to F.A.I.T.H Riders. ADAM MILLER/BP
In 2020 and beyond, it will be led under the direction of F.A.I.T.H. Riders, a national Christian motorcycle ministry.
"I am excited about F.A.I.T.H. Riders taking leadership of the Sturgis evangelism ministry," DBC Executive Director Garvon Golden told Baptist Press. "They have a source of volunteers nationwide who can pick this ministry up and carry it into the future."
About a half-million motorcyclists, wannabes, and gawkers attend the Sturgis Motorcycle Rally in the Black Hills of South Dakota each year in what some say is the largest event of its kind in the world. The rally was birthed in 1938 with nine participants and a small audience by the then-new owner of the Sturgis Indian motorcycle franchise.
When Jim Hamilton was called in 2003 as the newly-formed Dakota Baptist Convention's first executive director, he brought an interest in motorcycling and evangelism, and led the staff into doing "something more than just hand out water" at the annual event known simply as "Sturgis."
Three minutes
Hamilton had seen Texas evangelist Ronnie Hill pair a three-minute evangelistic witness with the chance to win a prize, and decided to offer the possibility of winning a new motorcycle in a drawing for people who listened for three minutes to someone tell how God had changed his or her life.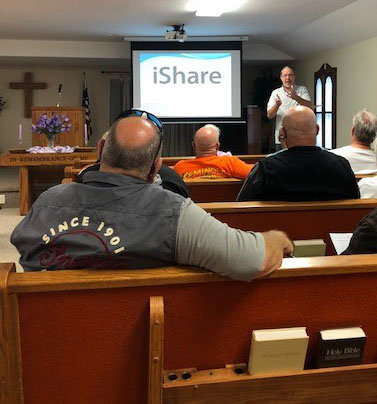 Marc Merritt leads a training session for iShare, evangelistic materials he wrote after attending his first Sturgis Week in 2008.
With financial support provided by the Georgia Baptist Convention, North American Mission Board and other partners, and Hill training volunteers to share their faith in three minutes, the Sturgis evangelism ministry started in 2006.
That year, dozens of volunteers shared their stories about 2,900 times, and as a result, 744 people made a profession of faith in Jesus. Over the ministry's 13 years, 7,878 Sturgis attendees made a profession of faith after hearing about 150 volunteers a year sharing their personal testimonies about 27 times each, for a total of 53,478 Gospel presentations.
Each decision has been followed up in the subsequent weeks and months, and some of them for 10 to 12 years. Other facets of the ministry include prayer that starts in October each year for the coming year's event, culminating in 20 days of focused prayer leading up to the first week of August when the seven-day Sturgis Motorcycle Rally begins.
"We've become convinced God has anointed this ministry," Golden says on a 2018 video attached to SturgisBikeGiveaway.com. "We're looking forward to what God is going to do with this ministry in the future."
A decision steered by evangelism
Golden sent a letter to the state convention's 90 churches in early March and posted it to Facebook explaining the thinking behind the staff's decision to discontinue the ministry after 2019.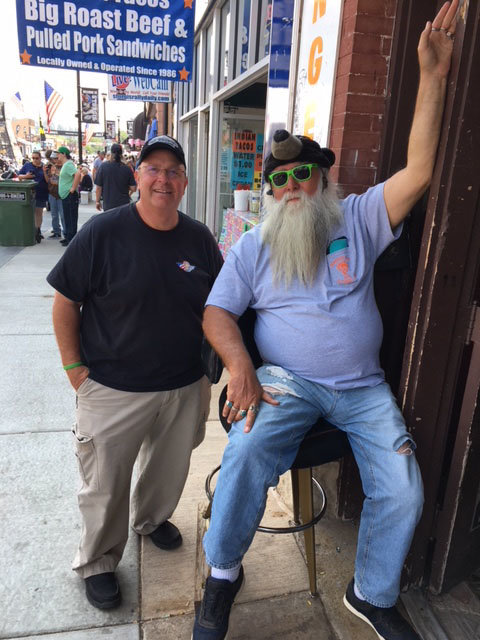 State missionary Bryan Alexander talks with Bear. Alexander and other Georgia Baptists walked the streets striking up gospel conversations during the 78th Sturgis Motorcycle Week.
The financial resources from NAMB for the Sturgis evangelism event "need to be invested in helping our local churches in doing evangelism in their local communities," Golden wrote.
"While the motorcycle ministry has been a national ministry with involvement from volunteers across the nation, the truth of the matter is that involvement from Dakotans has been minimal and the impact of this ministry on our own churches and their evangelism has been minimal as well," Golden recounted.
"It is time to invest our resources in evangelism activity that will have a greater impact on reaching Dakotans for Christ and that will impact our local churches on a year-round basis."
Also, the Sturgis event takes an inordinate amount of time, energy and attention from the state convention staff, and "it is time for our staff to focus our energy and time that has been devoted to the rally ministry to be focused on our churches, pastors and leaders in the Dakotas."
A week after Golden sent the letter, F.A.I.T.H. Riders offered to take responsibility for the ministry. After volunteering at Sturgis for five years and learning the "Sturgis model" of evangelistic witnessing, F.A.I.T.H. Riders, which started in 2002 at First Baptist Church in Lakeland, Fla., started a similar ministry at the Daytona Motorcycle Rally.
"We minister to a demographic of America most people wouldn't speak to," Mike Stewart, F.A.I.T.H. Riders' national director, told Baptist Press. "Sturgis and Daytona are the two largest motorcycle rallies in the world. They'll be keeping us busy for the next year or two."
The 2020 Sturgis rally will be its 80th annual. The 75th rally, in 2015, drew more than 750,000 attendees.
Georgia Baptist involvement
"Because I have worked closely with the Dakota Convention at Sturgis for many years, and given our connection to F.A.I.T.H. Riders, Mike Stewart asked me to participate in their historic conference call a few weeks ago (March 5)," said Georgia Baptist State Missionary Marcus Merritt. "Mike and Garvon spoke in great detail about the ministry."
A part of the Sturgis mission effort since 2008, Merritt was asked in 2010 by Golden to develop and teach a newer version of the 3-minute testimony training. That tool became iShare, which Merritt and fellow state missionaries Bryan Alexander and Marty Youngblood, among others, used to train some 150 volunteers last year. In addition to the Sturgis Rally in South Dakota, Merritt has also participated in a similar outreach during Daytona Bike Week in Florida.
"Daytona Beach and Sturgis are serious Gospel ministries, not a vacation destination for those of us who participate," Merritt told The Index. "For example, last year Marty, Bryan, and I trained a group of men and women from Prince Avenue Baptist Church, in Bogart. Only one person in their group had ever sat on a motorcycle. They were there (like us) to be fishers of men in one of the deepest lakes in the country! With their help, last year's volunteers netted over 300 souls for Christ."
Hamilton, now serving in Alaska as executive director of Arctic Barnabas Ministries, told Baptist Press that in 2004, "Sturgis was just a burden God placed on my heart, that we weren't reaching people in our backyard."
He is glad F.A.I.T.H. Riders will be leading the motorcycle ministry.
"The Dakota Baptist Convention has to do what they think is God's best for Dakota," Hamilton continued. "F.A.I.T.H. Riders taking over the Sturgis evangelism event will be very productive for the Lord. The truth is that F.A.I.T.H. Riders is not only the logical choice for Sturgis but the right choice, the best choice … to provide a Gospel witness in a place that desperately needs it."
To pray or volunteer for or donate to the Sturgis evangelism event this Aug. 2-10, see SturgisBikeGiveaway.com.
---
Karen L. Willoughby is a national correspondent for Baptist Press. Index Editor Scott Barkley contributed to this report.