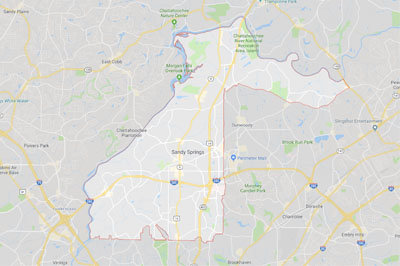 Image courtesy of Google Maps
The north Georgia cities of Sandy Springs, Roswell, and Johns Creek factored heavily in the culmination of a report by WalletHub on America's most diverse cities.
The comprehensive report, released April 10, was the final installment of a three-part study. Three previous installments combined findings from household diversity and religious diversity to generate results related to socioeconomic, cultural, and economic diversity. In its most recent survey, WalletHub used those five areas to gauge 501 of the largest cities in the country for its report.
The three Georgia cities – which all tied for second in religious diversity ­– represent a swath of the north Atlanta Metro area extending from inside the I-285 perimeter north and east along the Chattahoochee River and Georgia 400, skirting Dunwoody and Peachtree Corners eastward.
Sandy Springs finished highest in the overall rankings among Georgia cities at 12. Roswell was 24th while Johns Creek placed 29th. Other Georgia cities appearing in the top 100 were Columbus at 84 and Atlanta at 97.
Houston ranked highest in overall diversity while Richmond, Virginia placed as the most religiously diverse city in the country.