This is the fourth in a five-part series of Thanksgiving Week conversations with survivors of Hurricane Michael. The interviews, titled "Surviving Michael: A Thanksgiving Retrospective," explore the faith that saw everyday individuals through the eye of a Category 3 storm. See Part 1 here, Part 2 here and Part 3 here.
Ronnie and Jennifer Welch
"I knew we had a problem when the ceiling began leaking. We went and got one bucket, then a second, then a third. It happened so quick we didn't have enough ways to catch all the water," relates Ronnie Welch.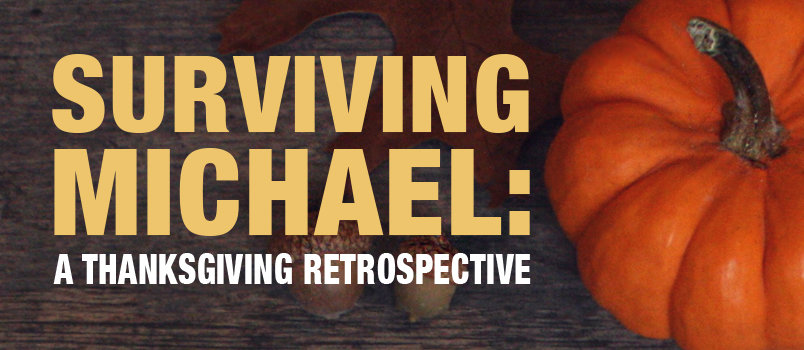 "Before long we were walking around in 3 or 4 inches of water."
What the couple didn't realize is the wind had ripped off the roofing shingles and then, like pulling down a zipper, began to unravel the boards from the rafters one by one. Rain blasted into the attic, soaking the sheetrock and starting the leaks from one end of the house to the other.
His wife, Jennifer, then continues the story.
"We really didn't know how much damage we had at that point so I don't think I was really that scared. Then a fourth of our roof came off, exposing us to the black night and the fury of the rain and wind.
"And then at that point we were too shook up … we were suddenly standing in 3 or 4 inches of water and it wasn't stopping … to be scared. Insulation began dropping in through the ceiling as it was blown out of the attic.
The damage on the outside of the home does not begin to hint at the damage on the inside. The clear blue sky was clearly visible through the gaping holes in the master bedroom and living room. Soggy insulation hung from the open ceiling, and boards from rafters hung down at odd angles.
What is the couple thankful for?
Ronnie Welch is first to express thanks for surviving the storm with barely a scratch.
"People in this community and our church have been so helpful to us. We have not had power since the storm and our house is uninhabitable. We had to throw away all the food in our refrigerator and freezer. Our pastor, Zeth Smith at Springfield Baptist Church, brought us a pop-up camper to live in until my wife's boss let us stay in a vacant property downtown until we can see the light of day and get on our feet again.
Jennifer adds her gratitude for surviving the worst night of her life.
"I'm thankful we are alive and God brought us through the storm. I'm grateful for my salvation and another day to enjoy life. Those are the three most important things in my life which I no longer take for granted."
"I going to look at each day with totally different eyes, with a completely different perspective. Until you experience something like this you don't know how brief life really is.
"The main lesson is to fear not; God is always with us, even in the midst of a storm."
Ronnie Welch concludes with a brief comment.
"We're blessed, we're still alive, and God is good."
Laura Smith
Laura Smith and her husband, Zeth, had been called to serve at Springfield Baptist Church exactly two years to the week before the storm hit. Almost immediately after checking on members they were busy cooking hot dogs in the church parking lot for anyone in the community who needed a rare hot meal.
"We are from Texas and had never experienced anything like this," Laura explains as she places a hot dog in a bun and lets her children wrap it in aluminum foil. The impromptu assembly line was as efficient as you would see anywhere from trained kitchen workers as other church members pitched in to help.
Thinking back over that night she remained a bulwark of calm for her and Zeth's five children, telling them "how amazing the power of God is. We could not go outside to actually see it, but we could definitely hear it," she relates.
What she could see briefly was not especially comforting. The tin roofing on an out building began to peel away; roofing shingles from the house began to fly through the air.
The wind seemed to only grow stronger as the late afternoon turned pitch black.
What is she thankful for?
"I am overwhelmed by how safe everyone in our family and church family were during the night. Even after the storm passed, weakened trees fell on homes through the night but missed people while they were sleeping in their beds.
"I'm thankful for God's grace."