By J. Gerald Harris
Editor
ATHENS — University of Georgia basketball coach Mark Fox referred to him as "the Silent Assassin." That is a rather unusual moniker for a quiet, unassuming, gentlemanly scholar-athlete, but that is apparently how the coach sees his senior guard, Taylor Echols.
Prior to the last home game Fox was assessing the quality and character of his seniors and said of Echols, "Taylor is the quiet assassin. He is very quiet. He seldom speaks. He is a very soft-spoken young man, but a terrific shooter. He has made a lot of big baskets for us and helped us win games.
"How often do you find a walk-on that comes to the try-outs, then is able to get on the floor and help your team win? That is exactly what he has done."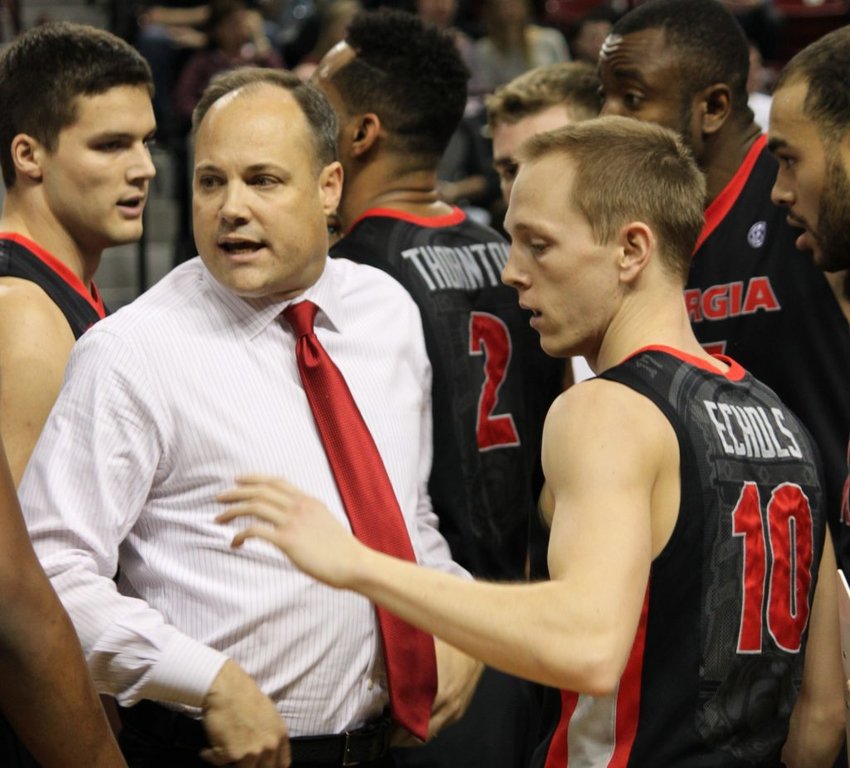 "He is a very soft-spoken young man, but a terrific shooter," says UGA head coach Mark Fox, left, of Taylor Echols. KIM ECHOLS/Special[/caption]
Echols was a two-time All-region player at Eagles Landing Christian Academy in McDonough, where he scored over 1,000 points in his career. The Bulldogs did not have an open roster spot his freshman year and did not hold walk-on tryouts.
At work every day
Echols was determined not to let his dream of playing college basketball die. He diligently worked out and played basketball in the gym every day. He made the Georgia basketball team as a walk-on sophomore and won a full athletic scholarship last summer at the beginning of his senior year.
Prior to his sophomore year Echols had the opportunity to have former UGA basketball All-American James Banks coach and mentor him in preparation for his walk-on opportunity. Banks said, "He had a great attitude. I threw a lot of stuff at him and he handled it very well. He got better because he worked and if you have a passion and work at it, then you get better at it everyday."
When Taylor finally got the call and found out the UGA basketball team had space for another walk-on, he joined six other competitors for the spot but he alone made the cut as a sophomore.
Echols recalled, "The coaches brought me in for a meeting and told me how it would be and how the experience would be. It was definitely an awesome feeling when they told me I made it."
During that first year on the team Echols stated, "I would say my main job was to try to make everyone on the team work as hard as they could. My job was to help prepare the starters to excel in the games."
Starting center Nemi Djurisic stated in the The Red and Black, UGA's student newspaper, "I don't know how finds the energy everyday to be so humble. He is very grateful about the opportunity to be with us and around us everyday. He is a very humble young man and a great shooter. You would be surprised. He is a smart point guard, and he helps the other point guards get better."
'An incredible blessing'
Echols started the last home game against the nation's number one ranked Kentucky Wildcats. In reflecting on that game, the soft-spoken senior point guard stated, "Playing against the undefeated Wildcats on Senior Night was my biggest thrill as a part of the UGA basketball team. Even though we did not finish the game with a win, I was extremely proud of the way our guys played and competed.
"That was one of the most exciting games in Stegeman Coliseum that I have ever experienced, and I have been going to games there for most of my 21 years.
"Being a part of the UGA men's basketball team has been an incredible blessing, an experience that I will carry with me the rest of my life. I am thankful to the coaches, who have invested so much in me and all of my teammates, and I am extremely thankful for God's will being done in my life."
Going into the SEC tournament Echols had logged almost 2½ hours of playing time this season, most of his points coming from beyond the 3-point arc.
In the semifinal SEC tournament game against Arkansas, Echols came off the bench to give the Bulldogs 10 points. The Atlanta Journal Constitution reported, "The Bulldogs continued to fight valiantly with players like Kenny Paul Geno and Echols playing more minutes than usual.
"It was Echols' third 3 of the game that brought Georgia to within 56-47 with four minutes to play and put a brief scare into the Razorbacks."
On Sunday the Georgia basketball team found out that as a tenth seed in the NCAA Tournament they would play Michigan State on Friday, March 20 in Charlotte in the East Regionals.
Taylor Echols is a talented athlete, but his qualities extend far beyond the basketball arenas of the Southeastern Conference and the frenzy of March Madness.
Living testimony
He is an unashamed Christian who explained, "I am thankful that I was presented with the Gospel throughout my childhood, but I did not understand or accept its truth until I was in the fifth grade. Previously, during the same year, my parents decided to place my sister and me in a private Christian school, Eagles Landing Christian Academy.
"The idea of Bible class and weekly chapel meetings were completely foreign to me, but I enjoyed the break in the monotonous school day. During one of these chapel services a man named R.V. Brown came to speak to us. He was a very powerful speaker, especially for a group of elementary and middle school students, but I still cannot remember what he preached on that day.
"What I do remember is the one question that he asked us at the end of his talk: 'If you were to die today, where would you go?' This was not a question I had pondered before, but on this day it struck me in a new light. God was calling me to give my life to Him. I finally understood and believed that Jesus Christ is the only means of salvation from a life of sin.
From that day forward, God used the teachers at ELCA and mentors around me, including my friends, to mold my life and teach me what it means to live for Him. It was during my junior year of high school that I finally made my public declaration of faith through baptism.
"My desire is to live out my faith by sharing the love of Christ. No one can fully embody the love of God like Jesus Christ, but I ask the Lord every day to help me love like he does. I often find it hard to set aside interior motives and legalistic thinking to truly love everyone as God's own creation, but true faith is exemplified in love.
"Every day I have the opportunity to be a living testimony of the Gospel of Christ to my teammates, the coaches, and everyone affiliated with the basketball team. Being part of the team has also provided me with several opportunities to share my faith with a group of middle school students as well as some of my peers.
When asked what lessons he has learned as a player on UGA's basketball team, Echols explained, "I think one of the most impactful lessons I have learned is that worldly acceptance is extremely conditional, but the love of God is unconditional. That truth has provided me a great comfort during my basketball career."
Taylor Echols may be a "silent assassin" on the basketball court, but he is a "steadfast ambassador" from the court of the King of kings.