The path I took to the editorship of The Christian Index included many turns.
During my freshman year in college an English professor noticed something different in my writing and encouraged me to find ways to stretch those skills. I did so by writing for my hometown paper and getting paid with a free edition (worth 25 cents) and a byline. The bigger newspaper one town over soon hired me as a sports "stringer." That meant I covered a local football or basketball game and, in addition to the coveted byline, was also paid $40. Already a Communications major, it made sense to get experience with newspapers.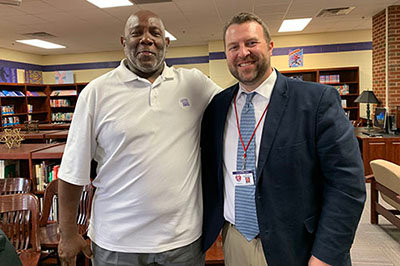 Index Editor Scott Barkley stands with Kenn Baker, who served at Woodland High School in Cartersville as an administrator when Barkley was a new teacher. Both Baker and Barkley are part of the mentoring program for Cartersville City Schools. NATHAN GOSSETT/Special
And while I eventually switched majors to Secondary Education, the degree on my diploma, I never got far from journalism and writing. My road took me as a freelancer to several outlets before I joined The Index 15 years ago.
Before that, though, I taught for two-and-a-half-years at Woodland High School outside of Cartersville. As a (very) green teacher I stammered before most of my classes, praying students wouldn't notice how inadequate I felt, during the fall semester of 2001.
I got better, though. I learned and listened to others who had been there longer. By the time I packed up my classroom in December 2003 to join The Christian Index at the beginning of 2004, tears came to my eyes as I drove out of the school parking lot. For about a year I kept the rosters of those final classes from my last semester on my desk, praying for the students each morning. Hey, 3rd period 10th grade American Lit, I still have the photo somewhere of you guys holding me up at that final surprise going-away party you threw.
During this Teacher Appreciation Week, you and I might try and understand what they go through, but we really can't — not on the day-to-day level. My cup-of-coffee stay as a teacher doesn't suffice. I was there before the age of social media and maintaining the class website and emailing parents almost every day because that's the expectation. Dealing with it today? I can't begin to imagine.
One thing I learned while in the classroom is that a lot of teachers are Christians. How we went about showing that became a topic of conversation sometimes. I'd try to get to my classroom in the mornings to read my Bible. Once finished, I left it on my desk in plain sight.
That not only pointed out something about me to students, but it also held me accountable to behave a certain way. I was to respond as one representing Christ. I think I did that most of the time. You'd have to ask them. I'm sure I wasn't perfect.
Outside of the classroom, most of us get to determine (largely) who we're around. And, (largely) those people are very similar to us. As a teacher, I learned, you come into contact with literally every segment of society. Sure, I could be strict on the girl falling asleep at her desk. But, it would be good for me to understand she'd only had an hour's sleep or so the night before because the police had been called to her family's trailer … again. It's a setting in which the Gospel shows a different way. It's a place where our teachers can exemplify that message.
There are a number of Bible passages teachers can go to for comfort. Mine was 1 Thessalonians 1:3. "We continually remember before our God and Father your work produced by faith, your labor prompted by love, and your endurance inspired by hope in our Lord Jesus Christ."
I'm talking about school teachers here, but can include the ones on Sunday as well. It can be draining at times. You feel underprepared and inadequate. You wonder if you're making a lick of difference in these kids' lives. I leaned on that Scripture, heavily, to remind me that there is something at the end of the work. There is something good to come as long as I don't give up. Some days, I could barely muster any endurance inspired by my hope in Jesus. But I did.
I still live in the town where I taught so long ago. That means that, from time to time, I come across a former student. They're in their 30s now, most of them with kids of their own. It's a treat to get to see them and catch up, as I did a few weeks ago when one was a hostess at an event I attended. Just today, May 7, I happened to run into Kenn Baker. Coach Baker was the assistant principal at Woodland my first year and assigned to watch over the first-year teachers like myself. That sentence alone tells you the man is an oak of patience.
Teachers, even if you've been trying to watch what you eat, enjoy all the Chick-fil-A you're going to be getting this week as well the ones remaining in the school year. You deserve it. Elementary school teachers, like my wife, you're welcome for the presents your students' parents students are going to give and gobble up every square inch of your desk.
While you might not have felt it this year, your endurance paid off. It will continue to do so through the decades. It will continue to show a different way, The Way.